The biggest question coming out of WonderCon Anaheim 2018 was simply: Will San Diego Comic-Con 2018 also be implementing the same, or a similar, online lottery for autograph sessions?
As we've long speculated, the answer to that appears to be "yes". Comic-Con International has (possibly unintentionally) posted the Comic-Con Online Exclusives Portal, which has menu options for both merchandise and autograph signings.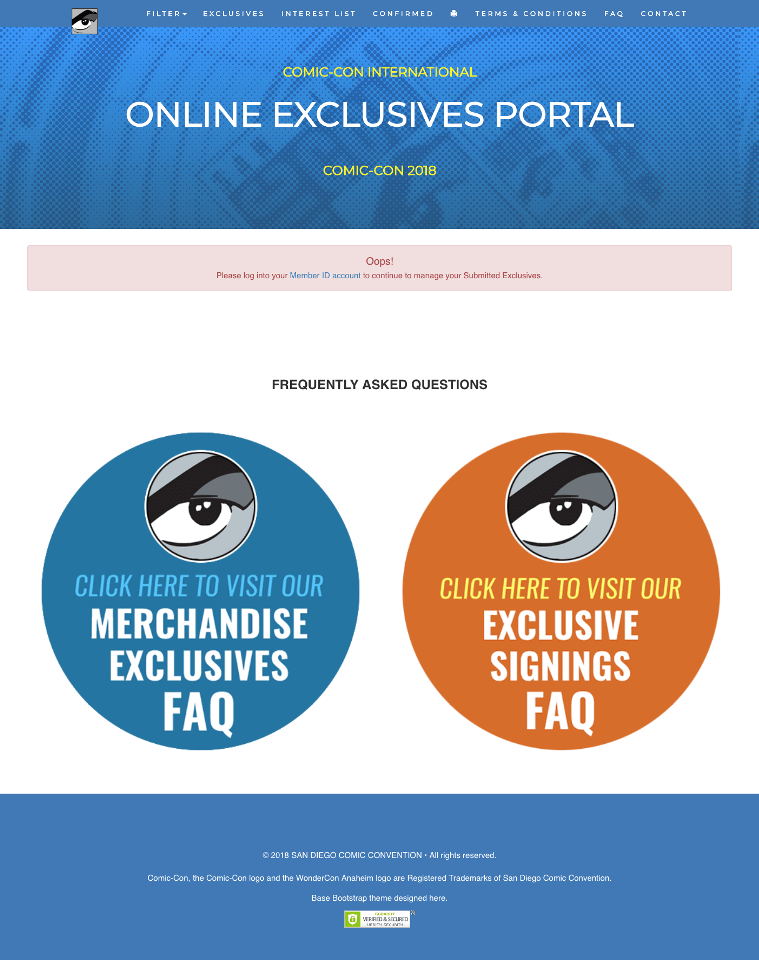 The "merchandise exclusives" should refer to the official Comic-Con International merchandise, such as t-shirts, hats, and tiki mugs. The exclusive signings, though, is the same wording they used for the autograph sessions at WonderCon Anaheim which used to be held by a physical ticket draw in the morning – and were subsequently replaced this year by an online lottery. At San Diego Comic-Con, this would very likely be the autograph drawings held each morning in sails – for companies such as FOX, Warner Bros. (including some DC signings), and a few Comic-Con International hosted signings as well.
There's no word yet on if the process would be exactly the same for San Diego Comic-Con 2018 as WonderCon 2018, but it seems likely, with a few possible tweaks.
So just how did it work at WonderCon this year? A few days prior to the con, attendees submitted for the autograph signings they were interested in attending. These signings were then displayed under each user's personal "Interest List". A few days later, those who were selected as "winners" were e-mailed instructions for how to pick up a wristband on the morning of the signing, and those signings moved to a "Confirmed" tab. It's worth noting that on the SDCC 2018 online portal, there are still options for both an Exclusives Interest List and an Exclusives Confirmed – so it seems very likely this process would be the similar.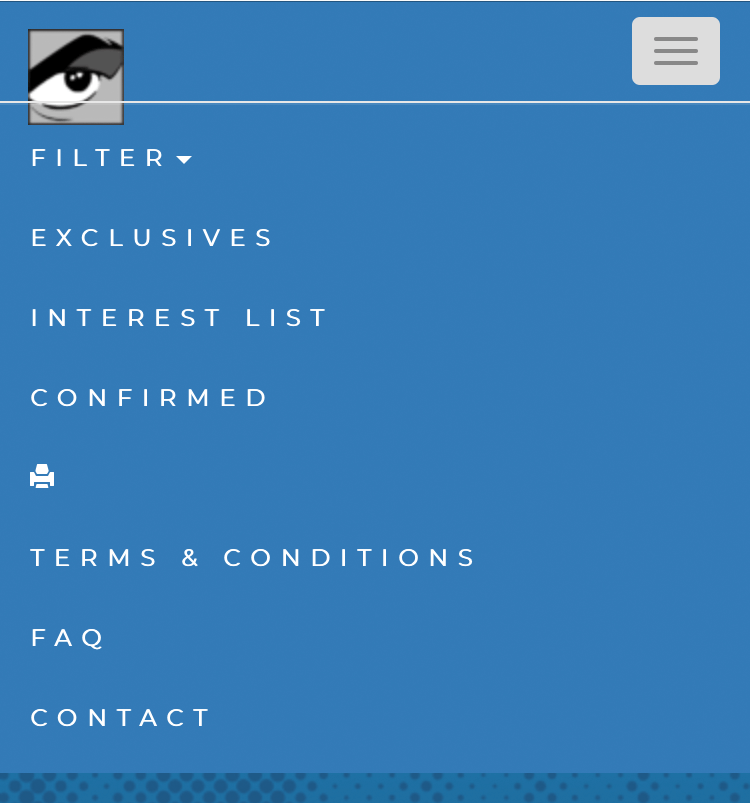 At WonderCon, the new process was met with mixed reactions. For some, this was a great way to find out before the con, rather than after standing in line for hours, whether or not you were going to an autograph session. For others, it felt like the odds were drastically reduced. And for many, it was a chance to try for something, with minimal effort. As with most things at San Diego Comic-Con, your opinion on the matter mostly had to do with how it worked – or didn't work – in your favor.
A few suggestions, though, that came out of WonderCon that we'd like to see implemented at San Diego Comic-Con this year, including that not all those who secured an autograph session actually showed up to the signing – so we'd love to see a sort of penalty system put in place. We're also rooting for any kind of "tier" or limitations on the amount of signings per day that attendees can request, to hopefully limit individuals submitting for any/all signings.
The Terms & Conditions on the new site clearly haven't been fully updated, as they still mention WonderCon dates and the Anaheim Convention Center. However, Comic-Con International has clearly slowly begun to change the information over, as the information does specifically mention "San Diego Comic-Con 2018". Here's a look at some of the terms and conditions: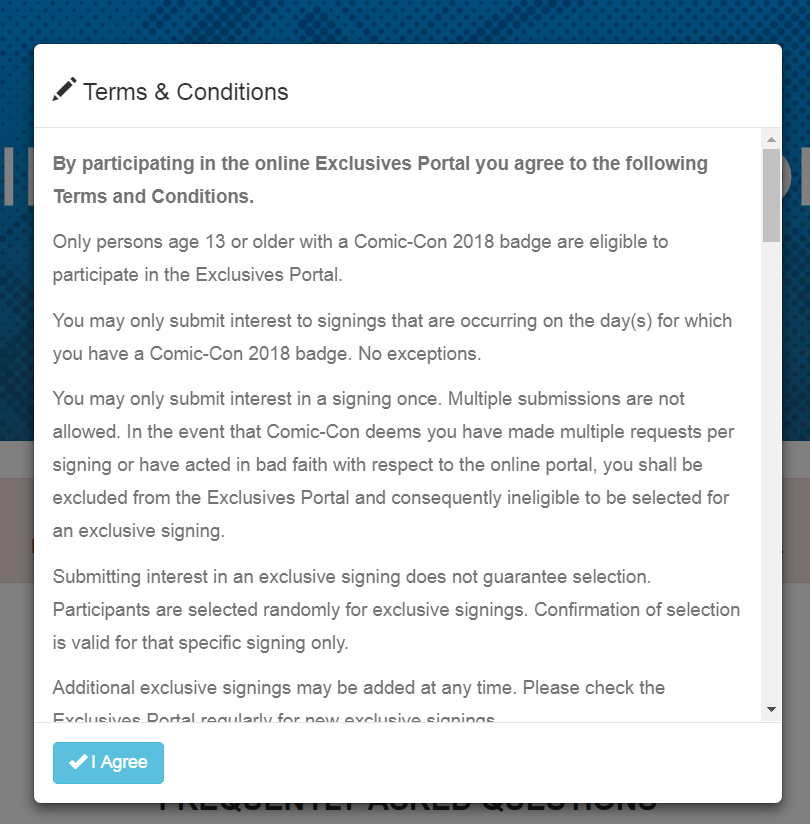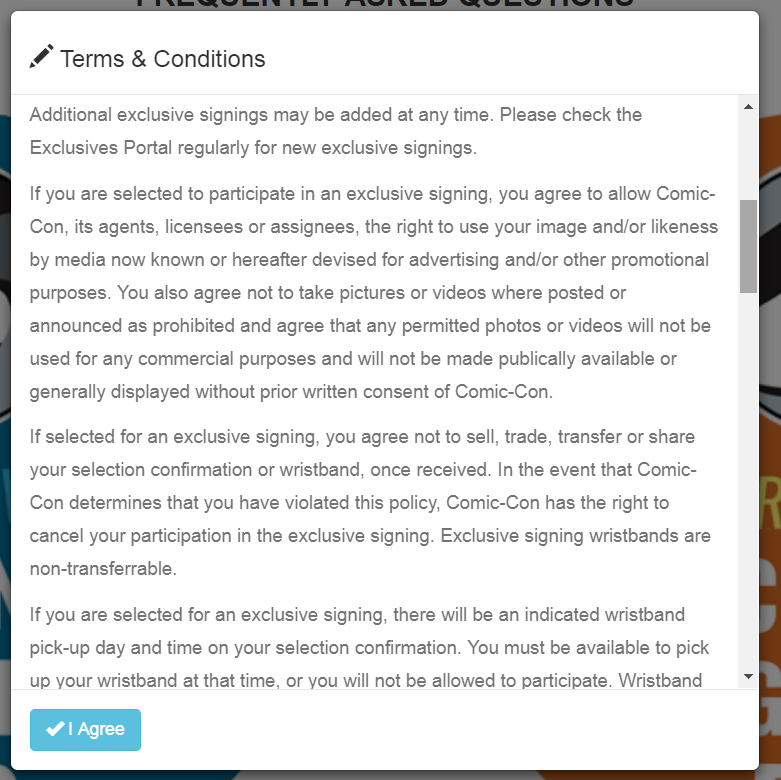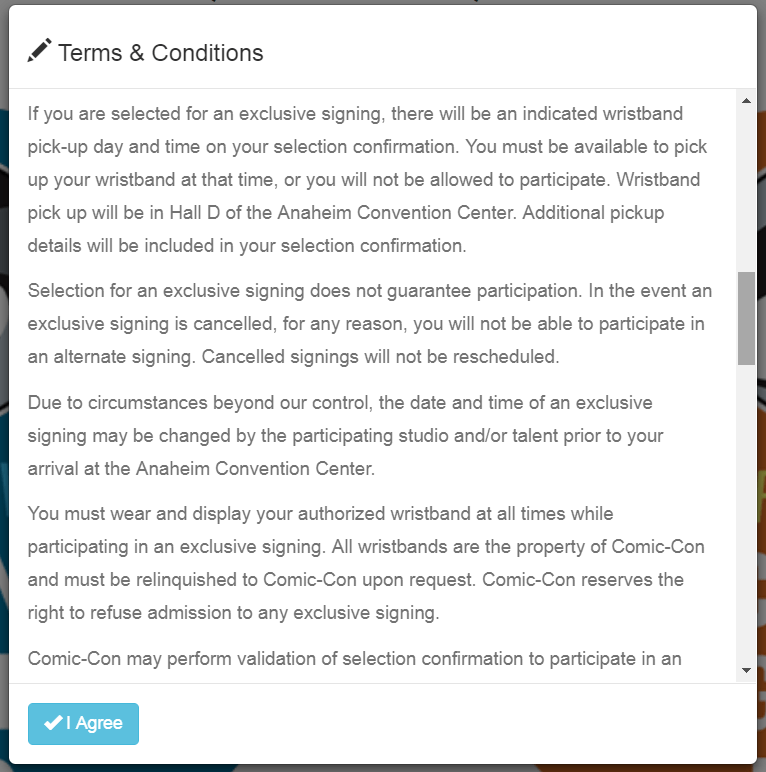 What do you think about Comic-Con International using an online lottery system for autographs at San Diego Comic-Con 2018? Let us know in the comments.