Hop-Con 2.0: The w00tstout Festival
July 23, 2014
$25 - $89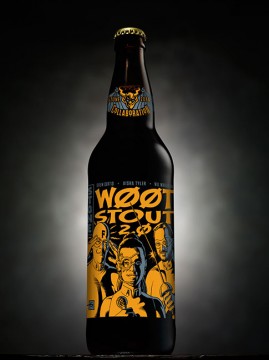 Tickets are now on sale for this year's Hop-Con 2.0: The w00tstout Festival. Stone Brewing Co. is bringing the popular event back for a second year, to take place on Wednesday, July 23, at the Stone Brewing World Bistro & Gardens – Liberty Station.
Attendees can enjoy an evening of "beer geekery" at Hop-Con, and spend the night sipping on tap beer. This year, Aisha Tyler collaborated with hosts Wil Wheaton and Drew Curtis for "Stone w00tsout 2.0, a "massive yet seductive imperial stout brewed with wheat, rye, pecans and stone-ground chocolate", with a label designed by Watchmen artist Dave Gibbons. Other varieties will also be available, including last year's special w00tstout vintage, as well as a wide range of food options.
Regular admission is $59, which includes ten 4oz beer samples, a commemorative Hop-Con 2.0 glass, and complimentary hors d'oeuvres. For those who just want to enjoy the atmosphere without the alcohol, Designated Driver tickets without beer or the commemorative glass are available for $25. You can also purchase a regular admission ticket with a signed lithograph of the Gibbons art for $89, with $30 going towards the Hero Initiative charity.
You can purchase your tickets here.