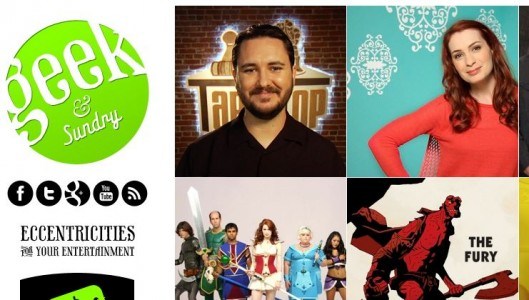 Geek & Sundry, the YouTube channel from Felicia Day, announced its plans for this year's Comic-Con, and it sounds like they're really doing all-out to promote the online network.
On Thursday July 12 from 10AM until 2AM, and Friday July 13 from 10am to 4PM, Geek & Sundry is taking over the Belo Nightclub with events promoting its suite of programming, like a Sword & Laster Meet and Greet with Veronica Belmont and Tom Merritt, The Guild cast signing, and even a chance to win a seat at the TableTop table to play board games against show host Wil Wheaton. And of course, Felicia will also be on hand to meet fans.
In addition to setting up at Belo, the channel will be a part of the YouTube Lounge on Friday and Saturday "to see your favorite Geek & Sundry personalities, eat a donut or two, and pick up some cool swag."
The Belo schedule is listed below, but check the post on the Geek & Sundry blog for updates.
Thursday, July 12th at Belo San Diego: 919 4th Avenue (click here for the website): 

10am-12pm: Felicia Day meet & greet with fans
12pm-1pm: Sneak peek at the newest unreleased episode of TableTop
1pm-2pm: Sword & Laser meet & greet with Veronica Belmont and Tom Merritt
2pm-3pm: Celebrate the Web Indie Producer's Panel (lineup TBD)
3pm-4pm: Celebrate the Web mixer
4pm-5pm: The Guild cast signing
5pm:  Sneak peak – Rock Jocks trailer (Felicia's latest movie!)
7pm-9pm: VIP Cocktail Hour (invite only)
9pm-2am: Disco party – ALL our community are invited to dance the night away!

Friday, July 13th at Belo San Diego: 919 4th Avenue (click here for the website):

10am-11am: Guests of Geek and Sundry: Save The Supers vs. Jeff Lewis 5 Minute Comedy Hour – the battle of the double-booked web series panels!  With Sandeep Parikh and Jeff Lewis (Guild)
11am-12pm: Save the Supers/JL5 mixer
1pm-4pm: Wil Wheaton plays board games with fans (Stay tuned to Twitter to get to play with Wil!)