As you presumably know by now, WonderCon is moving to the Los Angeles Convention Center (at least for this year) – which means that attendees will have to get used to an entirely new layout. Luckily, they've got plenty of time to familiarize themselves, as Comic-Con International has just unveiled the full map of this year's convention.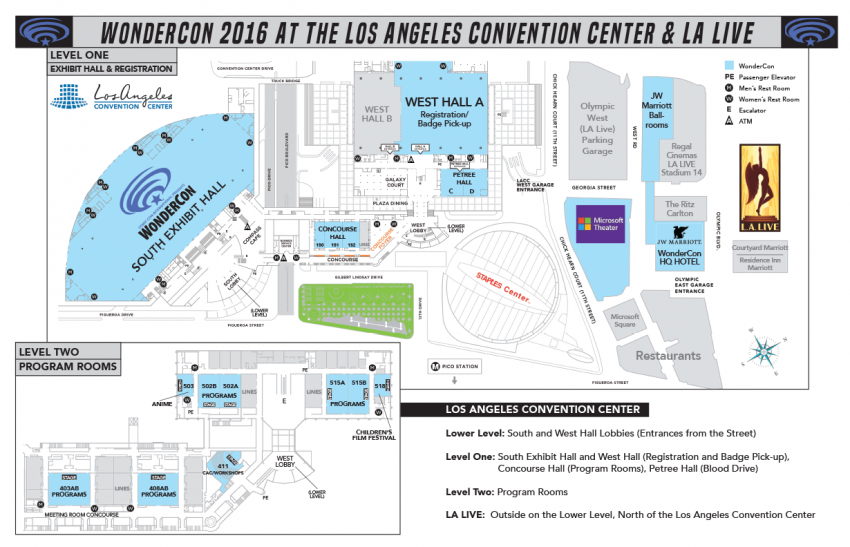 The Lower Level is basically made up of lobbies, but Level One will hold the South Hall (where the Exhibit Hall will be), the West Hall (where you'll pick up your RFID badge), the Concourse Hall (Program Rooms 150, 151, and 151), as well as the Petree Hall. Level Two will hold more Program Rooms, including 403AB, 408AB, 411, 502A, 502B, 515A, and 515B.
And where will those big panels will be taking place, for TV, movies, and the Masquerade? They'll be held at the Microsoft Theatre in LA Live, which is actually located next to the convention center, rather than inside of it. Comic-Con International does that the Microsoft Theater features metal detectors at their entrances, so plan on allotting more time for entrance.
But the big news about all of this is that WonderCon will be using RFID badges – though unlike with San Diego Comic-Con, they won't be mailing them. The SDCC sister-show is likely being used as a test-run for Comic-Con this summer, which means that if WonderCon attendees will be "required to tap in and tap out at various locations", SDCC attendees probably will be as well.
It's going to be interesting to see how, if at all, that affects wait times for entering panels and various other events around the convention center – but we'll let you know our findings.
You can find more information about the WonderCon 2016 layout on the Toucan Blog.
Are you excited to see how the RFID badges will work? Let us know in the comments.