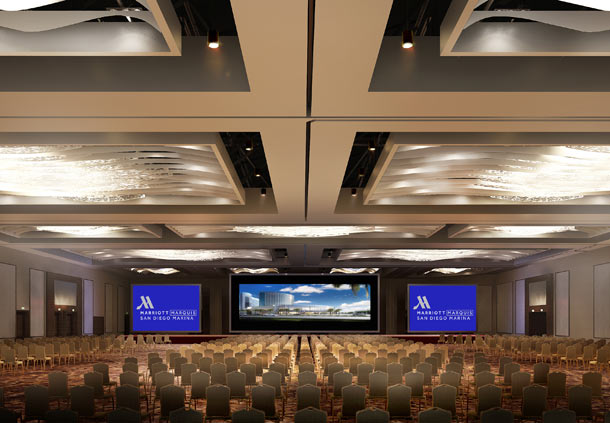 Today, Comic-Con International released a list of the venues that will be used for Comic-Con next month, as well as how each venue will be used.
Most of the list should look pretty familiar, with a few small changes. Notably, we've got a better idea now of how the Marriott Marquis' expansion will be used – and both of the larger ballrooms (the Grand Ballroom and the Pacific Ballroom) won't be used as another single, large panel room – but rather split up into many smaller rooms.
For the Grand Ballroom, there's still about half of the space – which would seat roughly 1,500 – which hasn't been announced for anything, so we may get some more news on that soon. Or, it could be used for logistics for CCI.
From CCI, here's some of how those rooms will be used:
Marriott Marquis San Diego Marina Hotel (333 West Harbor Drive)

Anime (Grand Ballrooms 1 through 4), Attendee Registration and International Badge Pick-Up (Pacific 14-19), CCI-IFF (Film Festival, Pacific 23), Comic-Con Merch (Pacific 26), Comic Creator Connection (Fri. & Sun., Santa Rosa Room), Fan Culture Room (Pacific 24), Films (Marina Ballroom D, South Tower), Games (Marina Ballroom E-F, South Tower), Hospitality Suite (Marina Ballroom G, South Tower), Nintendo Lounge (San Diego Ballroom, North Tower), Playback Room (Grand Ballroom 6), Volunteer Registration (Pacific 21)
The good news is that should free up some space over in the convention center, potentially to put more panels in this year than ever before.
You can read more about how the different venues will be used this year on CCI's site.