'Star Girls' Burlesque VIP Experience Show
July 9, 2015 @ 7:00 AM

-

9:15 PM

$75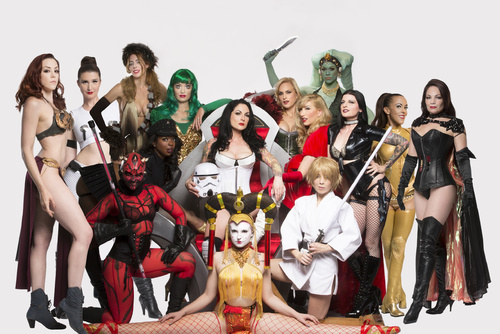 Devils Playground brings their original Star Wars parody burlesque show, "Star Girls," to Comic-Con for a two-night run. The VIP Experience performances include guaranteed seating, an 8×10 signed cast photo, 2 drinks, and a meet-and-greet with the performers before the show, from 7 to 7:30pm, with the performance starting at 8. The shows are at Sevilla Nightclub in the Gaslamp, a block from the convention center.
Thursday 7/9 show: Tickets at TicketFly  ($75)
Friday 7/10 show: Tickets at TicketFly ($75)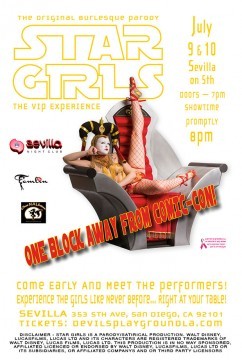 About Star Girls:
In 2010 this show was the spark that ignited the fire, that changed the face of burlesque by introducing the world to its first live "Cosplay Burlesque and Cabaret". The popular trend of Nerd–lesque was created on the Devils Playground stage. Even before the Star Wars burlesque show hit the internet, Devils Playground was already notorious for its Comic Book and Video Game Character Burlesque themed shows. Burlesque shows globally have adopted the creative concept of combining burlesque with such beloved characters every fan fantasized would do a strip tease for them. Fantasies brought to life.With the LA Weekly's image of producer and creator Courtney Cruz as the Sexy Trooper going viral online, Devils Playground quickly becamethe troupe that inspired other "burlesque shows" all over the world to create parody striptease performances based on the most popular franchise in entertainment and pop culture history. Star Girls is a cast of thirteen top shelf female entertainers which include award-winning pole dancers, contortionists, aerialists, ballerinas, pop lockers, professional trained dancers, choreographers, violinists, and some of the finest bump and grinders you will ever see on stage.