Welcome to The San Diego Comic-Con Unofficial Blog. Each year we provide tips, information, and commentary on every element of the Convention. Though we specialize in film and TV, expect to see everything from comics to toys covered on the site.
In the time leading up to the con you can expect up-to-the-minute news on everything you care about including events, panels, and exciting happenings. The site also features commentary and tips that will help you prepare for your trip. Every July we will be live blogging and tweeting from the con for those who can't attend or want to hear about events they missed!
We are not affiliated with the convention in any way, meaning that we cover everything happening in and around the con with no filters or bias.
This site is directly tied in with the twitter @SD_Comic_Con, so follow that for even more than what you get on the site.
Make sure to go to the Contact Us page if you have any questions or comments. Thanks for reading!
-Zack Young
Founder
Press Releases:
May 13, 2014 - The San Diego Comic-Con Unofficial Blog Celebrates Fifth Anniversary in 2014 with Triple-Digit Growth, Continued Comprehensive Coverage and Partnership Opportunities (PRWeb)
May 2, 2012 - SAN DIEGO COMIC-CON UNOFFICIAL BLOG UNVEILS NEW SITE DESIGN FOR 2012
- – - -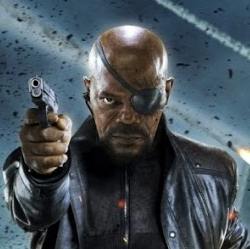 Zack Young – Founder. Without Zack, The San Diego Comic-Con Unofficial Blog wouldn't exist. He started the site in 2009 and helped build it into the top fansite covering the convention. A big television and movie fan, he's been commanding the Helicarrier for the past couple of years making sure the team has the tools and resources to provide our readers with the best SDCC coverage you'll find anywhere. Because of this, he is largely responsible for assembling the team you see before you today.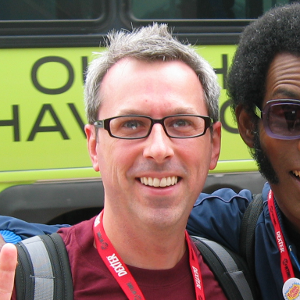 Jeremy Rutz – Editor-in-chief/SDConCast Host, Producer. After years of longing from afar, his first year of attending SDCC was 2010. He made the most out of that first experience as a reader of The San Diego Comic-Con Unofficial Blog, and vowed to help make other attendees' experiences just as awesome by becoming a writer in 2011. Last year in addition to writing for the blog he produced the popular SDConCast podcast, the only podcast devoted to San Diego Comic-Con. His two little rugrats consume his life, and he loves being able to share his favorite comics, movies and cartoons with them. He could really use that 70-year cryogenic sleep for some much-needed rest, though. You can find him on Twitter at @SpotAnime or via his About.me page.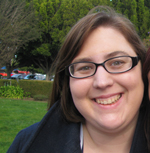 Kerry Dixon – Managing Editor. A misspent childhood spent in front of the television led her to a lifelong passion for all things entertainment. After trying out a few smaller cons, she first attended Comic Con in 2010 and became hooked! Her technological know-how (she goes through the Twitter hashtags so you don't have to!), she brings you the most up to date news on the convention scene regarding panels, events, exclusives, and much more. In her spare time, she's a pug-loving television and travel enthusiast. She lives in Oklahoma with her two pugs, who keep her otherwise busy. If you have any questions, especially related to panels, you can find her on Twitter at @kerrydixon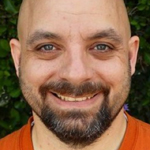 James Riley – SDConCast Host/Photographer/Writer. Despite living in San Diego most of his life, James didn't go to his first Comic-Con until 1995. He hasn't missed one since. Throughout the years he has spent his time at Comic-Con taking on a variety of guises. His first appearance was as a retailer where he honed his knowledge of comics, toys & cards from the other side. Next came time as a normal fan, spending most of the con hours walking the floor targeting all the cool stuff that helps make SDCC world famous. In 2005 he joined a new team, working with fellow Browncoats to run what some consider the best fan group booth at the con and ended up leading the non-profit California Browncoats from 2007-2011. Now he's a member of the fourth estate, shooting everything in sight with his trusty camera, co-hosting SDConCast and occasionally writing an article. He's also teamed up with his lovely wife (and fellow photographer) Beth to bring a one-two punch to capturing the con. He hopes his experience at, and love for, SDCC helps others have that special week in July they'll remember for a lifetime. Keep a close eye on him though, you'll never know what he's aiming for next. He can be found on GeekShot Photography.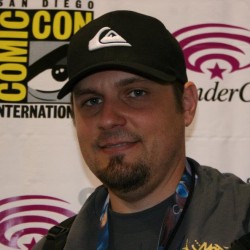 Shawn Marshall – Writer/Contributor. His secret origin is one buried underneath stacks of comics and containers of Star Wars and Star Trek toys. Having not had a traditional upbringing, it is only because of comics that he ever learned to read and as a result their hero-filled pages hold a special place in his heart. Since those early days, he's read comics and collected toys fairly consistently. The next step in his transformation to a super nerd was learning the con scene. Cons are important, as they're the perfect marriage of all the things that make me who he am. As such, he loves sharing advice on how to get the most out of these shows. His SDCC specialties are swag, exclusives, comics and health (attending SDCC since 2005 and no con flu yet!). He's overjoyed to be assisting the Avengers of Comic-Con in bringing fans the best SDCC possible. Outside of the SDCCBlog, you can find him at www.con-news.com, www.therealmcast.com, www.youtube.com/user/theconfluence1 and on Twitter at @The_Con_Fluence.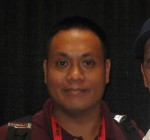 Evic Oropilla – Writer/Contributor. It all started when at a young age he attended a small comic convention at Golden Hall. Not knowing what he was getting himself into at the time the experience would become addictive. He was exposed to what we know today as "Nerd Mecca", "Nerdvana", "Nerdtopia" aka the San Diego Comic Con and has been hooked now for over 25 years! His mission is to provide information to help make the SDCC experience a fulfilling one to fans as SDCC can be overwhelming! By combining tech, experience and knowledge he is able to offer a unique perspective in helping to create the best con experience possible. As SDCC gets closer his excitement level increases and the release of adrenaline triggers the monster within who is consumed by ALL things SDCC!!! If you have any questions you can find him on Twitter at @evico.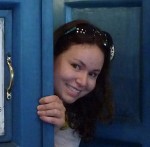 Kim Twombly – Writer/Contributor. Her first experiences with con life started with Star Trek TNG, X-Files, and other fan-run conventions in the 90′s. Later, Kim branched out to CCI's WonderCon and then the 24-hour party that is Dragon*Con in Atlanta. She has attended Comic-Con since 2006, gaining more and more insight into how to navigate both the convention and the plethora of events in the surrounding Gaslamp Quarter. In 2012, Kim brought her experiences together to start the website OutsideComicCon.com and its accompanying Twitter feed @OutsideComicCon. Much like Black Widow, she is resourceful and innovative, tracking down information and using her knowledge for good and not evil (we hope!). She aims to help other con-goers discover the opportunities outside the convention center for giveaways, virals, screenings, parties, celebrity-sightings and other amazing events. You can also find Kim on her personal Twitter feed, @Earth2Kim, and you might even catch her driving around San Diego sporting her Doctor Who-themed license plate!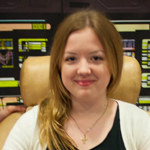 Sarah Mertan – Writer/Contributor. Sarah was bitten by the sci-fi bug at an early age. Her earliest memories involve being shushed by her parents whenever Star Trek: The Next Generation was on. She went on to be the only X-Phile on the elementary school playground. In 2004 Sarah went along for the ride when her friend's parents offered to drive the kids to "some comic thing in San Diego." She's been attending San Diego Comic-Con ever since. In 2013 Sarah started writing (and tweeting) con guides & tips as a way to give back to the community that had warmly welcomed her nearly 10 years earlier. Though she considers SDCC her "home show," Sarah covers other conventions on her blog ConShark.com and on Twitter @ConSharkNews.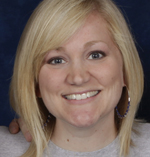 Sarah Lacey – Designer. Sarah grew up bemoaning her dad and brother watching sci-fi constantly, until her own awakening came in the form of Clark Kent in Smallville. It ushered in a fierce love of all things sci-fi, fantasy and comic-related. Her first con experience was a mid-sized sci-fi con in Anaheim in 2010. A few months later, she attended her first Comic-Con and learned second row panel seats are worth a night on the sidewalk. She's since been to several Stargate, Farscape and Star Trek specific cons, as well as Fan Expo Canada, which is Canada's version of SDCC. She's a mom, designer and web developer, TV enthusiast, fan fiction reader, and all around geek. Cons are akin to summer camp, and being apart of the online con community is a wonderful way of extending that camp atmosphere throughout the year for Sarah.
For your convenience, we've created a Twitter list of the team mentioned above. All you have to do is follow the list, and you'll follow all of our individual updates leading up to and through this year's SDCC. And of course, continue to follow the site's main Twitter @SD_Comic_Con for all the news leading up to and through the con.
Previous Contributors:
Lydia Schoenberger, Writer - Publisher of German comics; addicted to webseries, webcomics and L.A.; webseries and short films producer; member of The International Academy of Web Television (IAWTV); currently living in Switzerland. Find her on Twitter: @tibits and on Tumblr.
Sara Irvin, Writer
Tony Kim,  Guest Writer