What are the Prize Mules?
Every year at San Diego Comic-Con, the UBlog organizes #AdventuresOfPrizeMule, where we give away tons of awesome prizes from our amazing prize giveaway sponsors. The prize mules are not the actual prize — but rather like a marker to help find the UBlog team and your prize! We will tweet a location and photo, and the first person who finds the mule can claim the prize — though those who show up later have been known to get a secondary prize on occasion. Want to play along? Make sure you're following us on Twitter.
This year, we have prize donations from the Bandai Namco Toys & Collectibles America, Committed Comics, Cryptozoic Entertainment, Camilla d'Errico, Diamond Select Toys, Entertainment Earth, Factory Entertainment, FiGPiN, Hallmark, Hasbro, Kidrobot, Mondo, Monogram International, NECA, Priscilla Wilson (Valor & Vellum), RSVLTS, Symbiote Studios, Toddland, UCC Distributing, Upper Deck, Universal Pictures, USAOPOLOY "The Op", VIZ, What's Your Passion Jewelry, YESTERDAYS, and more still to come.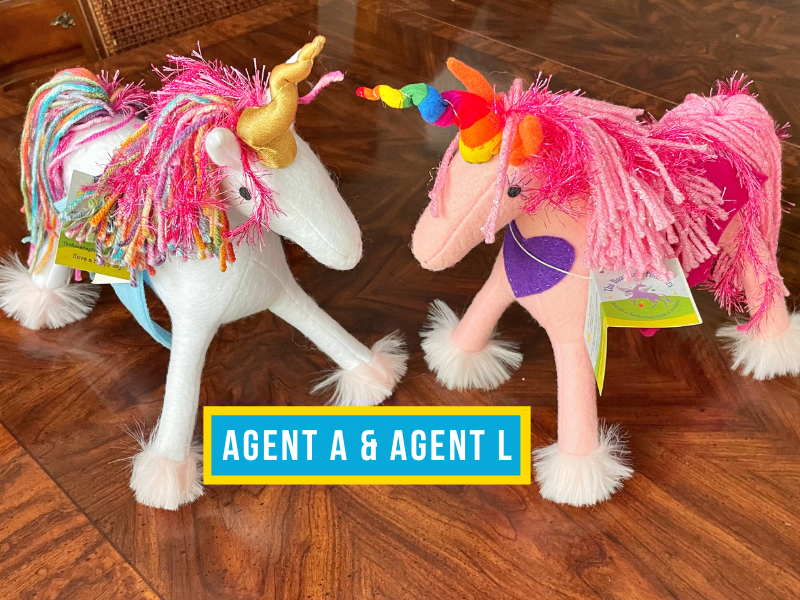 Have you seen Agent A and Agent L? Did you find them together? Did you catch them alone? They are the Prize Mules in Black... and by Black, we mean sparkles, rainbows, stars, hearts, and flowers. Whether you encounter the Agents as the world's prizey-est tag team or letting their solo flag fly is totally dependent on their assistant's carrying capacity. Either way, while you won't remember meeting them, you won't forget the sweet stuff they bring to SDCC each July.
Captain Americorn joined the Prize Mule herd for Comic-Con 2018, and loves nothing more than prize muling along the streets of downtown San Diego and all the offsites that can be found. He enjoys his swag giveaways along the bayfront and posing for photos with his fans. Remember, kids, never give up on those prize hunts!
Clackifus may not be the O.G. Prize Mule, but he's close. He's both a little older, and a little wiser (sometimes, anyway). He's a fan of ferris wheels (but only the Mr. Robot variety), KFC statues, and Gerard Way. Does he keep the best prizes for himself to give away? Maaaaaaybe. But you can't prove it.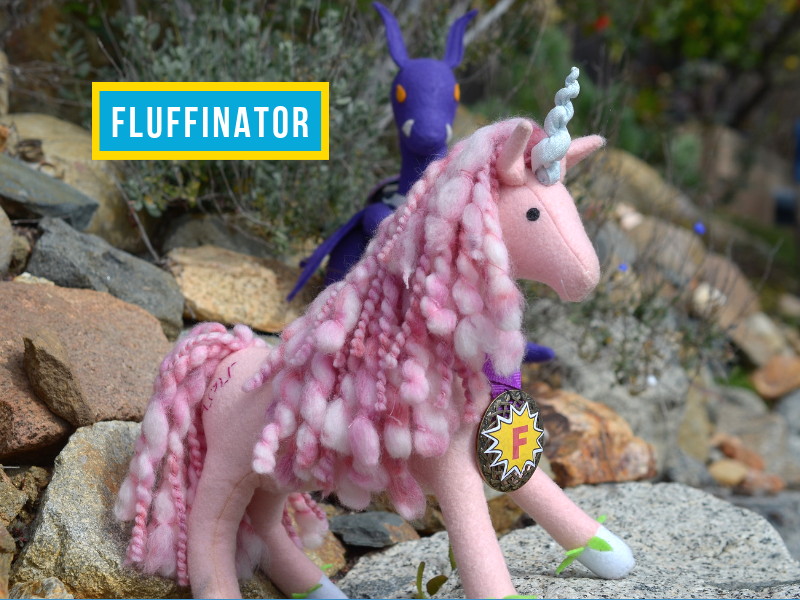 Sidekick to Gary the Dragon, Fluffinator seeks to learn the ways of the Prize Dragon. If you're lucky, you will catch glimpses of him in the wilds of the Comic-Con masses handing out prizes or hanging around slides with Gary & Gerald. One of Fluffinator's favorite hobbies is handing out his special sidekick F's (which stand for Fluffinator, of course). Fluff's ultimate dream is to one day give Gerard Way a very special Fluffinator F. Didn't catch one of his prize droppings during the con? Try again next year 'cause he'll be back, with some added surprises...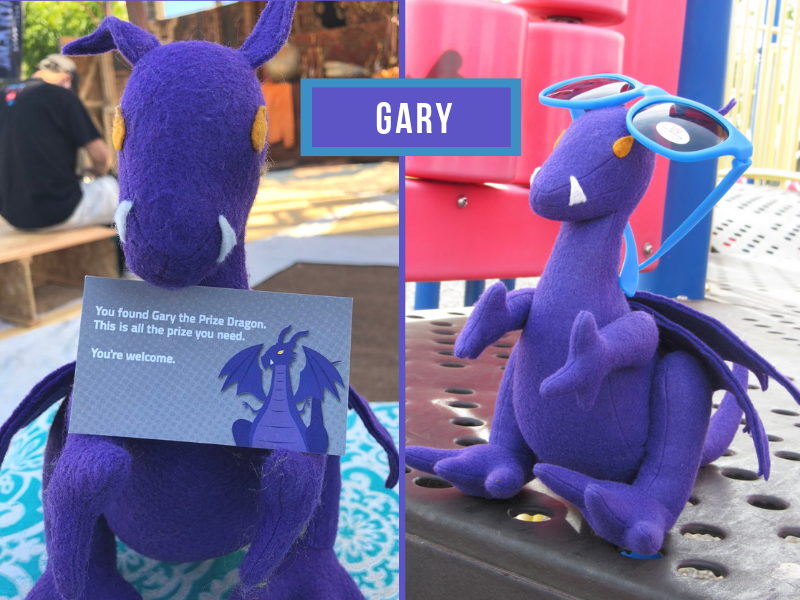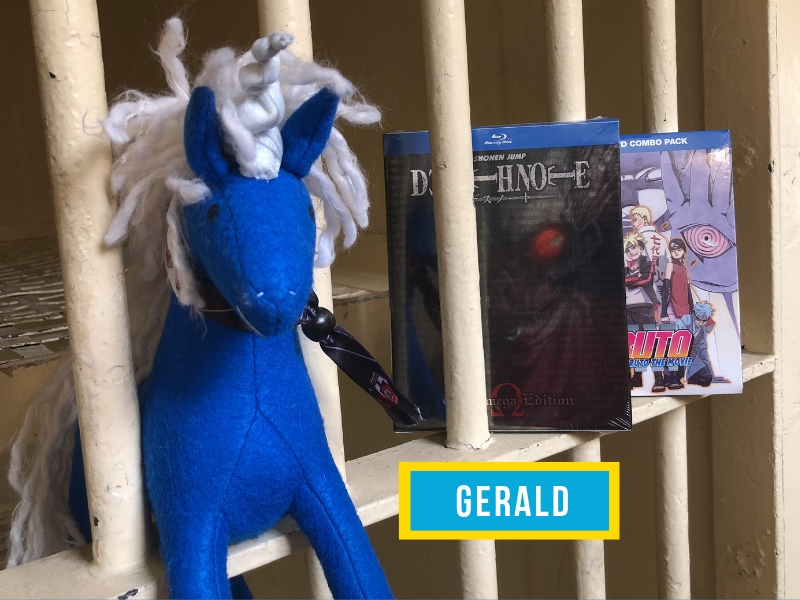 Gerald is a kind soul, if somewhat mischievous. His hobbies include watching Marvel movies, dreaming about SDCC, and being pushed down slides by Gary. Just where did he get his famous "shruggie" tattoo, you might ask? It was one wild night in the Hall H line — and either he won't say, or he doesn't remember. His favorite music genres are jazz, metal, and electronica, but you might find some Demi Lovato in his iTunes library. Gerald is the kind of Prize Mule you'd bring home to meet mom and dad.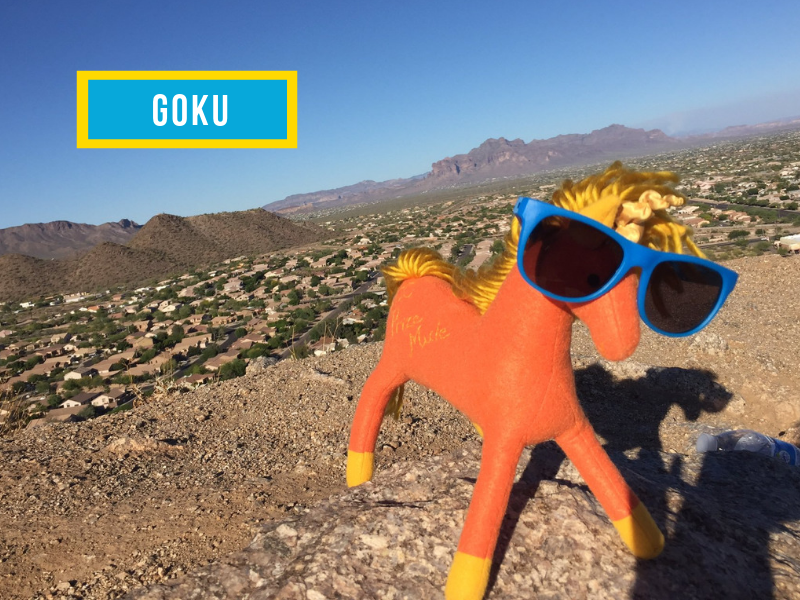 With a Prize Mule Level of over 9000, Goku trains in the sweltering heat of the desert to be able to deliver an amazing assortment of prizes during SDCC. Hiking is how Goku spends most of his time training as well as indulging in Boston cream donuts occasionally.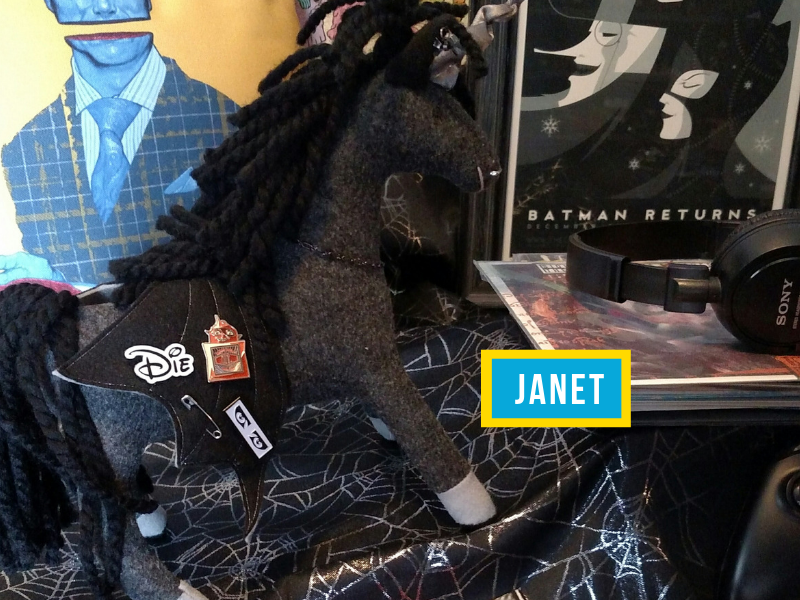 Janet resides in the darkest place and frequents even darker places. She enjoys listening to her Siouxsie and the Banshees records and polishing her extra large safety pins. Her fishnets are always torn and her eyeliner is always smudged. She often gets labeled as "morose" but she secretly loves a good joke. Janet is saving up for a good pair (actually two pairs) of Doc Martens and an ironic tattoo. "Knock, knock! Who's there? Goth! Goth who! Goth these black clothes sure make me warm!"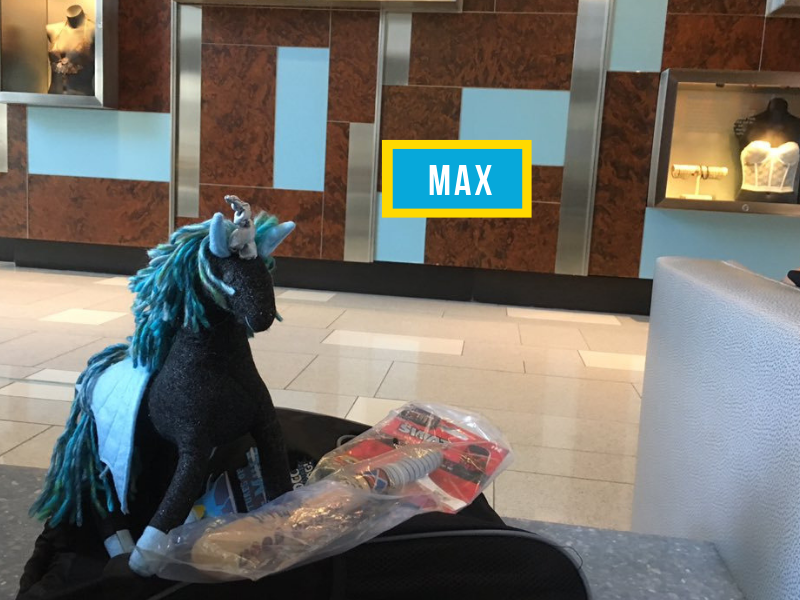 Max loves all things Comic-Con, especially anything that has to do with movies and television. When Max isn't giving away great prizes at SDCC he is sitting on the beach at Hotel Del Coronado, getting some sun.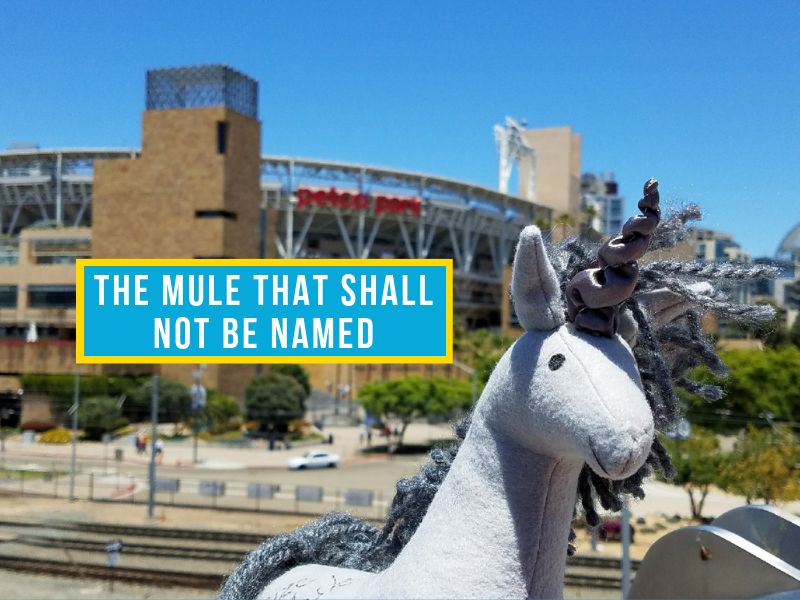 Little is known about the Mule that shall not be named except for that he's a mule that shall not be named. Like the Linus and the Great Pumpkin, each year SDCC attendees anxiously await a sighting…and though he has been seen…he still cannot be named.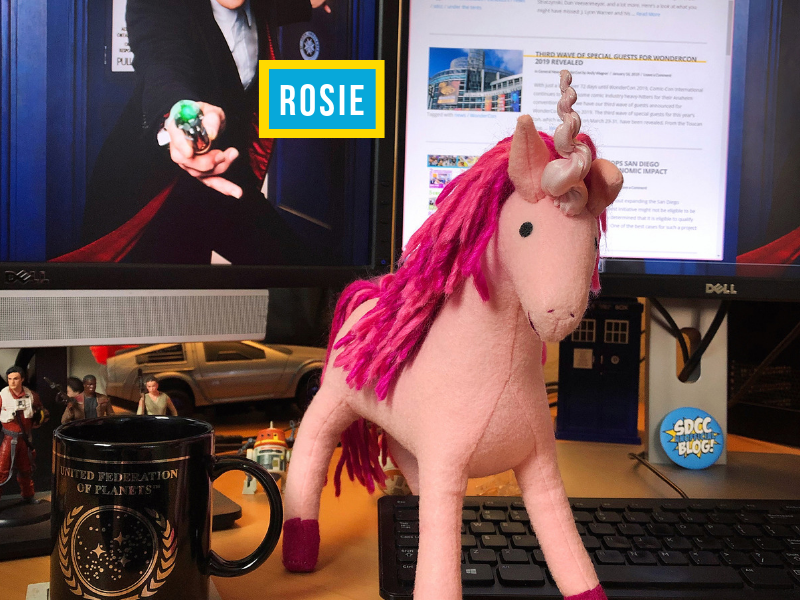 Rosie spends most of her convention days in panels fan-maring over her favorites, but she still makes time to give away plenty of prizes! She loves Star Wars, Star Trek, Doctor Who, Marvel, Disney, and many more. When there are no conventions to go to, you can sometimes find her at Disneyland.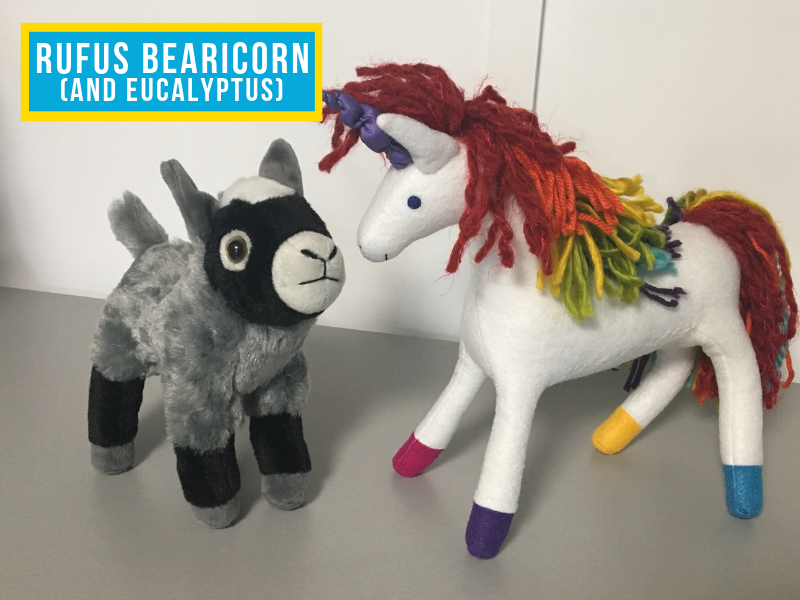 Rufus Bearicorn is not human but he appreciates your humanness. Rufus spends his days on the commune with his fellow beings and nights under the wondrous and bountiful stars, laying unencumbered, in order to soak fully in their wisdom. His yearly sojourn to SDCC is just one of the ways he gives back to the universe, bestowing prizes to his fellow earth dwellers. His goat friend, Eucalyptus, accompanies him on the journey. Rufus's passion is love and light and he leaves a little sparkle wherever he goes.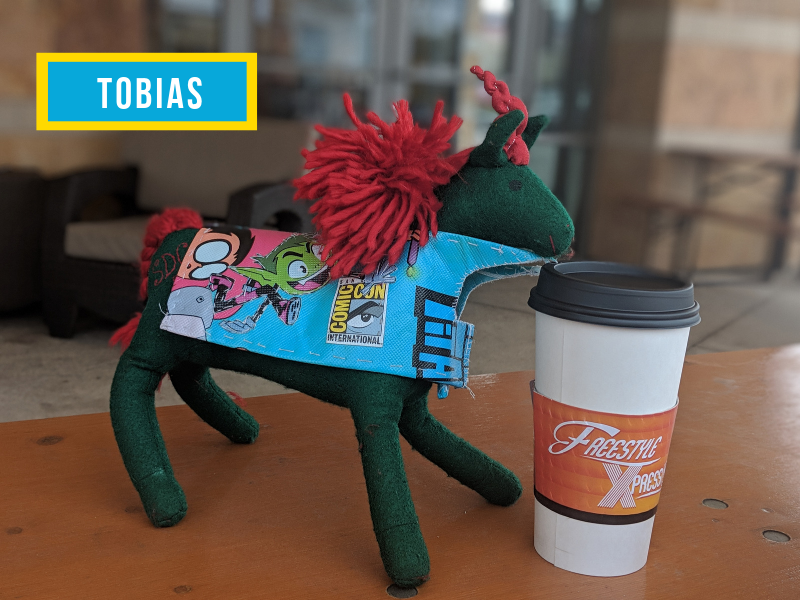 Tobias' personal mantra is "I am awesome"! Being the Ublog's most pampered mule, Tobias loves the finer things in life. The glitz, the glam, and anything fashion drives him. His ultimate dream, some may call him crazy, is to be like his idol Right Said Fred and "shake his little tush down the cat walk" to become the ultimate fashion mule! When Tobias isn't dreaming, you can find him attending high profile events like SDCC or enjoying a green tea alfalfa matcha at a local coffee shop.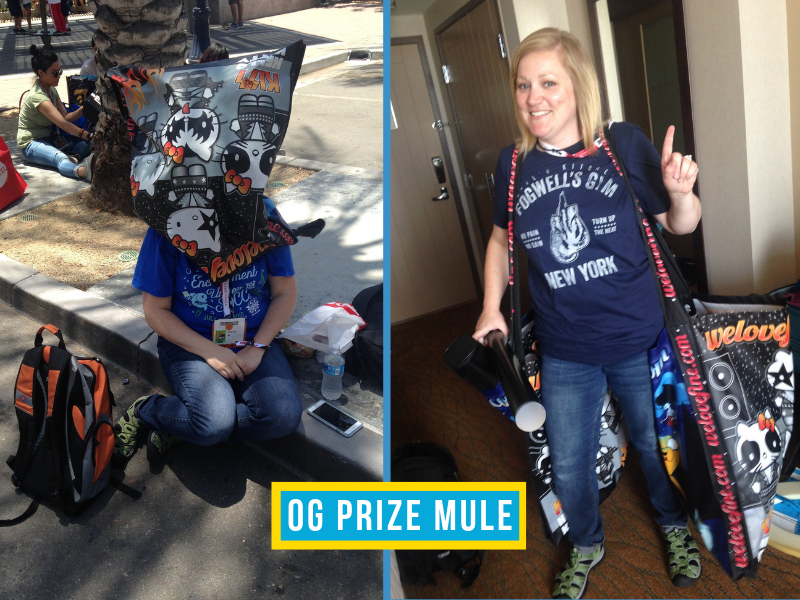 The OG Prize Mule is not a mule at all, but one Sunday afternoon she loaded up a pack of swag to give away onto her back and declared she felt like a pack mule. "No," replied her friend. "You are a PRIZE MULE." And thus, a legend was born.