Yesterday I gave you 10 packing tips and today I switch focus to the massive Comic-Con Exhibit Hall! This place has hundreds of booths with everything from comics, to toys, movies, and video games! In no real order, here's 10 tips you should know before attempting to go through this huge spectacle: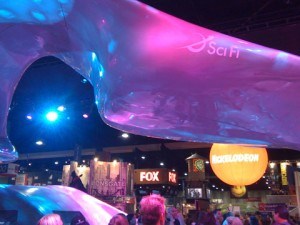 1. Plan out your time: I've found that with the thousands of hot sweaty people crammed in their all day I can't stay in their for more than an hour at a time without a break. You might be stronger but it still can get overpowering fast. Don't plan to stay in there for 3 hours without a break, plan your time wisely.
2. Keep in mind the time: Keep in mind on thursday, friday, and saturday the exhibit hall closes at 7. That means don't plan to go there late after all your panels are done. If you really want to explore it put some breaks in your schedule for "Exhibit Hall Time".
3. Make a game plan: Decide whether to start on one end and go to the other, or split the hall into different days. Just randomly walking around is fun if you have free time, but doing that all of con can make you miss really good booths.
4. Be on the lookout: If you're just walking through the hall be on the lookout at all booths around you. Just looking around you could probably find tons of booths that are giving out free stuff. You can get a lot of free stuff by just being observant.
5. Ask Questions: Ask people at booths when their next giveaway or signing is. Sometimes they wont tell you, but much of the time they will and it can really help plan out your day.
6. Bring Cash: Pretty self-explanatory. A lot of small business only take cash and you don't want to be left in the cold if you find that thing you need to have!
7. Be aware of the food: Though there is a food vendor in the exhibit hall, most of the stuff it sells is pretty gross and could make you feel sick. Unless your just buying a pretzel or a drink it's a lot better to eat offsite.
8. Bring the camera: There's a ton of great photo-ops in the hall. Whether its with a giant lego Vader or a life-size twilight standup, there's going to be a lot of times when you want to take a picture!
9. Bring Water: Like I said earlier it gets really hot, so unless you want to spend $7 on a bottle of water every time you go into the exhibit hall, bring your own!
10. Soak it in: The exhibit hall is an amazing place. Look around every once and a while at the awesomeness. It only happens once a year so try to savor the moments. Overall have a good time in it!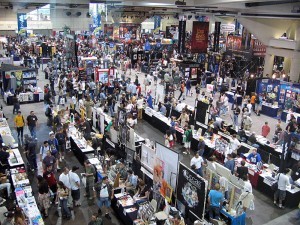 Hope the tips helped you!
Tomorrow is 10 tips for every con attendee!