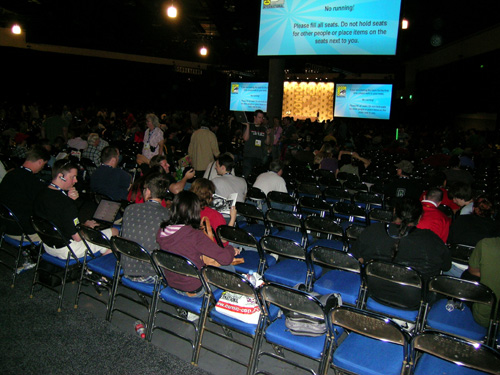 The Thursday schedule is jam packed with awesome panels but the question becomes which are must see and what can you skip. In this post I'll break down the major Thursday panels in both Film and TV. After a brief rundown of what is expected I'll give it a grade between A+ (Must See) and F (Avoid). Read on to see what I think.
Movies
"Megamind" – 10:00-11:00 AM – Hall H
Description: Though the part of the panel for the movie itself will probably end up in the C or D range (it looks terrible), the presence of Will Ferrell, Tina Fey, and Jonah Hill will definitely make this a super fun Q+A. A surprise visit by Brad Pitt could even bring it up to an A- (See the "Salt" panel for more on that).
Grade: B
"Tron Legacy" – 11:15-12:45 PM – Hall H
Description: Pretty much every star of the movie (including Jeff Bridges) returns to SDCC with the first clips in tow. Disney is unlikely to show a 20-minute section of the film (like Avatar did last year), but the smaller clips are sure to please fans and Disney managed to pack the panel to the brim.
Grade: A
"Battle for Los Angeles" + "Salt" – 1:00-2:00 PM – Hall H
Description: Though Battle for Los Angeles sounds like a fun action movie and the first trailer is likely to impress, Salt seems like an odd addition considering the film is coming out a few weeks after the con and almost no one is excited about it. A likely way to elevate the Salt portion of the panel to greatness would be an appearance by Angelina Jolie (the description promises "very special guests"). This is possible because the panel for Brad Pitt's movie Megamind is so close to this one but neither are confirmed so we'll have to wait and see.
Grade: B- (B+ With Jolie)
"Red" – 2:15-3:15 – Hall H
Description: The fact that they have Bruce Willis and Helen Mirren together on a panel makes this pretty awesome. The one disappointing factor is the lack of clips considering the film's Fall release date.
Grade: B+
Visionaires – 3:30-4:30 PM – Hall H
Description: J.J. Abrams and Joss Whedon are very entertaining people and should speak well together, no question. The panel does have the possibility of growing stale though, especially if they're forced to avoid every Avengers, Super 8, and Star Trek 2 question.
Grade: A-
"The Expendables" – 4:45-5:45 PM – Hall H
Description: Sure, the panel has Sylvester Stallone, Dolph Lundren, Steve Austin, Randy Couture, and Terry Crews. But considering the film also stars Jet Li, Jason Statham, Eric Roberts, and Mickey Rourke, it's a bit disappointing that Stallone is the only big name on the guest list. Other stars might make unannounced appearances, but as of now I'm unimpressed.
Grade:  C+
"Scott Pilgrim vs. The World" – 6:00-7:00 PM – Hall H
Description: The fact that the panel will consist of the eleven major stars and the director is mind-blowingly impressive. The real question is how they're gong to fit all those people on stage. Universal went all out and the clips are likely to be big hits.
Grade: A+
Television
"Burn Notice" – 1:00-2:00 PM – Ballroom 20
Description: Yes, Bruce Campbell is the star that 95% of SDCC wants to see. That doesn't mean it's okay to make him the only star on the panel. Pre-packaged videos and a sneak peak of next season both sound good but the lack of Jeffrey Donovan, Gabrielle Anwar, or Sharon Glass is disappointing.
Grade: C
"White Collar" – 2:15-3:15 PM – Ballroom 20
Description: This is a panel that Burn Notice should learn from. USA made sure that this show's first SDCC appearance has all the stars that fans would want to see. The sneak peek of Season 2 only sweetens the deal.
Grade: A
"Psych" – 3:30-4:30 – Ballroom 20
Description: The best of the USA bunch, Psych brings its stars, creator, executive producers, and a ton of awesome content to the panel. A giveaway that can get your name in the show and a con-exclusive shirt push this over the top and fans are likely to be ecstatic. A prime example on how to run a Comic-Con panel.
Grade: A+
Our Heroes Have More Fun: the Anti-Heroes of Showtime – 4:45-5:45 PM – Ballroom 20
Description: Though Michael C. Hall was expected because of his presence at the Dexter panel, including David Duchovny and Mary-Louise Parker elevates this panel to every Showtime viewer's must see list. The lack of Nurse Jackie talent is a bit disappointing, but Showtime still did a great job setting up an interesting and diverse group.
Grade:  A-
"Dexter" – 6:00-7:00 PM – Ballroom 20
Description: Michael C. Hall makes this panel. Though the presence of Jennifer Carpenter and the executive producers is welcome, fans will flock to this panel just for the sight of Hall. A premiere trailer for the new season and a Q+A/discussion with Hall should leave fans completely satisfied by the time the panel is over.
Grade: A
Agree/Disagree? What are your must see panels?