Thursday was a pretty big day on both the movie and TV front with a variety of things filling Hall H and USA taking over Ballroom 20. Let's take a look:
Movies (Hall H):
Megamind -They showed a five-minute trailer for the film that looked much better then anything released previously. It might have been showing off the best bits but it was still impressive. Then Will Ferrell came out in full costume and makeup. Tina Fey, Jonah Hill, and a cardboard cutout of Brad Pitt were also on the panel and they made for an awesome time. The conversation was hilarious and I was impressed with the footage. A-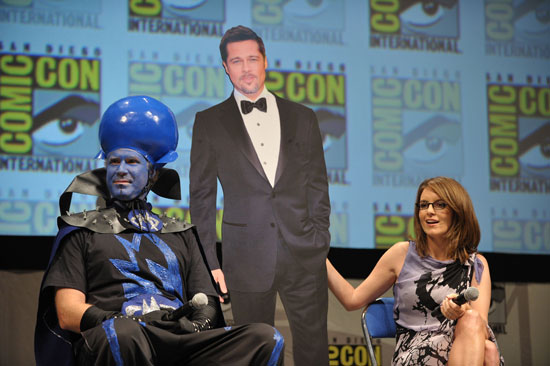 Tron Legacy – Showing off a new trailer and an eight-minute clip, Disney came prepared to blow us away. Though the visuals, music, and production design totally did, the acting and dialogue left me with a bit of a bad taste. The newcomer who plays the Flynn's son really didn't impress me. Still, Jeff Bridges was great on the panel and the footage was good overall. B+
Salt – An extended trailer made the film look like a mediocre Bourne rip-off but Liev Schriber was a lot of fun on the panel and Angelina Jolie had some interesting things to say. If the movie had looked better I might have been a lot more interested. B-
Battle: Los Angeles – Described by the director as "black hawk down with aliens," the movie looks a lot more like Cloverfield as it follows a group of people (in this case an army platoon), during an alien invasion. The trailer/clip they showed was intense but a bit bland and the aliens looked a bit too much like Transformers. The panel and Q+A was mediocre enough for me not to remember anything about it. B-
RED – Bruce Willis and Helen Mirren had a few fun things to say on this panel. The new trailer they showed was very good and Karl Urban also had some interesting Q+A answers. Nothing mind blowing, but the panel showed hope for a good movie and a fun cast. A-
The Visionaries – JJ Abrams and Joss Whedon did a great job discussing an amazing range of topics without ever getting boring. Funny and interesting anecdotes filled the panel and fans were left with both past and future projects discussed. Job well done. A
The Expendables – Though I sat through this panel just for the one that came after, I was pleasantly surprised. The clips and discussions bored me, but that was because I'm not really interested in the movie. Stallone was funny throughout and fans got the clips and stars that they wanted. I still wish they could have had more surprise guests though (they only had a brief hello by Bruce Willis). B+
Scott Pilgrim vs The World – The last panel in H stole the day with a hilarious Q+A and awesome footage. Every member of the 14-person panel got to say a few lines and each cracked the audience up. Michael Cera even dressed in a cheap Captain America costume since he was part of "the top 200 in the audition process. Overall, Universal did a great job assembling the talent and the footage showed off this awesome film. A+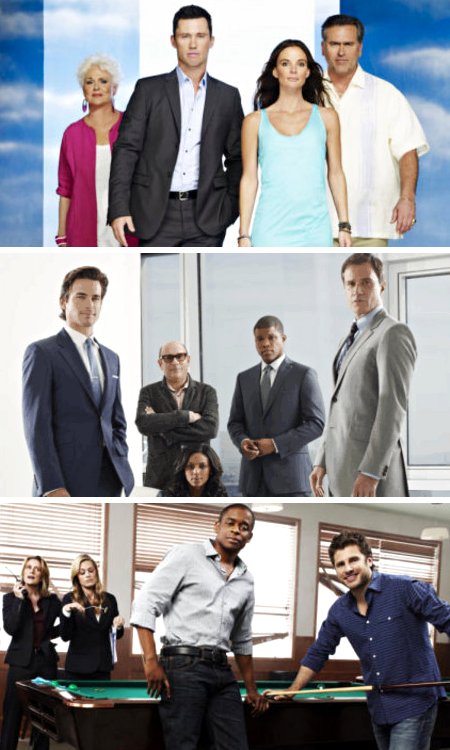 TV (Ballroom 20):
Unfortunately I'm only one person and spent my whole day in Hall H. This doesn't mean you can't hear what happened in Ballroom 20 though. TV.com has a Burn Notice recap here and HitFix has a White Collar recap here. Finally, AceShowbiz has a recap of all the panels in Ballroom 20 including the Psych panel. You can read that here.
Come back tomorrow night for a Friday recap!