SDCC Blog reader Zach Marcus sent in these reviews of the Scott Pilgrim Experience, Xbox Room at the Hard Rock Hotel, and Flynn's Arcade. I thought I'd pass them along as I don't think I'll be able to visit all of these.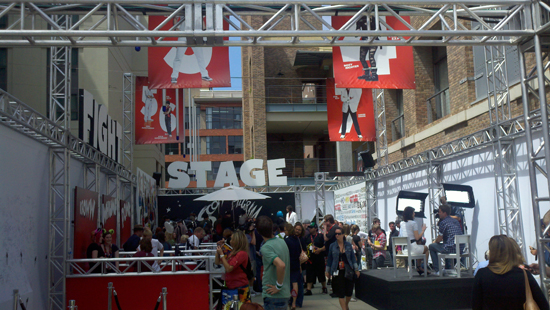 Scott Pilgrim Experience
I got in line first thing and waited for about an hour.  This is amazing.  First you get to make a t shirt, choosing the color and design.  Next is the flip books.  You have 7 seconds to do whatever you want.  A few minutes later you get an awesome color flip book.  They also have the video game playable and the occasional signing.  Outside is the garlic bread truck, where there is free garlic bread.
Xbox Room
On the second floor of the Hard Rock Hotel there is the Xbox room.  There are a bunch of TVs set up and games to play.  Most of the screens have the summer of arcade games set up to play.  There are two big screen with the Kinect to play (requires no controllers).  There is also free food, and OPEN BAR.

Flynn's Arcade
You have to get a ticket from the front, and you can usually go straight into the line, which moves pretty fast.  When you walk in you get a bunch of really cool tokens that feature different games on them.  The first room is the old video games, with the Tron game being the door out.  After a few hallways the backroom is an awesome setup that has a few screens set up and techno music blaring.  There are free Coke Zeros and when the trailer type video plays the whole room changes colors.  This is must see.
They all sound pretty spectacular. Have you checked any of these out and if so what did you think?