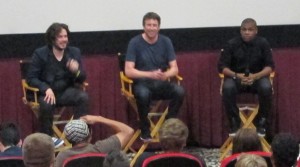 This isn't meant to be a review, but we just have to say it: If you're lucky enough to live in seven cities – New York, Los Angeles, Chicago, Austin, San Francisco, Seattle and Toronto – you must include going to see Attack The Block in this weekend's plans. The British import, executive produced by Edgar Wright and written and directed by longtime-collaborator and first-time director Joe Cornish, is depending on strong word-of-mouth and a solid showing when it opens limited on July 29 in order to expand to a wider release. And in a season of big-budget blockbusters and established licenses, it is the most fun we've had at the movies all year.
We can say this with certainty because we were lucky enough to attend a special Comic-Con screening of the film on Thursday, July 21 at the Reading Gaslamp theater, courtesy of our friends at /Film.
Like most screenings at Comic-Con, an RSVP doesn't necessarily guarantee you entry for the event. It's usually first-come, first-serve, and so as we arrived at the theater an hour ahead of showtime we found a line into the theater that stretched nearly two blocks. We thought, "no way would we get into this." But as we found throughout the weekend, regardless of how long the line is, it's surprising just how many people they can fit inside.
So when we got inside, we were greeted to a voucher for a free popcorn and soda and ushered into a large theater room, with ample seats to fit the large number of people who were waiting in line. Edgar Wright was on hand to introduce the film to the eager audience, who welcomed both him and the film with roaring applause. He let the audience know the film would be opening July 29 in North America to select cities, and that their word-of-mouth was important for a wider release. He also said that he, along with Writer/Director Joe Cornish and lead actor John Boyega would come out after the film for a Q&A with the audience.
After the film, which received a roaring applause from all who were in attendance, Wright informed that because it was so late in the night – nearly midnight, since the screening didn't begin until after 10pm – he would lead the Q&A and keep things moving. Wright played the audience well and got a lot of laughs when he would pick audience members to ask questions he prepared for Joe and John himself, but also opened the floor up for a few general questions toward the end.
One of the more interesting things we learned from Cornish is that he spent time recording audio of how kids spoke in south London, and used those recordings when writing the dialogue in the film. One of the more memorable lines – like, "it's just too much madness to explain in one text!" – was spoken for real during those recording sessions. He also said that they made a conscious decision not to use CGI to create the alien creatures to differentiate them from other creatures. They actually used CGI to remove detail from the creatures – he referenced Ralph Bakshi's Lord of the Rings animated movie and how live-action elements stood out on a matte background as the visual style he was trying to achieve. Newcomer John Boyega who played lead Moses in the film got a rousing applause from the audience and explained how the kids in the film spent a lot of time acting as kids together in order to bond, and that camaraderie showed in the final product.
When the Q&A came to a close, Wright, Cornish and Boyega all posed in the lobby for photographs with all in attendance, and everyone received a free t-shirt! All in all, it was one of the more memorable offsite events during the con and we're glad we got to be a part of it.
Now, what are you waiting for? Go see Attack The Block this weekend!