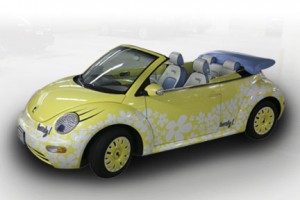 Color us surprised when we didn't see a Cartoon Network booth or events during the Comic-Con 2011 announcement season. Adult Swim seems to be taking on a life of its own at the con, but for great family fare it looked like it was going to be orphaned to its parent, Warner Bros.
Well, worry no more, because there will be a Cartoon Network booth. Sort of.
Between the time the convention center doors close on Saturday and reopen on Sunday, the Warner Bros. booth will be transformed, or rather "tooned up" into the official Cartoon Network booth for Family Day. The day's events will feature signings from your favorite CN shows, the Tweety Bird car give-a-way, costumed characters for the kids,and more fun for kids of all ages. And you betcha you'll catch us at the Scooby-Doo signing – man, we love that show.
Hope they use something a little more snazzy than that black and white from last year. Click past the jump to read the press release.
WARNER BROS. BOOTH WILL GET FAMILY DAY "TOON UP"
COURTESY OF CARTOON NETWORK
SUNDAY, JULY 24 AT COMIC-CON 2011
BURBANK, Calif. (July 15, 2011) — Sunday is family day at Comic-Con, and this year for the first time, Warner Bros. Entertainment will partner with Time Warner sister company Cartoon Network on a daylong "booth takeover" initiative. On Sunday, July 24, at Comic-Con International: San Diego, the Warner Bros. booth — with its distinctive 30-foot tall replica of the iconic Warner Bros. water tower — will transform overnight into the Cartoon Network booth to create a fun, family friendly environment designed just for kids.
In celebration of family day, Cartoon Network and Warner Bros. will present a day's worth of kid-friendly events at the booth, including:
Signings by stars and creators from "Regular Show," "Adventure Time," "The Looney Tunes Show," "Scooby-Doo! Mystery Incorporated" and "Young Justice"
 The return of last year's smash success kids' Dance Party, featuring costumed characters like Scooby-Doo and Bugs Bunny. For 2011, dance party revelers will show off their hottest moves on a custom-made Liquid Fusion floor, allowing them to walk on water! (Figuratively, of course.)
Live demonstrations by cartoonists and other artists, including iconic "MAD" illustrator Sergio Aragones
One-of-a-kind giveaways and premiums from Cartoon Network and Warner Bros. Animation, including the live giveaway of the Tweety car
Thirty-five workers will work over 500 combined hours to engineer a Cartoon Network rebrand of the 3,600-square-foot Warner Bros. booth, literally overnight, hanging all-new banners and booth signage to create an all-new environment.
CARTOON NETWORK BOOTH EVENT SCHEDULE
SUNDAY, JULY 24
"The Looney Tunes Show" autograph signing, 10:15 a.m.
"Scooby-Doo! Mystery Incorporated" autograph signing, 10:15 a.m.
"Adventure Time" signing, 11:00 a.m.
"Young Justice" signing, 11:15 a.m.
Cartoon Network Dance Party, 12:00 Noon–12:45 p.m.
Tweety car giveaway, 12:45 p.m.
Sergio Aragones live cartooning presentation, 1:00 p.m.
"Regular Show" signing, 1:45 p.m.
For additional information about Warner Bros. Television activities at Comic-Con, follow us on Twitter @TheWBdotcom (hashtag #WBSDCC) and visit www.thewb.com/comiccon.