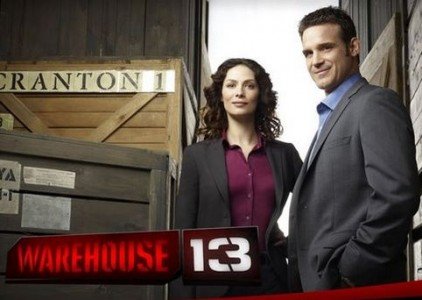 – Eddie McClintock, star of Syfy's Warehouse 13, confirmed via Twitter the show will return to SDCC with a panel on Saturday July 14 at 10AM. No room was announced. We assume Eddie will be there, since he tweeted the good news, but not much else is known about who will be attending from the show.
– Catching up with news we missed yesterday, the Merlin panel was officially announced for Sunday July 15 at 10:30AM in Room 6BCF. Panel guests include cast Colin Morgan (Merlin) and Katie McGrath (Morgana), and co-creators and executive producers Johnny Capps and Julian Murphy. Writer Jenna Busch will be moderating. A blooper reel was created by producers to show during the panel, and CinemaBlend reports those in attendance will be treated to some exclusive footage from the upcoming season.
– [UPDATE] our reader Kerry let us know of a tweet from @TVFanGirl060708 which shows all the TV Guide-moderated panels and their scheduled times. The panels and times  which weren't yet announced are as follows:
666 Park Avenue – 12:45 PM on Friday
Arrow – 3:00PM on Friday
Breaking Bad – 6:45PM on Friday
Vampire Diaries – 3:30PM on Saturday
The Following – 4:00PM on Saturday
Fringe – 10AM on Sunday
Supernatural – 11:15AM on Sunday 
One disappointment from this list – if you were planning to attend both The Vampire Diaries and The Following, know now you'll have to choose one over the other. Same with Kevin Williamson, who is producer on both shows, and will only be appearing on The Vampire Diaries panel.