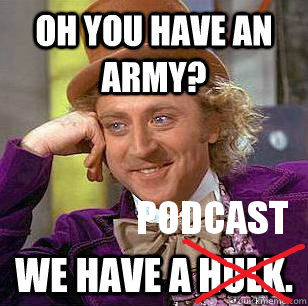 We're excited to introduce the SDConCast – the Official Podcast of the San Diego Comic-Con Unofficial Blog!
Download and listen to the inagural podcast from The San Diego Comic-Con Unofficial Blog. Listen to Jeremy and James talk about future Marvel Studios movies Iron Man 3 and…a surprise new stand-alone superhero? Also, we dissect the recent WBTV announcement about which shows we will be seeing at SDCC this July – pilot screenings, panels, and a surprise Hall H announcement?!?
It's our first podcast, so feel free to let us know how we can make the next one even better! You can email us, tweet at us @SD_Comic_Con, or leave a comment below. Thanks for listening!
Podcast Links:
Download: 25MB, 36 minutes [Direct Link]
Subscribe: [RSS] [iTunes]
The Hosts:
Jeremy Rutz
Twitter:@spotanime
Website: About Me
James Riley
Website: danregal.com
Bookmarks:
00:35 – Introductions
03:40 – What we've been doing
07:30 – News
16:06 – WBTV Panel and Pilot Screening Announcement – Link to blog post
Music:
The Aquabats! "Nerd Alert." Charge!! Link

Alan Silvestri. The Avengers Original Motion Picture Soundtrack. Link