Lionsgate is taking the first night of the con by storm with the world premiere screening of their upcoming film 'Dredd'. I'm not convinced the flick itself will be anything more than mediocre, but being among the first people ever to see it is certainly an appealing prospect. They're even having star Karl Urban introduce the screening, so it's sure to be a hot ticket.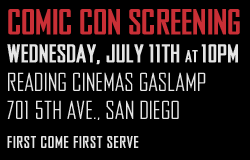 A few sites are doing giveaways for reserved seats (see links below) but it's also first come first served, meaning a portion of the theater will be filled with people standing in line outside. It'll probably be a big draw though, so definitely line up early if you don't get a reserved ticket and want to make it in.
Here's links to the reserved ticket giveaways we could find: Movies.com, ComingSoon.net, Collider.