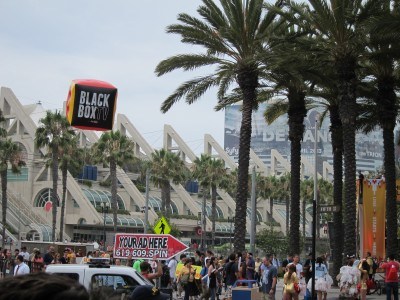 The official start to San Diego Comic-Con 2012 kicked off today in high gear, with a general buzz of excitement usually reserved for the weekend days. It's a clear indication the con is more popular than ever and a testament to just how much influence the SDCC crowd holds in regards to movies, television and video games.
Leading up to the con, The Twilight Saga: Breaking Dawn Part 2 was the most-anticipated opening day panel. It didn't disappoint Twihards, as expected, but it might have also won over a few new fans by showing exclusive SDCC footage of The Host, Stephenie Meyer's other saga which aims to do for aliens what it did for sparkling vampires. Attendees went to Twitter about how impressed they were with the footage – no small task for anyone jaded by Twilight.
But it was the next panel which took many by surprise, Disney Studios. We knew with Tim Burton and Sam Raimi as panel guests it would be something special, but no one was ready for just how impressive Disney's slate of upcoming films actually would be. After a very lively Q&A with Burton and moderator Chris Hardwick, Raimi took the stage to show the first trailer for Oz: The Great and Powerful. We were also in attendance and can say first-hand just how blown-away we were with what we saw of the film (note: the trailer has just been posted online). Using 3D to great effect in transitioning from Kansas to Oz, the footage showed both wondrous, colorful landscapes and environments, as well as some truly frightening creatures and scares that one would expect from Raimi. After the footage Mila Kunis and Michelle Williams came out on stage to talk about their characters in the film. Oz one comes out in 2013 and we can't wait to see more. Closing out the Disney panel was Wreck-It-Ralph and director Rich Moore. Being a Simpsons director for years, Moore and Hardwick played off of eachother during the Q&A and then surprised the audience with ten minutes of footage cut exclusively for the SDCC audience. We were already excited for this, and after seeing just how funny and clever the clips were, and all the great classic videogame character cameos, November can't come soon enough.
Closing out Hall H, The Italian Stallion and The Governator took the stage to promote this summer's Expendables 2. The first film showed at Comic-Con and took a lot of doubters by surprise. For this year's follow-up, Sylvester Stallone and Arnold Schwarzenegger again took even the most cynical by surprise by holding a very entertaining panel between the two heavyweights. Schwarzenegger was also the recipient of this year's Inkpot award, an annual distinction given out at Comic-Con to recognize career achievement in the industry.
Over in the Gaslamp, the offsite events were fast and furious. Microsoft's Gaming Lounge and 2K Games' XCOM took over the second floor of the Hard Rock Hotel, while the IGN Oasis downstairs gave out free food and drink. NBC took over the Tin Fish with Grimm, complete with a maze based on the show's dark forest. Handouts were everywhere, from free Movies on Demand to Disney's Oswald the Lucky Rabbit's floppy ear hats to promote Warren Spector's Epic Mickey 2: The Power of Two, and the crowds flocked toward the swag. The Walking Dead also took over Petco park but that didn't stop the zombie horde from cruising the Gaslamp.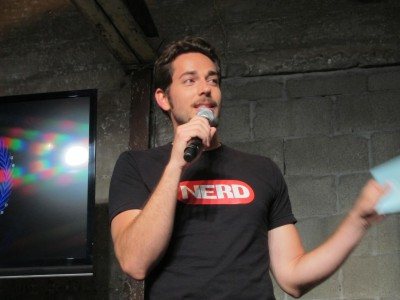 Lastly, Nerd HQ opened it's doors for it's second year today. It's an intimate venue where each panel holds just over 200 attendees – a fraction of SDCC's big rooms – and each person is assigned a seat number, so there's no standing in lines for hours at the chance of a good seat, or any seat at all. Zachary Levi emcees every event, and you get the feeling he's having just as much fun as all of us. It's no doubt we were big on Nerd HQ last year, and even with the ticket snafus this year it's still a great convention that is truly by fans, for fans. We were at the Robot Chicken panel and really enjoyed the conversational format of the panel. Seth Green even gave the intimate audience a big reveal when he said Tom Hiddleston and Daniel Ratcliffe would be guest voices for the upcoming season. The best thing about NerdHQ is that, for those not able to attend in-person, all the Conversations are broadcast live online, via Break.com.
And that was Thursday at Comic-Con. We already know Friday will be huge with Firefly, Game of Thrones, Breaking Bad and Big Bang Theory, not to mention all the great smaller panels and more NerdHQ Conversations. We're exhausted just thinking about it.