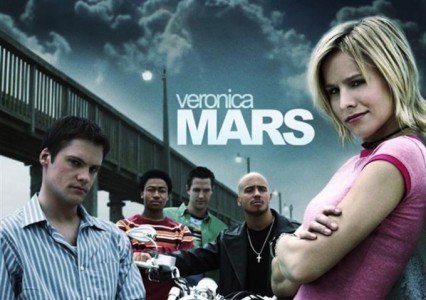 The Veronica Mars investor meeting will be tentatively held in San Diego this July.
Well, not exactly, but since thousands of backers of the Veronica Mars movie Kickstarter campaign will be there for Comic-Con anyway, it would certainly be the logical thing to do. And that's exactly what creator Rob Thomas and star Kristen Bell have in mind, if all goes to plan.
Nestled inside the paragraphs of this week's Entertainment Weekly story on the campaign is some juicy info that will undoubtedly have attendees counting the days until July 18 when SDCC officially opens:
If all goes well, investor-fans might get their first look at what their money has wrought at Comic-Con this summer: Thomas and Bell want to attend, ideally with footage in hand.
[UPDATE] THR had an interview with Rob Thomas and also confirmed his intentions for SDCC this year:
"We were built by fans, so we'll try to do our best to keep the momentum going through that," he says, promising an open shoot with plenty of tweets and photos transmitted to the Internet. "We're hoping to go to Comic-Con, maybe have some footage to show at Comic-Con. We have a documentary following the making of the movie."
It sounds like they would bring behind-the-scenes footage to show the crowd as a backup plan. Combining this with other, unconfirmed reports we've heard, and Thomas being on the record with major media outlets saying he wants to bring the film to Comic-Con, we think it's a lock. Stay tuned for any confirmed information.
Although Veronica Mars only achieved modest ratings when it aired on television nearly ten years ago, but has maintained a loyal fan base among the SDCC crowd, one which has been holding out hope that the movie Thomas had toyed with doing would someday materialize. Now it will, all thanks to the fans themselves.
Reunion panels at SDCC are big news nowadays – just look at Firefly last year – and especially when it's reuniting cast and crew for new adventures. If this does happens this year – and we think it will, footage or no – it will be one that would be talked about for years to come, let alone lined up for miles.
Excited about seeing Veronica Mars at SDCC this year? Let us know in the comments.