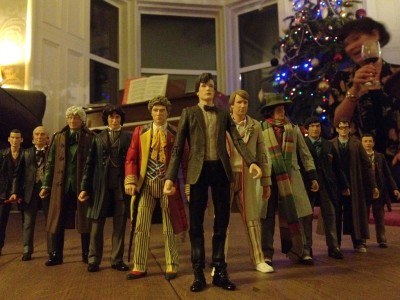 We get asked for advice all the time from our readers, and we're always happy to help. But now that we've assembled such a great team of experienced con attendees, we've decided to pool our knowledge in a regular column called, "Ask The SDCC Doctors", where we go around the TARDIS answering a reader question.
Today's question comes from reddit user laplandsix:
Heading to my first SDCC this year with a buddy. Starting to get pumped up. Anyone care to share the craziest/most unlikely/awesome thing that you've seen or done at SDCC?
The SDCC Doctors' Diagnosis: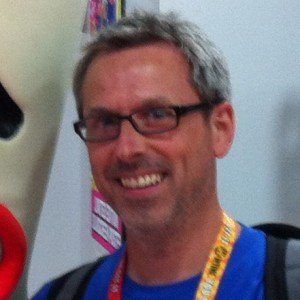 Jeremy: Wow, this is a tough one. It's like picking your favorite child…There are so many awesome things that happen at Comic-Con, it's so hard to love one more than the other. Sure there are the amazing panel moments, like when that one guy from the Q&A got to meet Steven Spielberg. Or when that kid got Ryan Reynolds to speak the Green Lantern oath for the first time in public. Or the chance meeting with your favorite celebrity. But my personal favorite moment, if there was one, has to be the TRON: Legacy offsite event at Comic-Con in 2010. The recreation of Flynn's Arcade and transportation into the Grid was something you don't even see at amusement parks, and really got me pumped for seeing the movie later in the year. There hasn't been a more elaborate setup at Comic-Con since.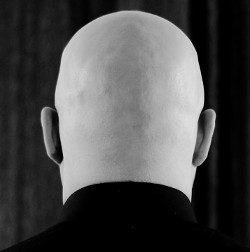 James: Awesome moments happen at SDCC every year and in a myriad of ways. Instead of picking the biggest, wildest, or most jaw-dropping awesome moment I've had, I'm choosing a very personal one. Back around 1998, when I was still a comics dealer, my friend Kenny was my buddy in all things geek. We saw a movie almost every week together, talked about comics, action figures, etc. During SDCC that year, he bought a Clerks movie poster and waited in line to get it signed by Kevin Smith. It was rolled up on the back of his wheelchair when he came by my booth, and of course I never realized what it was. Fast forward to 6 months later, guess what I got for Christmas? That's right, a signed Clerks poster. Smith had written "James, where's my damn hat?" on it.
That's not the end of the story though. Kenny got sick right before the con in 1999. He passed away a few weeks later. I missed having my buddy around during the con, and I missed him even more after. In 2000 I was no longer a comics dealer and I just wandered the con for fun. I walked out of the front doors during one of the days and who was out there smoking? Kevin Smith. I normally don't bother celebrities but I stopped and talked to him. I told him the story of Kenny and the signed poster, and thanked him for being a part of one of my most cherished memories of my friend.
Those 2 moments connecting over the course of a couple years are one of the main reasons I love San Diego Comic-Con.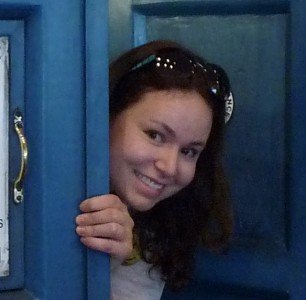 Kim:  I have had an amazing amount of good luck when it comes to timing at Comic-Con. From celebrity run-ins in downtown San Diego (some even with conversations!) to getting into offsite events that blew my mind, like Flynn's Arcade! (See Jeremy's post, above, which sums it up perfectly.)  My favorite right-place/right-time moment came several years back at SDCC 2008, when one of those double-story booths was promoting "Harold and Kumar Escape from Guantanamo Bay," complete with a unicorn on top. I happened to be walking by the booth at the exact moment they said line up, and at Comic-Con, when someone tells you to get in line, you probably should. Turns out, we were lining up to have our photo taken with Neil Patrick Harris, next the unicorn, and only about 20 people were able to do so. As a How I Met Your Mother fan, that moment was legend. . . wait for it. . . dary!  And a perfect example of awesome Comic-Con Timing.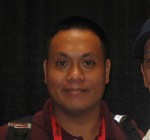 Evic: The San Diego Comic-Con is the definition of "AWESOME EXPERIENCES" there is no other show that I can think of that has so much to offer to their attendees. Just think about last year: Walking Dead Escape, WB's Extra at Comic-Con, Django Unchained Event, Bioware Base, Nerd HQ, Frankenweenie Touring Exhibit, History Channel Cross-Country Cookout, Adventure Time Experience, NBC's  Grimm & Revolution Experience and those were just a few of the events outside of SDCC! Inside there were even more awesome opportunities and to numerous to list here. One thing is for sure there will be a lot of opportunity for something crazy/unlikely/awesome to happen so embrace and enjoy the experience!  Now an unlikely/awesome thing that still resonates with me because it was not planned, I didn't know he was going to be there and I was astonished that there was no one around him clamoring for his autograph or a picture.  Let's just say I was so amazed that I had to do a double take and rub my eyes to make sure that it was the late great Will Eisner sitting at a booth ready to sign posters and greet his fans. To this day that moment was one of the biggest surprises to me. I still can't believe that there was not a line down to the marina ready to meet him let alone not a single person talking to him. Getting an autograph on the poster he was handing out, shaking his hand and having a quick chat with of one of my comic idols was priceless!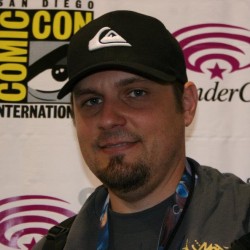 Shawn: One of the most impressive things about SDCC is the surprise factor. Although I'm a fan of many cons, there are few that can come close to providing the surprises that SDCC does. I've run into LL Cool J in the middle of the exhibit hall and found myself at the front of the line of a Wil Wheaton signing without ever realizing it until a few feet away. Even winning Marvel's Iron Man 2 "Golden Ticket" to hang with director Jon Favreau in the Hall of Armor is something I can't imagine happening anywhere else in the world. The list is so long with surprises that it is hard to pick just one. That said, I think an experience that may best summarize the surprise factor of SDCC is in 2011 when Conan O'Brien took over the Green Lantern: Animated Series panel. It isn't that I am the biggest O'Brien fan in the world or that I was even particularly interested in his pitch of the "Flaming C" cartoon trailer he showed. It was the awe. It was knowing that there were millions of O'Brien fans that would kill to be in my seat and that I just lucked into the situation. There is so much at SDCC that takes tireless commitment and effort, but sometimes its the little moments where fortune smiles upon you that you take away with Glee. The giveaway of Oswald ears in front of the Hard Rock…the cast of The Avengers assembling at the front of Hall H…the fulfillment room ticket you find on the ground that gets you that True Blood swag bag you've been eyeing throughout the con. If there is one thing that makes SDCC special, it is the surprises and no matter how much you plan for the King of Cons, some of your best moments this July are going to be surprises that you never imagined.
Do you have any great stories for laplandsix? Post in the comments below.
If you have a question for the Doctors, drop us a line or tweet us at @SD_Comic_Con.