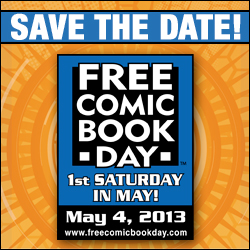 We've started a new, quasi-regular column on the Blog titled "Under The Tents". The title is symbolic, as it's representative of the times we all line up under the tents waiting for those big moments to happen inside Hall H or Ballroom 20.
Here's the stuff you might have missed for today:
Hey bub, Wolverine says go to your local comic shop on Free Comic Book Day
Saturday May 4 is also "May The Fourth" Day, the annual celebration of all-things Star Wars. LEGO is taking part by offering some great deals, through May 5. All of these offers can be stacked:

FREE Shipping on all orders of $49 or more.
FREE Exclusive Han Solo™ (Hoth™) minifigure with LEGO Star Wars orders of $75 or more. (while supplies last)
Exclusive Star Wars Yoda™ Poster with all LEGO Star Wars orders. (while supplies last)
Hasbro is also participating in the Star Wars festivities this weekend. Use promo code SWFANDAY for 20% off any Star Wars toy on HasbroToyShop.com. Promo code expires May 4, 2013 at 11:59 PM ET.
The Marvel Cinematic Universe is getting a little crowded. EW reports that Marvel has regained the film rights to Ghost Rider and Blade, in addition to Daredevil and The Punisher in recent weeks. It's starting to sound a little like the setup to a joke: "A flaming skeleton head, a vampire-human hybrid and a blind man walk into a bar…" [via Slashfilm]
Arcana Comics and The Vladar Company will be debuting its upcoming sci-fi graphic novel Head Smash at Comic-Con.
Toucan, the Official Blog of Comic-Con International, posted Part Two of their interview with Strangers in Paradise's Terry Moore.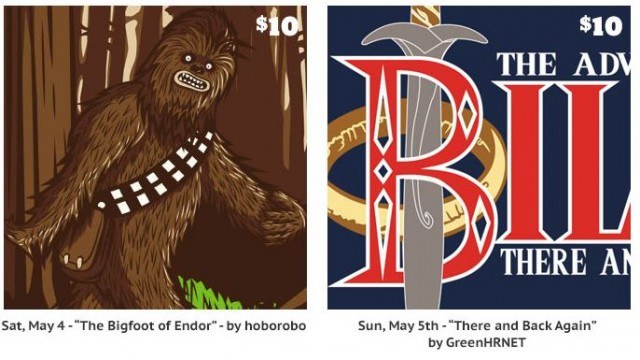 Our "Thank God That Didn't Happen" award goes to earlier drafts of Iron Man 3, which director Shane Black said on Empire's Iron Man 3 Spoiler Podcast included a Pepper Potts/Aldrich Killian sex tape, different villains, and "IT geeks that help Tony Stark out". C'mon, if Tony needed any help, he could have called some of his other friends… [via Movies.com]
Anything we missed? Let us know in the comments, drop us a line or tweet us at @SD_Comic_Con.