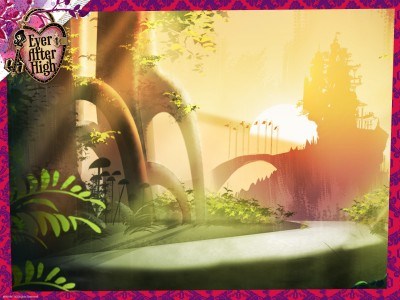 Mattel has a new animated high school series in the works called Ever After High which looks to be cut from the same cloth as their hugely popular Monster High property. Here is a synopsis from the Official Ever After High Facebook page:
Fairytales have existed for thousands of years, inspiring imaginations around the world. Certain stories were so spellbinding, they were passed down to new generations. But there was nowhere to teach the teenage sons and daughters of famous fairytales to follow in their parents' fabled footsteps. That is until 1812, when the Grimm brothers opened the doors to Ever After High – a high school where the next generation of fairytales learned to live their legacy. Class schedules specific for each fairytale were handed out – from Princessology for royal legacies to History of Evil Spells for villain legacies. Headmaster Milton Grimm, who currently runs Ever After High, believes the future of fairytales relies on all students fully embracing their prewritten destiny today to become a legend of tomorrow.
The premise of the show is similar to Monster High, where the kids of famous fairytale parents attend high school and face a dilemma. Instead of the notion of fitting in like in Monster High, the fairytale tweens are faced with the burden of either following or not following their famous parents footsteps. So are you a Royal or a Rebel (We're suddenly having flashbacks of West Side Story)? Whichever side you favor, this should provide an interesting twist as most will associate anything fairytale related with a Disney storyline.
Currently, there is a website for Ever After High, an Official Ever After High Facebook page and a YouTube page. There are four characters highlighted in the Mirror Blogs on the website: Apple White, Raven Queen, Briar Beauty and Madeline Hatter but there are quite a few more characters teasted in the videos.
This has the makings to be – excuse the pun – a "monster" hit for Mattel and I can't think of a better place than San Diego Comic-Con to make a splash and introduce the show and doll line. So what makes us think Ever After High will be making an appearance at SDCC?
First hint is on the Ever After High website. On the right hand corner of the website there is spot for registration which states "Enrollment starts THIS JULY" along with the code: "DECORATE". Is it a coincidence that SDCC is in July… we think not!
Second hint is on the Mattycollector website which states that during the Mattypalooza fan panel there will be some reveals on 7/19… seems a perfect place to show the doll line besides the booth.
Third hint maybe a bit of a reach but we can't think of what would be a bigger surprise than introducing a new line. On the Mattycollector website they stated, "…we'll add one or two surprises later in May or June just to keep it all going…". They already announced the Monster High doll but we wouldn't count out a Ever After High exclusive like they did with the Black and White Frankie Stein doll back in 2010.
And now there looks to be some leaked photos from the packaged doll line of the show's two main characters: Apple White and Raven Queen, courtesy of arianadelslay on Tumblr.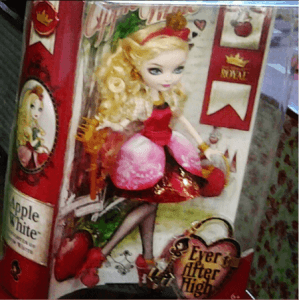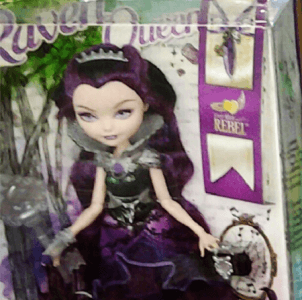 Do you think the show will make an appearance at SDCC? Do you think they will be displaying the doll line at the Mattel booth or show them at the Mattypalooza fan panel? Or maybe an exclusive doll released at SDCC? Inquiring minds want to know! It will be fun to speculate until the news starts dropping from Mattel.