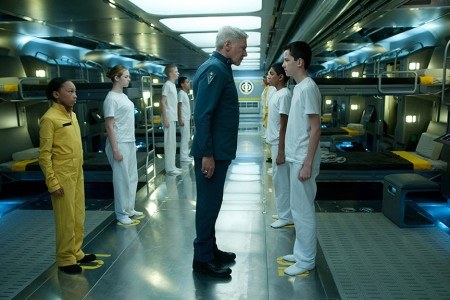 Summit Entertainment will again be taking over Hall H on Thursday – this year with Ender's Game. The panel will include cast members Harrison Ford, Asa Butterfield, Hailee Steinfield and Abigail Breslin. Also in attendance are producer Bob Orci and director Gavin Hood.
There will also be an Exclusive Fan Experience off-site, where attendees will be able to visit an elaborate, specially constructed Ender's Game exhibit outside of the Hilton Gaslamp, featuring 8 unique rooms representing the most iconic environments of Ender's world, complete with original film props and set pieces used in the movie. Throughout the experience, attendees will be able to see exclusive film footage on LED screens, interact with new digital content, integrate photos of themselves into the highly anticipated Battle Room, and register to win a home make over.
At Summit Entertainment booth #4245, fans can stop by to grab premium promotional items, and booth visitors will also be given the opportunity to win "fast passes" to the Ender's Game Exclusive Fan Experience, granting them entry without having to wait in line.