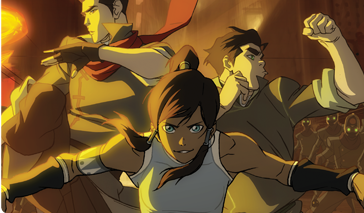 The Hollywood Reporter has posted details of Nickelodeon's SDCC plans, which include The Legend of Korra and Teenage Mutant Ninja Turtles panels.
As with last year, The Legend of Korra will be returning to Ballroom 20 on Friday July 19 from 11:15AM – 12:15PM.
The Teenage Mutant Ninja Turtles panel will also be on Friday July 19, 2:15-3:15PM in room 6A.
A SpongeBob Squarepants panel will be on Sunday July 21 from 1-2PM, also in room 6A.
Lastly, a "Nick Re-Mix" panel will be on Thursday July 18 from 2-3PM in room 7AB.
No panel guests were listed for the panels, but we expect most cast and creators to be in attendance, based on previous years.
Some merchandise announcements were also made, like a limited-edition Casey Jones poster and a SDCC-exclusive Shredder action figure. THR also posted their exclusive first look at the poster: