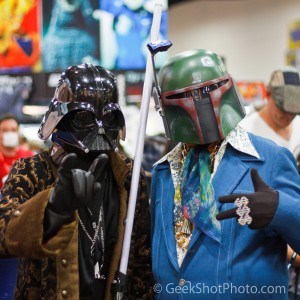 Although it appears Disney will be holding out the majority of Star Wars news from San Diego Comic-Con (SDCC) this year in favor of Star Wars Celebration Europe and D23 Expo, it doesn't mean that the fans plan to let the historic franchise be absent from the King of Cons. Star Wars Action News, leader in the Star Wars fan community, has announced that they plan to continue the tradition of "Star Wars Day" at SDCC this year with another Star Wars Fan Breakfast.
Comic-Con and Star Wars have had a long and friendly relationship that extends all the way back to 1976 when a few hundred fans attended a panel related to the sci-fi film. Both groups have grown and changed over the years, but Star Wars has continued to be at the heart of SDCC until quite recently. In fact, for quite awhile Friday was officially recognized as "Star Wars Day" at the convention. In keeping the spirit and fun of Star Wars at the heart of the convention, Star Wars Action News will host the Star Wars Fan Breakfast on Friday, July 19th at 7:30 AM at the Edgewater Grill near the San Diego Convention Center. Here are the full details directly from Star Wars Action News:
On Friday, July 19th at 7:30 am, Star Wars Action News will be hosting the 3nd Annual Star Wars Fan Breakfast!

When Lucasfilm ended the Star Wars Fan Club, the long tradition of starting "Star Wars Day" at San Diego Comic Con with the Star Wars Fan Club breakfast went with it. But in 2011 Marjorie and Arnie started a new tradition, the Star Wars Fan Breakfast!

The event is being held at the Edgewater Grill, walking distance from the convention.

Door prizes are being donated by Star Wars Action News, Hallmark, Random House Audio, Uncle Milton, Diamond Select Toys, and more!

The Edgewater Grill is opening 30 minutes early just for this event, 7:30 a.m., plenty of time for chat, food, and then get to the con when it opens!

The event has no cost, just pay for what you order off the menu. Edgewater has agreed to do separate checks for each party. But we do need to tell Edgewater how may people to expect, so please RSVP the number of people who will be attending to sdccfanbreakfast@swactionnews.com before July 10th.
With an ever expanding calendar of off-site activities, this event is a welcomed change as a breakfast rather than another evening activity. So, who plans to have some blue milk with their eggs and join these Star Wars fans at a breakfast not so far away from the convention center? Leave a comment below and let us know your plans.
Photo courtesy of GeekShotPhoto.com