We've started a new, quasi-regular column on the Blog titled "Under The Tents". The title is symbolic, as it's representative of the times we all line up under the tents waiting for those big moments to happen inside Hall H or Ballroom 20.
Here's the stuff you might have missed for today:
First off, we'd like to welcome Kerry Dixon to the SDCCBlog team! Kerry has been great in digging up information for our daily UTTs, so we asked her to come aboard to help us out as we hit our busy season of SDCC news. Please welcome her!
No surprise, but it's good to know- USA's Psych will be returning to Comic-Con this year, according to this tweet from actor Timothy Omundson [thanks kerrydixon]:
"@emmaburnett2206: Are you going to comic con this year???"

Yes, indeed we are! #Psych @Comic_Con

— 🇺🇦Timothy Omundson🇺🇦 (@Omundson) June 19, 2013
Actress Sarah Shahi from CBS' Person of Interest revealed via Twitter she will be a guest at the show's panel, confirming it's appearance at SDCC this year.
"@sweetpug14: @onlysarahshahi Are you going to be on the #personofinterest panel, at this years Comic Con?"yes I am!!

— Sarah Shahi (@sarahshahi) June 19, 2013
The Dreamworks Animation Filmmakers panel will be on Thursday morning, as mentioned on a tumblr post from a DWA employee. No specifics on time, location or even films discussed in the panel, but it looks like there will be a special invite-only cocktail hour sponsored by the company [thanks kerrydixon]:
We'll be there Weds/Thurs. So if you're going to cosplay as a DWA character, do it on one of those days so I can take a picture of you! 😉

We're also gonna give away passes to a special cocktail hour on Thursday, stay tuned for the announcement closer to SDCC.
The Official Blog of Comic-Con International's first update in its month-long "Toucan Tip of the Day " is one we agree with completely – Have A Back-up Plan for Attending Panels! Here's a snip:
With a schedule this big and busy, you're almost sure to find a second—or third—choice in the same timeslot, or use the time-honored back-up: Visit the Exhibit Hall and do more shopping! Get to your panel rooms early and allow yourself walking time to get to your alternate panel choice, if the line looks too forbidding.
Ashley Scott, star of Jericho, will be appearing at the Jericho Fan Table and Autograph Alley July 18-20. Check out her schedule for specific times and locations.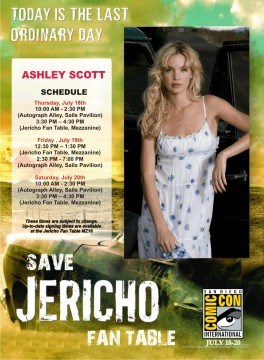 Wacom, one of the leading manufacturers of digital drawing tablets, has an interesting proposition for SDCC attendees.
Wacom is looking for 40 people attending Comic-Con to report LIVE from the show via social media. You will be supplied the Bamboo Stylus duo prior to the show to take with you as part of your reporting toolkit. Photos, live tweeting, vine videos, live drawing on smartphones, iPads or other devices, you name it! We are looking for a continuous stream of awesome content from the show.
The person with the most creative and in-depth coverage at the end of the show will win a Wacom Intuos5 Medium and Wacom Inkling. Check out the post on the Wacom Community site for more information.
SpankyStokes.com has the scoop on Rampage Toys's "X-Ray Ugly Unicorns", which will be available at Dragatomi's Booth, #5350:
Pictured is certainly what appears to be a micro edition of Ugly Unicorns cast in glitter purple sofubi (Japanese vinyl) with pinkish-purple skeletal inserts, which are typically used to make X-Ray Ugly Unicorn runs.
Legendary and award-winning animators Bob Singer (character & background designer-Bugs Bunny/Scooby Doo), Art Leonardi (designer/director-Pink Panther) , Willie Ito (layout artist/Bugs Bunny, Flintstones) , and Iraj Paran (character & title designer-Super Friends/Josie and the Pussycats) share their vast experience shaping the history and creating hundreds of classic characters and cartoons we love from Disney, Warner Brothers, & Hanna Barbera, with over 100 years of experience between them.
VinylPulse.com has the sneak peak of the BAIT SDCC Exclusive Kidrobot Street Fighter Akuma: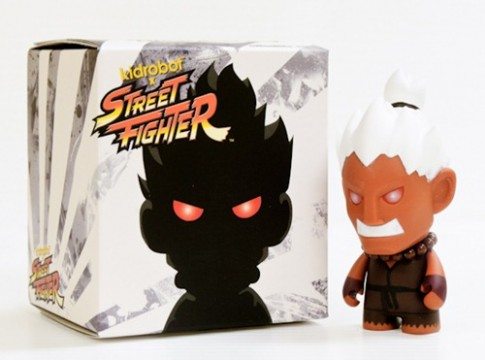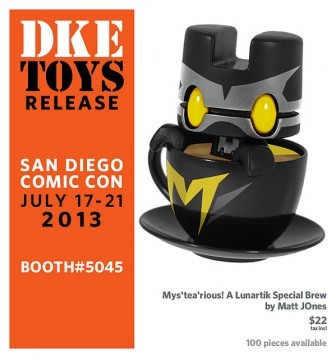 It will be $22 and there will be 100 pieces available, out of 200 – the other 100 will be sold by Lunartik in Europe later this summer. You can get this at the DKE Toys booth, #5045.
No surprise here either, but Stan Lee's World of Heroes panel will be returning, and Examiner blogger Amy Galante confirmed some panel details via Twitter:
@TheRealStanLee confirmed for Stan Lee's World of Heroes panel on Friday, July 17 at 10:15 AM in Room 6BCF. More guests to be added! #SDCC

— this charming amy (@ThisCharmingAmy) June 19, 2013
Anything we missed? Let us know in the comments, drop us a line or tweet us at @SD_Comic_Con.