We've started a new, quasi-regular column on the Blog titled "Under The Tents". The title is symbolic, as it's representative of the times we all line up under the tents waiting for those big moments to happen inside Hall H or Ballroom 20.
Here's the stuff you might have missed for today:
CCI has released an image of this year's Comic-Con souvenir book, from Sandman artist Dave McKean.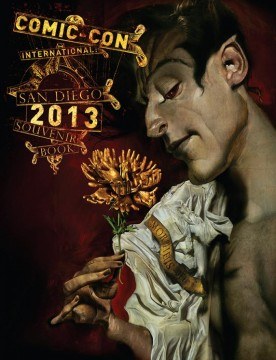 In honor of the 25th anniversary of The Sandman, [Dave  created a new exclusive piece of art for the Comic-Con Souvenir Book cover, which perfectly captures the essence of Morpheus. In addition to Dave's art appearing on the cover of our keepsake Souvenir Book, it will also be one of the official Comic-Con 2013 T-shirts (more on that later)!
The t-shirts have been increasingly popular in recent years, selling out days before the end of the show. We think with art like this, getting a shirt won't be any easier this year.
Rob Thomas, creator of Veronica Mars (do we even need to introduce him at this point?) sent out an update to backers of his Veronica Mars Movie Project with a teaser on what is to come at Comic-Con:
More SDCC News: We also continue to receive a lot of questions about our plans for San Diego Comic Con. As I shared in April, we'll be holding our own fan event on the evening of July 19th, but now that we've finished coordinating with SDCC, I'm pleased to tell you that we'll also be putting in an official appearance at SDCC itself: in the next few days, we should be able to share details about an official Veronica Mars panel and cast signings at the Warner Bros booth.
Shout Factory's horror movie and DVD division, Scream Factory, will be hosting a panel on Friday in room 24ABC from 6:30-7:30PM. You can watch their Facebook page for more updates about guests:
Shout Factory's Scream Factory™ DVD & Blu-ray division devoted to fan-favorite retro horror and sci-fi films has taken on a life of its own. With classic titles such as They Live, The Howling and Lifeforce already out, Scream Factory™ is just the place for horror aficionados. Join Cliff MacMillan (Scream Factory DVD Producer) and Jeff Nelson (Scream Factory Marketing Director) as they take you behind the scenes, introduce exclusive footage, and announce future releases. The panel will be moderated by Sean Clark (host, Horror's Hallowed Grounds) and we will be announcing a very special guest who will be joining us soon!
Simon & Schuster have announced their Comic Con schedule this year, and it includes panels and signings with some fan favorites, including John Barrowman and "Mortal Instruments" author Cassandra Clare. You can check the full schedule on Hollywood the Write Way.
The Four Horsemen 2013 Alpha Phase edition Outer Space Men SDCC exclusives are now available for pre-order on the Store Horsemen website.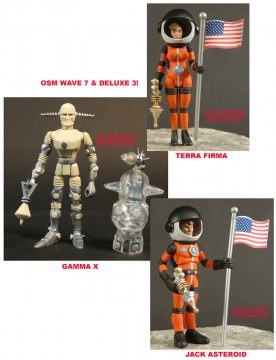 The 2013 Alpha Phase Edition Outer Space Men Wave 6 & Deluxe 2 and 2013 Alpha Phase edition Outer Space Men Wave 7 & Deluxe 3 sets are $60 each and will ship a couple of weeks after SDCC.
MTV Geek has the exclusive on five new, limited-edition Magic: The Gathering Planeswalker cards. There will be five new variants from the 2014 set featuring black-on-black art by Steve Prescott. These new cards will be available at the HasbroToyShop booth during Comic-Con.
The Prop Store released a video on its plans for SDCC this year.
In it they say they will be giving out Prop Store lanyards, mugs and will have a prize drawing to win an Ampule used in Prometheus. Just don't open it! Check out their booth, #3645
Comicbookmovie.com says they have confirmed with an anonymous source that a Doctor Strange movie announcement from Marvel is forthcoming at SDCC.
DKE Toys has announced its latest SDCC exclusive, the Infected Labbit by Scott Wilkowski x Frank Kozik.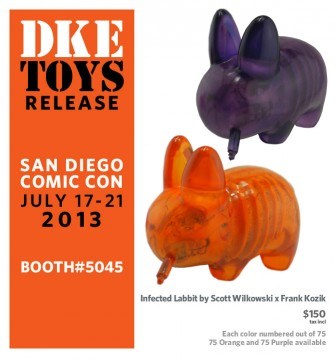 It will be available in two colors, purple and orange. Each clear colored resin figure has Scott's signature skeleton peaking out from within. 75 pieces of each color will be available, at $150 each. You can get these at the DKE booth, #5045.
Comics Alliance has the details on something every Dragon Ball Z fan simply can't do without – their very own Scouter.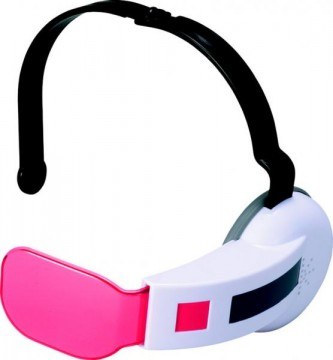 These will be available in red, green, and purple color variants, and features authentic sound bytes from the classic anime. Sweet, we'll need one of these to get our Super Saiyan on in order to cover the convention. $25 at Bluefin Distribution, booth #140.
Anything we missed? Let us know in the comments, drop us a line or tweet us at @SD_Comic_Con.