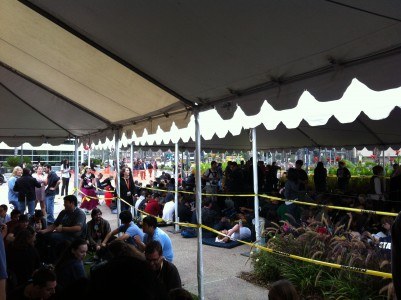 CCI announced its Hall H line rules and regulations for 2013, as well as unveiled its Transportation page for attendees.
For those of you wondering, the rules for lining up at Hall H are no different than last year. As we heard from our interview with David Glanzer earlier this year, the "no tents" policy is a city regulation and is again in place for this year. However, for those of you wanting to get a good spot for tonight's fireworks, and decide to stay for the X-Files 20th Anniversary panel, no dice. The line cannot form prior to Tuesday, July 16, as per the stated rules.
For safety issues we cannot allow anyone to line up in Plaza Park (next to Hall H) until ALL tents, canopies, stanchions, and work are completed at the Park. This also includes areas adjacent to the Park. Please no waiting nearby for work to be completed. We anticipate that all work will be finished sometime Tuesday morning (July 16), however is is not a guarantee.
Check out the page for the complete list of rules.
Also, the Transportation page has schedules and information on all of the transportation options offered to attendees during the convention.
The Shuttle service will be running continuously throughout the convention, between "over 60 locations in the downtown, Mission Valley, and airport areas, including most of our official hotels".
The trolley service will be offering commemorative Comic-Con 2-day through 5-day unlimited ride passes, and can be purchased at select Trolley Stations 

ticket booths

 or The Transit Store location and via phone.
Links to COASTER and Amtrak commuter train information and schedules are also posted on the page.
Check out the links above and start your Comic-Con 2013 preparations,