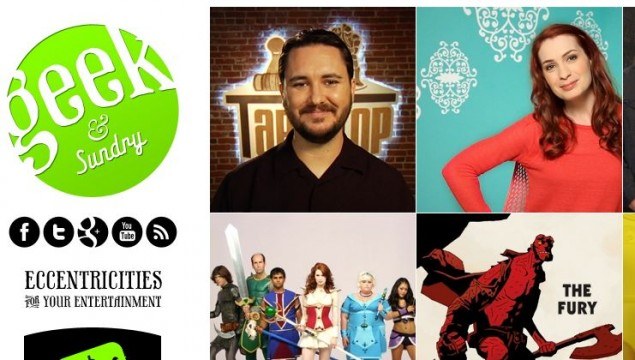 Geek & Sundry, the YouTube channel from Felicia Day and Wil Wheaton, announced that it will be returning to Comic Con this year – bigger and better than ever. After spending last year at the Belo Nightclub, Geek & Sundry is moving to a larger (and closer) location at Jolt'N Joe's, the same location where Zachary Levi's NerdHQ spent its first year.
While no specific details about their schedule have been announced, last year the programming included panels, signings (including for The Guild), a disco party, and even Wil Wheaton playing board games with fans. Best of all – no badge is required!
From their site, here's the official announcement:
Hi, everyone!

It's with great excitement that I get to share a taste of Geek & Sundry's presence at San Diego Comic-Con 2013 with you today!

That's right! We'll be hanging out with you guys all throughout SDCC at our offsite location, Jolt'N Joe's on 4th and J. We've got TONS of INCREDIBLE things happening in the space that we can't speak to just yet … but we can say that pretty much all of them are going to BLOW YOUR MINDS. Or at least tickle them. The first one seems violent.

Since we're legitimately a block from the convention center this year there's no excuse not to come by and say hello. None. Don't even make one. Because we'll find you. Plus, you'd miss out on all the swag. And then you'd be sad pandas. And no one — and I mean NO ONE — wants to hang out with sad pandas. They're morose at best, murderous at worst.

And of course, if you're local to San Diego and don't have passes to SDCC, you're still welcome to come and hang out with us! No badge required.

So keep your eyes peeled for the BIG ANNOUNCEMENT about what we're doing at our space.

Can't wait to meet you all in person! <3<3<3<3

Heartsies!
What are you hoping is at this year's Geek & Sundry? Let us know in the comments!