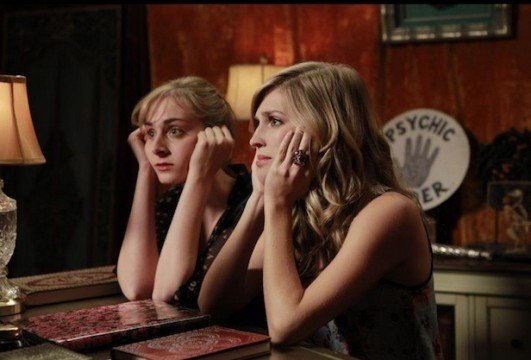 Yahoo! will be bringing its new web series, Ghost Ghirls, to SDCC this year and Executive Producer Jack Black will return to Comic-Con for the first time since 2005.
Black will be joined by cast members and co-creators Amanda Lund and Maria Blasucci, Jeremy Konner, and Erin McPherson, VP and Head of Video at Yahoo.
The panel will take place on Thursday, July 18th from 1:00 PM to 2:00 PM in the Indigo Ballroom at the Hilton Bayfront Hotel. Comic-Con attendees will have the opportunity to see an exclusive episode before it premieres on Yahoo! this fall. The panel should be fun and interactive as Black stated:
We heard that Comic-Con is haunted. Never fear, The Ghost Ghirls are on the way!
The panelists will share with fans the inspiration for the show and answer questions from attendees so those who make it to the panel should be in for a real treat.
Ghost Ghirls will be launching in fall 2013 as part of Yahoo!'s Fall Comedy Lineup. There will be 12 episodes and have epic celebrity cameos. Golden Globe nominee Jack Black, Dave Grohl, Val Kilmer, Jake Johnson, Molly Shannon and Jason Schwartzman are among the celebrity guest stars featured in the series.
Do you think a smaller room like the Indigo Ballroom can contain Jack Black? Are you looking forward to seeing what this new series will bring? Let us know in the comments!