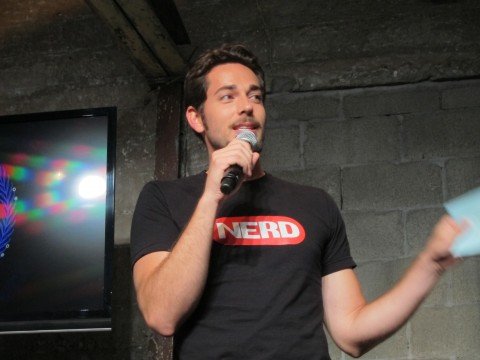 As promised, Nerd HQ has announced even more of their 'Conversations For A Cause' – the intimate-setting panels that will be taking place at Petco Park. Tickets are $22 each, and all 250 seats are assigned. Best of all, no badge required!
Although most of the panels from the first round sold out, a handful still have tickets remaining, including 300: Rise of an Empire and Thrilling Adventure Hour.
The new panels include a screening for Serenity with Nathan Fillion, Alan Tudyk and "friends", as well as panels for Hannibal, Kickass 2, Childrens Hospital, Seth Green & Stoopid Buddy, Evangeline Lilly, and previously announced panels for Nathan Fillion (with two panels!), Jared Padalecki and Zac Levi – now stretching the programming into Sunday.
The Nerd Machine also announced via Twitter that while tickets will not go on sale today, they will go on sale "soon".
More panels announced for #NerdHQ tickets will NOT go on sale today, but as soon as we can. http://t.co/ogTlf2pvd0

— Nerd HQ (@thenerdmachine) July 15, 2013
[UPDATE 1]
BrownPaperTickets.com, the website where the Nerd HQ tickets have been sold through this year, has posted that at least two of the panels will go on sale tomorrow, 7/17/2013, at 12PM PT. The two new panel additions currently listed on their site include Evangeline Lily's panel (including a signing) for Saturday, as well as a panel at 12:45PM not previously reported, Tiny Commando, with Ed Helms, Gillian Jacobs, Zac Levi, and director Ryan McFaul listed as panelists.
It's possible ticket sales will be staggered throughout the next two days as in previous years, but we'll keep you posted.
[UPDATE 2]
We have a little more news regarding Nerd HQ panels. According to a press release, there will be a signing with Jim Lee during Nerd HQ, and the panel for Kick Ass 2 will include a signing. Additionally, the press release states that tickets for the newly announced panels will go on sale today, 7/16/2013.
Tickets for the Serenity screening are already on sale, and tickets for "A Conversation with Seth Green, Robot Chicken and Stoopid Buddy Stoodios" will go on sale today at 3:30PM. Additionally, Jensen Ackles has been added to the Jared Padalecki conversation.
Previously announced panels on BrownPaperTickets, Evangeline Lilly and Tiny Commando, are also now shown as releasing at 3:30PM PT. But that could change at any moment, so stay tuned!
[UPDATE 3]
If you didn't already grab your tickets to Robot Chicken, Evangeline Lilly, or Tiny Commando, tickets are still available.
Additionally, BrownPaperTickets currently shows the Jensen Ackles and Jared Padalecki panel as going on sale at 8:30PM tonight (7/16/13) PT. They also list a Riddick panel, set for Friday at 3:30PM, with tickets set to go on sale tomorrow (7/17/13) at 7PM PT. Panelists for the Riddick Conversation for a Cause include Vin Diesel, Katee Sackhoff, and the film's writer and director, David Twohy.
From their site, here's the full schedule of newly announced panels:
THURSDAY
Seth Green & Stoopid Buddy: 11:30AM-12:30PM
FRIDAY
Hannibal: 9:30AM
Riddick: 3:30PM
SATURDAY
Kickass 2: 3PM
Evangeline Lilly: 4PM
NTSF:SD:SUV/Childrens Hospital: 5:15PM
Serenity Viewing Party with Nathan Fillion, Alan Tudyk and Friends: 9PM
SUNDAY
Nathan Fillion: 11AM and 12:30PM
Jared Padalecki & Jensen Ackles: 2PM
Zac Levi: 3PM
Which panels will you be trying to get tickets for?