Hall H and Ballroom 20 not your thing? How about Dungeons & Dragons, Yu-Gi-Oh! and Magic The Gathering? San Diego Comic-Con hosts an entire schedule of gaming events – competitive tournaments, RPGs, board games and more – throughout the convention.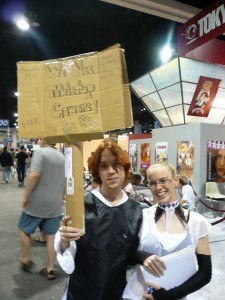 This past weekend, CCI has added its 2013 Games schedule and is loaded with open gaming and tournaments for attendees, from Preview Night to closing night. This year's Open Gaming is presented by Nazgalord and Hosted by the number one Internet live roleplaying group The Thursday Knights. They will be hosting their show all weekend long and gaming for guests to join in.
In addition to the aforementioned games, there will also be video game tournaments for popular games Super Street Fighter IV, Ultimate Marvel vs. Capcom 3, DC's Injustice: Gods Among Us, and Gears of War Judgement.
Starting on Thursday July 18 at 7PM, The New York Jedi will be doing live Jedi combat and performances out on the back mezzanine of the convention center, with Jedi Training following afterwards.
Finally, in honor of the 35th anniversary of Battlestar Galactica, the California Chapter of the Colonial Cylon Alliance invites attendees to join in The 1st Annual Evil Steve Frakin Cylon Hunt. The Grand Prize winner will receive a 1-Day pass for San Diego Comic Con 2014! To participate in the hunt, attendees must find three Argo Cylons, two silver and one gold, somewhere in the Convention Center. Snap a picture and post it to the official Facebook page with the tag #CYLONHUNT to enter. Or you can enter by snapping a gaming-related picture with the hashtab s #CCGAMING and upload to the Facebook page. You must "Like" the page to be eligible.
You can check out the Games schedule here, and the Thursday Knights' schedule for room 15AB is below.
Thursday July 18
10am: Fiasco
Often irreverent, always loads of fun. Come play Fiasco with the Thursday Knights!
1pm: Dungeon World: Death by Audience
Inspired by Whose Line is it Anyway, this game of Dungeon World will have its hazards and perils drawn from the suggestions of the audience.
3pm: Eric Teaches Burning Wheel
Come sit down with Eric as he teaches the table how to play Burning Wheel and runs a session. We were disappointed we never got to play Burning Wheel in our system tour, and this is us making up for it!
8pm: Atomic Robo RPG run by Mike Olson, the Designer
Mike Olson, designer of the Fate roleplaying system, will be sitting down at the Thursday Knights table to run a game of the not-yet-release Atomic Robo tabletop roleplaying game!
Friday July 19
10am: Fiasco
What better way to start Day 2 of SDCC than playing a game of Fiasco?
1pm: D&D 4e Dungeon Delve by Lincoln
Lincoln has designed a D&D 4e delve specifically for Comic-Con, to honor the system our show spent its first 3 years playing.
4pm: The Story of Alice Crayton, in Star Wars: Edge of the Empire
We're giving guest players the chance to put a permanent mark on the backstory of our current long term campaign! Come play Star Wars: Edge of the Empire with us, reskinned to a modern setting.
Saturday July 20
10am: The Story of "Clint Howard", in Star Wars: Edge of the Empire
Eric is running this session, filling in some of the backstory of one of the main characters of our current campaign. We'll be playing Star Wars: Edge of the Empire reskinned in a modern setting.
1pm: Dread: Death by Audience
Survival horror where the audience's suggestions supply the horror.
4pm: Just a Regular Episode of Thursday Knights
The Thursday Knights tell a story, and people watch. It's kind of our thing.
Sunday July 21
10am: Fiasco
Sit down with the Thursday Knights to tell a story of powerful ambition and poor impulse control.
1pm: Mouths Full with the Thursday Knights
A fancy name for "lunch". This is the chance for any of our fans to sit down with the whole gang and chat with us outside of a game.
2pm: Dungeon World: Death by Audience
Our final game of SDCC will be an encore of Death by Audience: the audience provides the challenges, and the players die to them (probably).