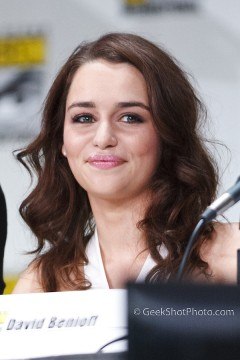 Warner Bros. has released their full Comic-Con schedule, and the mega-entertainment studio will once again be holding autograph signings in their booth (#4545), and they're not to be missed.
As per the Comic Con autograph schedule, drawings for signings at the Warner Bros. booth will take place each morning in the Sails Pavilion. In previous years, those who draw a winning ticket are then given a wristband to attend their given signing later in the day.
No talent is listed on the schedule, though it includes fan favorite television series Game of Thrones, True Blood, Arrow, The Vampire Diaries, Supernatural and more. Attendees can also get a chance to meet the stars of upcoming shows like Almost Human, The 100, Tomorrow People, and The Originals. Also included are animated properties Tom & Jerry's Giant Adventure, Scooby Doo! The Mystery Map, Beware the Batman, Teen Titans Go!, and Justice League: Flashpoint Paradox, as well as Cinemax series Banshee and Strike Back (listed twice).
For feature films, Veronica Mars (previously announced without Kristen Bell) will be holding an autograph signing, as well as 300: Rise of an Empire. If George Clooney attends SDCC this year for Gravity, the signing for the film may include him. Also listed is an autograph signing on Saturday for upcoming Legendary Pictures film All You Need Is Kill. The film stars Tom Cruise, Emily Blunt, Bill Paxton, and others – and it's possible they may make a surprise appearance at the Legendary panel that day if they're in town for a signing.
Video games are also represented throughout the Warner Bros. signing schedule, with autograph sessions for Batman: Arkham Origins, Mortal Kombat Legacy 2 and Mad Max.
From their site, here's the full signing schedule:
THURSDAY
11:30 AM-12:15 PM: MAD
2:30-3:30 PM: BATMAN: ARKHAM ORIGINS
4:15-5:00 PM: MORTAL KOMBAT LEGACY 2
FRIDAY
10:15-11:00 AM: NIKITA
11:30-12:15 PM: THE BIG BANG THEORY
12:30-1:15 PM: STRIKE BACK
3:00-3:30 PM: STRIKE BACK
1:30-2:00 PM: THE P.E.T. SQUAD FILES
2:15-3:00 PM: CHILDRENS HOSPITAL
2:15-3:00 PM: THE 100
3:00-3:45 PM: ALMOST HUMAN
3:00-3:45 PM: MAD MAX
4:00-4:45 PM: VERONICA MARS
4:45-5:40 PM: GAME OF THRONES
5:45-6:25 PM: BANSHEE
6:00-6:45 PM: THE FOLLOWING
SATURDAY
11:00 AM-12:00 PM: JUSTICE LEAGUE:FLASHPOINT PARADOX
12:35-1:05 PM: GRAVITY
1:10-1:35 PM: 300: RISE OF AN EMPIRE
12:00-12:45 PM: REVOLUTION
1:35-2:35 PM: ALL YOU NEED IS KILL
2:00-3:00 PM: TRUE BLOOD
3:00-3:40 PM: PERSON OF INTEREST
4:00-4:45 PM: THE ORIGINALS
4:45-5:30 PM: THE TOMORROW PEOPLE
5:30-6:15 PM: THE VAMPIRE DIARIES
6:15-7:00 PM: ARROW
SUNDAY
10:30-11:15 AM: TEEN TITANS GO!
11:30 AM-12:15PM: SCOOBY DOO! THE MYSTERY MAP
11:45 AM-12:30 PM: BEWARE THE BATMAN
12:45-1:30 PM: SUPERNATURAL
12:45-1:30 PM: TOM & JERRY'S GIANT ADVENTURE
Whose autograph will you be trying to get? Let us know in the comments!
Image courtesy of GeekShotPhoto.com