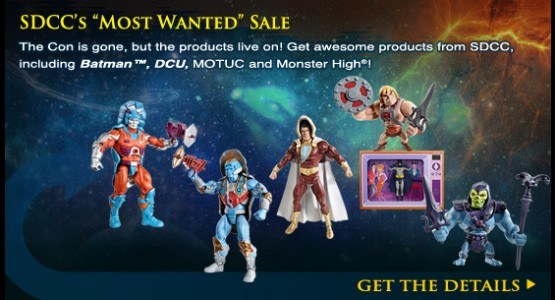 As communicated previously, Mattel will be making several of this year's San Diego Comic-Con exclusives available via an online sale, for those who either missed out during the convention or who weren't able to score a badge this year.
The details of this sale were announced earlier today. As with the pre-sale held prior to the convention, subscribers will be allowed to purchase products a few days earlier than the general public.
Early Access for subscribers will begin this Friday August 2 at 8AM PT and be open only for four hours, until 12PM PT.
All Access for the general public will begin on Monday August 5 at 9AM PT and will be open through the following Monday August 12 at 11:59PM PT.
And as with that pre-sale this past June, all exclusives are "subject to sell-out to subscribers during Early Access". Just like with everything to do with SDCC, the early-bird gets the worm.
Here is a list of exclusives, with prices, which will be made available in the "Most Wanted" sale:
Masters of the Universe® Classics Rokkon™ & Stonedar™ 2-Pack, $60
Masters of the Universe® Classics Mini He-Man® & Skeletor® Figures, $20
BATMAN Classic TV Series Batman™ Batusi Batman™, $30
DCU Signature Collection "Shazam!" New 52, $25
Monster High™ Webarella™, $25
DC Man of Steel™ Movie Masters® Superman™ vs. General Zod Movie Pack, $25
For product images and descriptions, check out our Mattel SDCC 2013 Exclusives post.
Which Mattel exclusives will you be going for in the sale? Let us know in the comments!