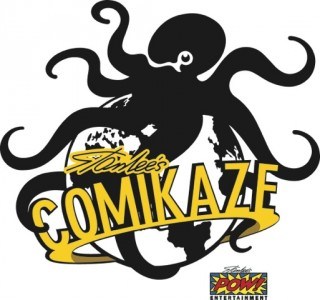 Stan Lee's Comikaze is coming up this weekend, and the fall convention has grown into one of the biggest of its kind along the Southern California coast.
We're betting most of our readers will be there, as well as our convention-crazy expert Shawn Marshall (@The_Con_Fluence), so we thought we would go through the announced programming schedule to give you the highlights.
Friday, November 1
AMC MOVIE TALK (3:30PM, Hot Topic Main Stage) The Movie News show from AMC Theatres, that tells you all you need to know about upcoming releases, films that are in production, and in theaters now. Participants: John Campea (Editor-In-Chief at AMC Movie News), Amirose Eisenbach, Dennis Tzeng, Erin Darling, Jon Schnepp, Grae Drake, Krisily Kennedy
THE DOCTOR WHO 50TH ANNIVERSARY (4PM, Room 306AB) A very special not-to-be-missed panel that will include special guests from both the New and Classic Era. Guests will reflect on how their role has impacted the Doctor Who Universe and what they expect for the 50th Anniv. Participants: Jessica Tseang (ComiCast!, The Comic Book Girl, Girl on Geek), Aaron Cistrelli (President of The Time Meddlers), Eric Wallace (Eureka, Mister Terrific) and not-to-be-missed guests!
FINS UP! SHARKNADO TOUCHES DOWN ON COMIKAZE!, (4:30PM, Hot Topic Main Stage) In 2013 the perfect storm came together to deliver the bloody, fun, and shark-filled disaster movie: SHARKNADO. After defying the nay-sayers and setting records with each encore screening, the pop-culture phenomenon descends onto Comikaze. Join the cast and filmmakers as they discuss the film that took social media by storm, demanded multiple viewings, and became an event not to be missed. Participants: Aaron Sagers (Entertainment pundit and geek culture expert),
Ian Ziering, Cassie Scerbo, Jaason Simmons, Anthony C. Ferrante (Director), Thunder Levin (Writer), David Latt (Producer)
THE KINGS OF COSPLAY COMEDY WITH CHRIS GORE (5PM, Room 303AB) Join host Chris Gore for a night of Cosplay Comedy. See some of the best comedians in the nerd universe dressed up as your favorite characters from Star Wars, Marvel and DC doing stand up comedy like you've never seen! It's geektastic fun! Participants: Chris Gore (Attack of the Show, PodCRASH, Geektime on SiriusXM Howard 101), Derek Reid (Comic Book Live), Patrick Ian Moore (Comic Book Live), Tommy Becthtold (Comic Book Live)
ICON: EDWARD JAMES OLMOS (5:30PM, Hot Topic Main Stage) The Emmy and Golden Globe-winning, Academy Award-nominated legend talks to the Comikaze crowd about his many appearances in some of the biggest and most recognizable of film and television projects. Participants: Edward James Olmos (2 Guns, For The Sisters, Battlestar Galactica, Miami Vice, Stand and Deliver, Blade Runner)
COMIC BOOK LIVE! (7PM, Room 306AB) Comic Book Live is a live and unscripted stage adaptation of a comic book or graphic novel performed by a group of actors and comedians in full costume. "Nerdtastic Cosplay Comedy" in Hollywood and at Cons across the Galaxy! Join us for a nerdtastically good time filled with fantasy, adventure, costumes & comedy… and see an improvised adaptation come to life onstage! We've performed at Comikaze, SD ComicFest, StrategiCON, WonderCon, Phoenix ComicCon, Anime Expo, NerdMelt- Meltdown Comics, iO West (Hollywood), The Upright Citizen's Brigade (NY), DelClose Comedy Marathon, CosPlay Con, The ACME Comedy Theater, and at San Diego ComicCon! Participants: Chris Gore (Film Threat magazine, G4's Attack of the Show, PodCRASH), Patrick Ian Moore (Vampyre: Castle of The Undead), and Tommy Bechtold (Smash Cuts, The Middle), The Cast of Comic Book Live!: Patrick Ian Moore, Brandon Barrick, Tommy Bechtold, Dustin Sterling, Markeia McCarty, Canon Wing, Justine Joli, Derek Reid, Chris Gore, Michael McCusker
KITE (7PM, Room 308AB) Kite is a feature film live action adaptation of the cult anime. The new film
stars Samuel L. Jackson, India Eisley (Underworld, Malificent) and Callan McAuliffe (I Am Number Four, Great Gatsby). Join a discussion with stars India and Callan that includes a promo created by the Weinstein Co and the premiere of select scenes – The 1st public screening of footage from the film. Samuel L. Jackson will provide a video message. Participants: India Eisley (Underworld, Maleficent), Callan McAuliffe (I Am Number Four, Great Gatsby), director Ralph Ziman (Jerusalema), producer Brian Cox (Pulse, Don't Look Up, El Muerto), Moises Cosio (Detalle Films)
VAMPIRES IN POP CULTURE AND MYTH (7PM, Room 303AB) The topics covered will range from vampires in pop culture to vampires in myth/legends and the powerful hold they have over our society.
Participants: Juliet Landau – Moderator (Buffy, Angel, Ed Wood), David Greenwalt (Angel, Grimm), Jim Kouf (Grimm, Angel), Mariana Klaveno (True Blood, Devious Maids), David J (Musician: Bauhaus, Love and Rockets), Gavin Hignight (Fearnet.com), Georges Jenty (Buffy Season 8 & 9, Joker's Daughter)
Saturday, November 2
MATTEL PRESENTS MATTYPALOOZA (9AM, Hot Topic Main Stage)
An update on Mattel collector toys form Mattycollector.com including Masters of the Universe, DC Comics and Ghostbusters. Surprises galore! Participants: Scott "ToyGuru" Neitlich (Marketing Manager), Ruben Martinez (Designer)
METALLICA & TITMOUSE INC PRESENT "TALLICA PARKING LOT" ANIMATED SHORT (10AM, Room 304ABC) Metallica's Robert Trujillo and Titmouse inc (Metalocolypse, Motorcity, China IL) present their animated collaboration "Tallica Parking Lot". They're joined by Metalocalypse / Dethklok's Brendon Small and Mike Judge (Creator of Beavis and Butthead). Participants: none, Robert Trujillo (Metallica), Brendon Small (Metalocalypse, Home Movies), Mike Judge (Beavis and Butthead, King of the Hill, Office Space), Chris Prynoski (Motorcity, Metalocalypse, Megas XLR), Antonio Canobbio (Motorcity, Metalocalypse, Black Dynamite)
THE NERDIST WRITERS PANEL: COMICS EDITION! (10:30AM, Room 304ABC) Join hosts Len Wein (creator of Wolverine, Swamp Thing, Human Target, and hundreds more), Ben Blacker (co-creator, The Thrilling Adventure Hour), Adam Beechen (Batman Beyond; Arkham Origins: Blackgate video game),and Heath Corson (DC Direct's upcoming Justice League: War) to talk about the process and business of writing comics. Plus, you never know which of their comics and entertainment pals might join to conversation! NWP: Comics Edition is a popular podcast on Chris Hardwick's Nerdist network. It provides a unique perspective on the industry we love, with each host filling a distinct role: legend, skeptic, historian, and enthusiast. Which one are you? (Maybe we'll bring a sorting hat). Participants: Ben Blacker (co-creator, Thrilling Adventure Hour; creator, Nerdist Writers Panel; co-writer, Wolverine: Season One, Supernatural), Len Wein (creator of Wolverine, Swamp Thing, Human Target, and hundreds more), Adam Beechen (Batman Beyond; Arkham Origins: Blackgate video game), Heath Corson (Justice League: War)
IDW PRESENTS: THE GREATEST PANEL IN THE HISTORY OF PANELS (10:30AM, Room 308AB) Join IDW Editor-in-Chief Chris Ryall, President Greg Goldstein, Editor Supreme Scott Dunbier and a couple of top secret guests for a rousing discussion of all things IDW! As they steam toward their 15th Anniversary,
find out what IDW has in the works. Announcements, prizes, Q&A, hi-jinx, and more! Participants: Chris Ryall (Editor-in-Chief, Chief Creative Officer), Greg Goldstein (President), Scott Dunbier (Senior Editor Special Projects)
LION FORGE COMICS PRESENTS: SAVED BY THE BELL (11AM, Room 306AB) It's time to return to Bayside High! Host Jonathan London will take you on a nostalgic look at the world of Saved by the Bell and he's bringing along some special guests to help him out. Mr. Belding himself, Dennis Haskins, will be one board to reminisce on the iconic shows past history. Joining America's favorite principal are writer Joelle Sellner and artist Chynna Clugston who'll be helming Saved by the Bell's future with an exclusive look into the new comic coming from Lion Forge Comics. Participants: Jonathan London (Geekscape), Dennis Haskins (Saved By The Bell), Joelle Sellner (SBTB Comic, Jackie Chan Adventures, Teen Titans, Wonderous), Chynna Clagston (Blue Monday, Queen Bee), Adam Staffaroni (editor)
ALYSSA MILANO & HACKTIVIST (12PM, Hot Topic Main Stage) Coming in January from Archaia Entertainment, an imprint of BOOM! Studios, is HACKTIVIST, a new miniseries created by actress, philanthropist, and social media activist Alyssa Milano. Join Milano and writers Jackson Lanzing and Collin Kelly as they talk about the origins of HACKTIVIST, what it's about, and the message they want to get across. Plus, sneak a peek at some finished pages of art from the series created by illustrators Marcus To (Cyborg 009) and Ian Herring (Jim Henson's Tale Of Sand). Moderated by BOOM! Studios Marketing Manager Mel Caylo. Participants: Mel Caylo, Alyssa Milano, Jackson Lanzing, Collin Kelly
AXE COP (12PM, Room 306AB) Join the creator and team behind the celebrated comic book and animated series AXE COP as they discuss the creation of the universe, the creative process, and the future of the series. Participants: Sax Carr (Fandom Planet), Ethan Nicolle (Creator/Producer/Artist: AXE COP), Chase Conley (AXE COP)
STAN LEE'S MIGHTY 7 (2PM, Hot Topic Main Stage) Join us for the first sneak peak of Stan Lee's new animated film, Stan Lee's Mighty 7, starring Stan himself! Get a first look at this new animated trilogy,
starring Stan himself! An animated Stan as you've never seen him before! Participants: Stan Lee (Star of the film!), Andy Heyward (Producer), Ted Biaselli (HUB network)
THE DEATH OF SUPERMAN LIVES: WHAT HAPPENED (2PM, Room 304ABC) In 1998, Warner Bros. were going to make a Tim Burton directed "Superman Lives" film, starring Nicolas Cage as Superman. The film never got made, but a lot of production art, scripts, and designs did, and this Kickstarter Funded Documentary fully dives into why the film never happened. Participants: Jon Schnepp (Metalocalypse, Upright Citizens Brigade, The Venture Bros.)
ICON: "WEIRD AL" YANKOVIC (2:30PM, Hot Topic Main Stage) The comedy and music legend comes to the Main Stage for a Q&A with the Comikaze crowd! Participants: "Weird Al" Yankovic (three-time Grammy Winner and the biggest comedy recording artist in history)
TEENAGE MUTANT NINJA TURTLES – ON THE BIG SCREEN. WORLD PREMIER OF TMNT DOCUMENTARY! (3PM, Hot Topic Main Stage) TWO PARTS! Part One: The future of the franchise on the big screen. Part Two: World Premier of footage from Teenage Mutant Ninja Turtles- The Definitive Documentary of the last 25 years. Participants: Galen Walker (Producer, Ninja Turtles (2014 Paramount), Highlander – Search for Vengeance, Teenage Mutant Ninja Turtles- The Definitive Documentary, TMNT), Kevin Eastman (Co-creator, TMNT; Owner, Heavy Metal magazine), Scott Mednick (300, Superman, Producer, Ninja Turtles- (2014 Paramount), Randall Lobb (Teenage Mutant Ninja Turtles-The Definitive Documentary of the last 25 years)
KABOOM! STUDIOS PRESENTS: ALL-AGES COMICS (3PM, Room 303AB) With titles like Adventure Time, Regular Show, Bravest Warriors, Peanuts, Garfield, Snarked, and Herobear And The Kid, KaBOOM! Studios, an imprint of BOOM! Studios, is publishing some of the best all-age-friendly comics in the industry. Join KaBOOM's editors and several creators as they share some behind-the-scenes secrets and stories, and tease what's next! Participants: Mel Caylo, The KaBOOM! Editorial Staff
BLIZZARD STORYTELLING (3PM, Room 306AB) Blizzard's unique approach to conveying story through our games, comics, novels and simple animation projects. Participants: Flint Dille, Micky Neilson (WoW: Ashbringer, Pearl of Pandaria), James Waugh (WoW: Curse of the Worgen, StarCraft II)
ICON: MICHAEL ROOKER (4PM, Hot Topic Main Stage) The Walking Dead. Mallrats. Cliffhanger. Henry: Portrait of a Serial Killer. The titles of his beloved work goes on and on…and now he's here at Comikaze! Don't miss the living film and TV legend. Participants: Michael Rooker (The Walking Dead, Guardians of the Galaxy, Mallrats, The Bone Collector, Cliffhanger, Jumper, Chuck)
IN DEFENSE OF (4PM, Room 301A) Pop culture creators and commentators defend and debate notorious moments in comics, gaming, film, and more! Participants: Shane Snoke (Entertainment and Digital executive), Ashley Miller (Fringe, X-Men First Class, Thor), Ahmet Zappa (Odd Life of Timothy Green, Monstrous Memoirs), Marc Bernardin (Hollywood Reporter), Deric Hughes (Warehouse 13), Maragaret Dunlap (Eureka)
THE POWERPUFF GIRLS REUNION (5PM, Hot Topic Main Stage) The Powerpuff Girls: Tara Strong (Bubbles), Catherine Cavadini (Blossom) and E.G. Daily (Buttercup) reunite on the Comikaze stage to talk about all things Powerpuff. Participants: Tara Strong (My Little Pony, Fairly Oddparents, New Batman Adventures, Rugrats), Catherine Cavadini (Powerpuff Girls, An American Tale: Fievel Goes West, Babes in Toyland, Broken Age ) and E.G. Daily (Pee Wee's Big Adventure, Rugrats, Valley Girl, The Voice, Devils Rejects , Friends, Happy Feet 1 and 2 as Baby Mumble)
THE THRILLING ADVENTURE HOUR! (5:30PM, Room 308AB) The world famous The Thrilling Adventure Hour hosts a panel to discuss all of the latest and greatest news from the popular multi-hyphenate entertainment brand. Beginning as a monthly stage show in Los Angeles, the show has blossomed over eight years to become a popular podcast and web series with Nerdist Industries, a graphic novel with Archaia, and a live concert film! During our panel, co-creators Ben Acker and Ben Blacker will interact with distinguished members from the cast and crew as they celebrate their biggest and most thrilling year for yet! Participants: Heath Corson (Justice League: War), Co-creators Ben Acker & Ben Blacker (Wolverine: Season One; Supernatural), Paul F. Tompkins (Comedy Bang Bang), Marc Evan Jackson (Kings of Summer), Joshua Malina (Scandal), Busy Philipps (Cougar Town), Mark Gagliardi (Drunk History), and more!
BLUE SKY RANGERS (6PM, Room 301B) Enjoy an entertaining and informative panel of Blue Sky Rangers–the Intellivision game designers of Mattel Electronics in the early 1980s–as they share their memories and answer your questions about the pioneering days of video games. From the technical challenges of developing a game that fits into a 4K cartridge, to the antics of a group of a young, creative team of programmers, to the business wars that led to the great video game crash of 1983, and everything in between. They were there during Mattel's first foray into video games, which started at $0, went to sales of $500 million and then back to $0 in a short 5-year span. Learn what kinds of careers and accomplishments the Blue Sky Rangers went on to do. Finally, hear what Intellivision is up to today…yes it's still here, in all its blocky glory! Participants: , Keith Robinson (TRON Solar Sailer), David Warhol (Mind Strike), Michelle Mock, Karen Nugent (graphics, BurgerTime), Connie Goldman (Thunder Castle), Mark Kennedy (Kool-Aid Man), Rick Koenig (Motocross), John Sohl (Astrosmash), Bob Newstadt (Pinball)
Sunday, November 3
BRINGING SUPERHEROES TO LIFE: THE ART OF LEGACY EFFECTS (1PM, Hot Topic Main Stage) Stan Lee sits down with the principles of Legacy Effects about bringing his superheroes to life on the big screen. Featuring highlights of "Stan Lee Makes An Iron Man Suit" chronicaling his hands-on visit with movie magicians at Legacy Effects. And including an appearance by the ultimate giant robot mech that took Comic Con by storm. Participants: Matt Winston (Co-founder, Stan Winston School), Alan Scott (Co-Founder Legacy FX, Aliens, Terminator, Jurassic Park), Shane Mahan (Co-Founder Legacy FX, Aliens, Terminator, Jurassic Park), John Rosengrant (Co-Founder Legacy FX, Aliens, Terminator, Jurassic Park), Lindsay McGowan (Co-Founder Legacy FX, Aliens, Terminator, Jurassic Park)
GHOSTS, BIGFOOT AND BEYOND: PARANORMAL TELEVISION (1PM, Room 304ABC) Join Destination Truth's Host, Josh Gates; Fact or Faked: Paranormal Files Team Lead, Ben Hansen; Destination Truth and Chasing UFO's Investigator, Erin Ryder; Haunted Collector Investigator and Researcher, Jason Gates; in a panel discussing their global ghostly, spirit, UFO, and cryptozoological adventures. Participants: Christiane Elin (Red Glean Media, ParaAbnormal Radio Host), Josh Gates (Syfy's Destination Truth Host and Co-Executive Producer), Erin Ryder (Co-Executive Producer and Investigator on Syfy's Destination Truth and Nat Geo's Chasing UFOs), Ben Hansen (Team Lead of Syfy's Fact or Faked: Paranormal Files, Explain That Radio Host), Jason Gates (Researcher and Investigator on Syfy's Haunted Collector)
ICON: TARA STRONG (2PM, Hot Topic Main Stage) One of the leading voice over artists working in the business today, Tara Strong talks to the Comikaze audience! Participants: Tara Strong (Powerpuff Girls, My Little Pony, Fairly Oddparents, New Batman Adventures, Rugrats)
GIANT KAIJU MONSTERS VS MEN IN SUITS ATTACK JAPAN (AND HOLLYWOOD)! (2:30PM, Room 306AB) Everyone loves Godzilla, Power Rangers, Ultra-Man, Rodan, Kamen Rider and Giant Robots! And recently, Hollywood has gotten in on the act with Kaiju and Giant Robot films like Pacific Rim and next summer's Godzilla film. Are these Japanese mainstays the next big thing in American pop-culture (or is it just another Hollywood trend)? Join a panel of working Hollywood professionals for an in-depth discussion on the past, present, future and Americanization of Kaiju and Japanese Men in Suit properties. These properties have long since taken over Japan. Are we next!?! Participants: Jonathan London (Host of Geekscape!), F.J. DeSanto (Frank Miller's The Spirit, Cyborg 009, Insurgent), George Krstic (Star Wars: The Clone Wars, Action Pack, Megas XLR), Robert Burnett (Free Enterprise, Femme Fatales), Tommy Yune (Robotech)
ICON: LEVAR BURTON (3PM, Hot Topic Main Stage) The beloved Emmy, Grammy and Peabody Award winner takes a moment to talk to the Comikaze audience. Participants: LeVar Burton (Star Trek: The Next Generation, the Star Trek movies, Roots, Reading Rainbow)
WRITING GENRE TV (3:30PM, Room 306AB) Your show can star gallant superheroes or hardened criminals, it can be set on a deserted island or during the Zombie Apocalypse, but the same fundamentals of good drama must still apply. Join an eclectic line-up of writers from shows like THE WALKING DEAD, JUSTIFIED and ONCE UPON A TIME IN WONDERLAND as they discuss their craft, share their experiences in the field, and chat about what it's like to work within a genre. Participants: Tom Pinchuk, Sang Kyu Kim (The Walking Dead), Deric A Hughes (Warehouse 13), Michael Chamoy (Alphas), VJ Boyd (Justified), Julie Benson (Once Upon A Time In Wonderland) and Kai Yu Wu (Hannibal)
ZOMBIES! EVERYTHING YOU WANTED TO KNOW BUT WERE TOO ALIVE TO ASK! (4PM. Room 304ABC) From The Walking Dead to Left 4 Dead and World War Z to Rob Zombie, Zombies are everywhere these days (well, at least in pop culture). But could they actually make the transition from fictional monsters to fact? In this panel, we'll sit down with Matt Mogk, Zombie specialist and head of The Zombie Research Society, Gavin Hignight from FEARnet and Shawn Kirkham from Skybound Entertainment (The Walking Dead) to talk about the science, history and social ramifications behind our biggest undead sensations, all in the hopes of seperating the zombie facts from the zombie fiction (before it's too late)! Participants: Jonathan London (Host of Geekscape!), Matt Mogk (Zombie Research Society, Everything You Wanted To Know About Zombies, That's Not Your Mommy Anymore: A Zombie Tale, I Saw Mommy Biting Santa Claus: A Zombie Christmas Story), Gavin Hignight (FEARnet), Shawn Kirkham (Skybound Entertainment)
Which panels are you interested in? Let our readers know in the comments.