Comic-Con International has posted its first registration update for 2014, with important details on badge pricing and purchase policy for pre-registration.
First, the pricing, and one thing that stands out to us is the absence of any multi-day passes being offered, confirmed on the page with the following update:
New for 2014! Only single day badges will be sold. The Preview Night badge option may only be purchased only if you buy a Thursday, Friday, Saturday, and Sunday badge. Preview Night is not a stand alone badge option. As in 2013, anyone who purchases a Thursday, Friday, Saturday, and Sunday badge will have the option of consolidating them into one 4-Day badge onsite.
Preview Night access had been previously available as part of a limited paring with multi-day badges, and per the update above they still will be, in theory, as long as attendees are lucky to purchase all four individual days first. It's like Pokemon – gotta catch 'em all!
The other thing that's interesting is that Preview Night is more expensive than a Sunday badge. That makes us raise an eyebrow because Preview Night is generally absent of any panels and just has the exhibit floor access and Ballroom 20 pilot screenings, where Sunday is a full day (9:30AM – 5PM) of panels and floor access. We've reached out to CCI to see if Preview Night offerings or hours of operation will be expanded in 2014, but did not receive a response at the time this post went live.
The other change is the prices have increased slightly, from $42 to $45 Thursday through Saturday (+ $3), and $24 to $30 on Sunday (+$6).
[UPDATE 1] And there seems to be some misinformation regarding the increase in cost for Preview Night. Last year, a 4-day with Preview Night badge cost $175, a premium of $25 over the standard 4-day badge. So with CCI charging $35 for Preview Night this year, that's only a $10 increase from last year's cost.
[UPDATE 2] CCI has provided a registration update via its Toucan blog, explaining the new checkout process and how it will work with Preview Night:
For those who want to attend the entire show, simply check the Preview Night box, and all other badges (Thursday through Sunday) will be automatically checked for you. Just one click to get your 4-day with Preview Night option! However, if you do not want to attend Preview Night, you can select the days you wish to attend as individual items. Keep in mind that you may not purchase Preview Night as a stand alone option. If any one of the four single day badges are sold out (Thursday, Friday, Saturday, or Sunday), the Preview Night checkbox will not be available for purchase.
Here's a screenshot of what the process will look like: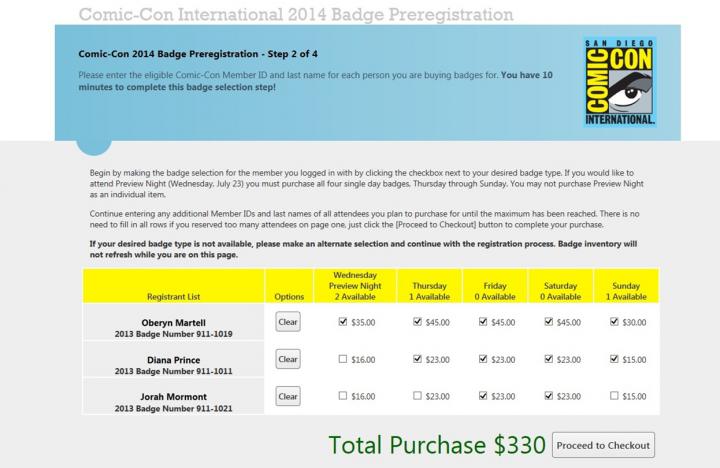 For those who were worried about the process being more complicated than in previous years, there's no need to worry — your purchase will only be one click, and you'll only have one badge to pick up during the convention's on-site registration!
In their update, CCI also explained a bit about why this change from four-day badge packages to single badges was made:
The decision to move from a 4-Day badge option to single day badge options was to give each attendee more flexibility when purchasing. Since we no longer offer a discount for purchasing all four days, the 4-Day option was repetitive and often lead to people purchasing a 4-Day badge despite not needing to attend every day. We hope this change will allow attendees to purchase only the days they truly need and maximize the number of people who can get a badge to attend Comic-Con.
This means that it's easier than ever to get exactly the badges you want, and potentially to open up some space for attendees who might have otherwise been shut out. During the badge resale last year (which was only accessible through a lottery system), Thursday and Sunday badges took much longer to sell out. This new system, especially if implemented during the general sale, could mean that those badges go to hopeful newcomers.
Next, regarding the policy changes for pre-registration (what is that? Check out our FAQ), buyers will be able to buy badges for two additional individuals who qualify for pre-registration (i.e., attended last year) in addition to the badge for themselves (so three total), granted those individuals have all signed up for Member IDs, and the person purchasing the badges has the Member IDs and last names of everyone they are purchasing for.
How do you feel about these changes? Let us know in the comments.