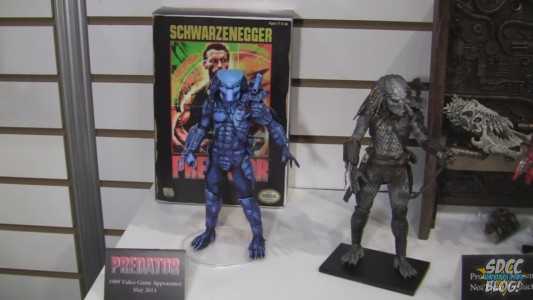 NECA has always been known among San Diego Comic-Con attendees for its high-quality collectibles, but we think they raised the bar to a new level with last year's 8-bit Jason figure, with its retro NES-style packaging and awesome concept.
So we put down NECA on our "must-see" list at Toy Fair 2014, to try and get the scoop on what other exclusives they might be bringing to SDCC this year that would again have attendees racing to their booth.
Well, we're afraid they just aren't saying yet. We spoke with NECA's Director of Product Development Randy Falk who told us to expect some SDCC announcements in the spring. He said the SDCC-exclusive 8-bit Jason, which was limited to a run of 5000, created so much interest that the newer retail releases in the Classic Video Game Appearance line, like the upcoming 8-bit Predator figure, was getting a much more substantial production run to make it more widely available. He also mentioned that Predator and the recent Robocop retro releases had a more mass-market appeal as compared to their horror counterparts Jason and Freddy.
So we pressed Falk for any hints on their 2014 SDCC exclusives, especially whether they were planning something in the Classic Video Game Appearance line because of how successful it was received by attendees last year. He could only say that they did have an upcoming figure that was so good, they don't think they would be able to hold it for San Diego. Unfortunately, we'll have to wait until spring for any specifics, but as soon as we know we'll pass them along to our readers.
In the meantime, check out the booth tour below to see video of all the great retail product they are releasing this year:
Did you get the 8-bit Jason figure at last year's SDCC? What Classic Video Game Appearance figure is on your list for 2014? Let us know in the comments.