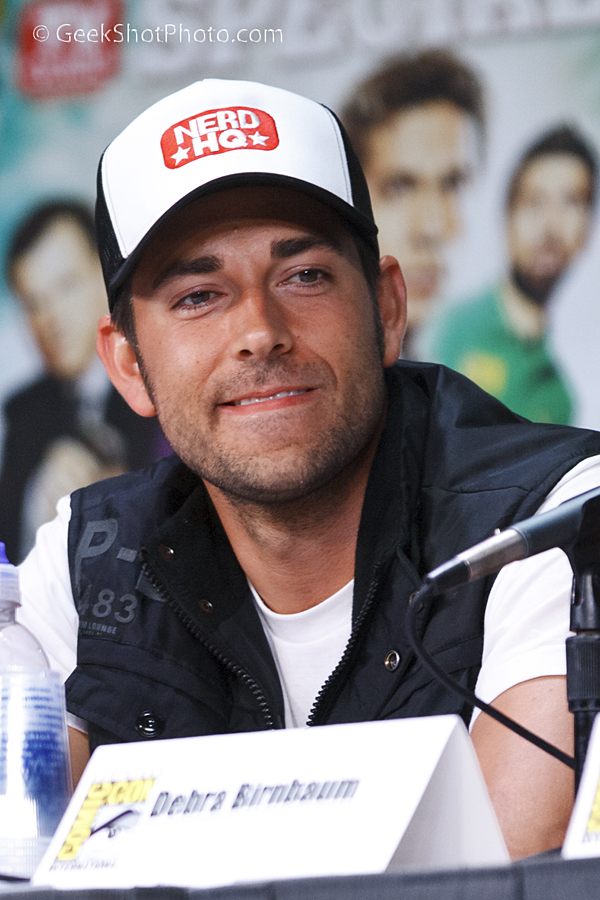 What happened Tuesday afternoon to Zachary Levi was a moment to remember.
Levi, best known to audiences from Chuck and Thor: The Dark World, but better known to the Comic-Con crowd as the brainchild behind Nerd HQ, asked his friends and fans to help him out with a simple plea: to tell the world #IWantMyNerdHQ
Nerd HQ, the fan-favorite event held in the Gaslamp District across the street from San Diego Comic-Con, just held their third event last July. Interest in the event has grown steadily every year, with its intimate celebrity-studded panels, large donations to the charity Operation Smile — last year's event raised more than $215,000 — and ultra-cool hangout reputation. It's the hottest ticket at Comic-Con outside of an actual SDCC badge.
But within just a few hours of asking for help, #IWantMyNerdHQ was trending globally. Levi spoke with The San Diego Comic-Con Unofficial Blog about the experience.
"The power that the fans have and the power that they've imbued into myself, and Nathan Fillion, and Felicia Day. It's just, it's incredible how powerful it is," Levi said. "How much you can move mountains. Or, in this case, you can trend worldwide for a few hours. I've been so touched by Nerd HQ and what we've been able to accomplish with it, and how many people come to me and tell me how much they appreciate it."
The Nerd Army, the nickname for fans of Levi's Nerd Machine geek-lifestyle clothing line, rose to the occasion. Fans shared memories of the annual dance party, of their favorite panel moments like last year's Tom Hiddleston's Velociraptor impersonation, and more. Many celebrities also joined in on the action after receiving texts from Levi asking for their help, stars like Adam Levine, Rob Krazinsky, Seth Green, and Fillion — who "all day just keep retweeting and kept going and kept fighting" to draw attention to the hashtag and cause.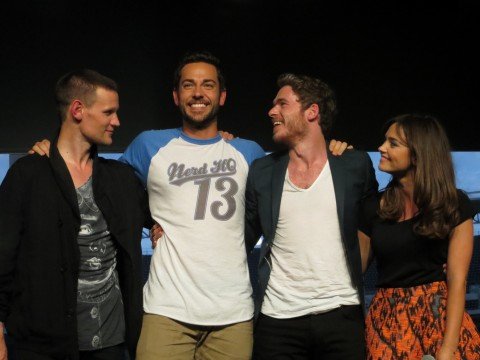 But the hashtag wasn't simply a way for Levi to remind his fans that we're only a few months out from the fourth annual Nerd HQ — but also to help ensure this year's event is even better. By showing how strong the fanbase of Nerd HQ is, Levi is hoping to attract bigger names, and more money to make the event even more awesome.
"I just felt like it would be a fun way to start the journey this year, to tell sponsors and studios and networks and celebrities and fans alike, that either have or have not experienced what Nerd HQ is, and say hey — this is what it is. These are just little snippets. These are just snapshots from various people about why they love Nerd HQ," Levi said.
Levi is hoping that those snapshots are enticing to potential sponsors. Previous years' sponsors have included Xbox, Intel, Asus, and VIZIO, among others — but as the revenue generated from ticket sales for Conversations for a Cause and other events at Nerd HQ (like Signings for Smiles or Smiles for Smiles) goes to charity, in order to continue growing, there's always a need for new revenue from sponsors.
"I don't ever really talk about this, but Nerd HQ is a massive undertaking and it costs a lot of money," Levi said. "And I have had to invest a lot of my own into that, into that vision, because I believe in it. But I've always kind of felt like it was a little bit of a Field of Dreams thing — if you build it, they will come, and you just gotta believe in it."
One of the major selling points for Nerd HQ has always been the panels, which seat somewhere between 250-300 fans, and is just a fraction of the audience that fills the massive 6,500-seat Hall H across the street at the San Diego Convention Center. According to Levi, that number is unlikely to go up much more, or you begin to "lose an intimacy".
That intimacy is also one of the biggest draws for the celebrities who attend as well, as the smaller crowd offers them an experience with fans like they've never had before. Stars like Matt Smith, Joss Whedon, Nathan Fillion, Alan Tudyk, and the casts of Psych and Robot Chicken, all have returned for panels for multiple years.
"We have never had anyone not return. And it means the world. Like, when Joss Whedon says, 'Oh yeah, I had a great time last year, I'll totally come back and do it', to me that's the hallmark that you're doing something good," Levi said.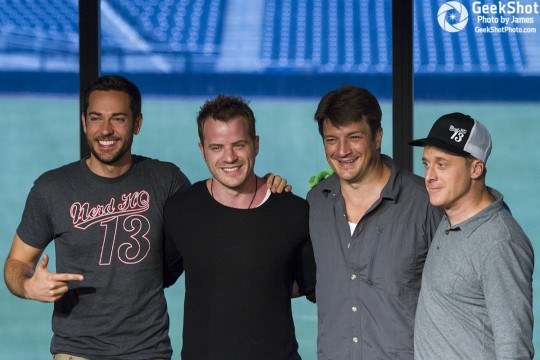 The Nerd HQ team is always looking to expand that roster of celebrity guests. 2013 saw panels for Game of Thrones' Richard Madden, The Averngers' Tom Hiddleston, Orphan Black, Hannibal, and a dozen new additions. Although Levi has celebrities he thinks it would be awesome to see attend — a Tom Hanks panel, anyone? — ultimately, he wants the guests that the fans want the most.
"I want to bring in people that fans are going to be excited about, and just over the moon about spending an hour with. Because that's what it's about. I don't care if you're a giant A-List celebrity or you're on some super weird, obscure, web series, but if at least 250 people are going to go out of their minds about spending an hour asking you questions, then bring it," Levi said.

San Diego Comic-Con is the perfect storm for attracting both fans and celebrities — it's the largest pop culture gathering in North America, and SDCC draws some of the biggest names in the industry for the four-day event. Without it, Nerd HQ wouldn't exist.
"My hats off to everyone at SDCC," Levi said. "What they have to organize and accomplish every year is monstrous. It is so big. And we, as this kind of little agile, little ship, we don't have to carry the burden that those guys do and we get to benefit a lot from the kind of environment that they provide."
It's also the reason that Nerd HQ hasn't fully expanded into other cities or conventions, except for a scaled-down version at New York Comic-Con.
"As much as New York and other Comic-Cons definitely get some great talent, it's just not quite as immense as what San Diego Comic-Con is," Levi said. "So you can't build quite the amount of panels, and that's what a lot of sponsors are hoping for. They're looking for celebrity talent and they want people to come. So, I can't get the advertising, I can't get the sponsorship dollars with not as many celebs, so I can't put on the same type of event, at another convention."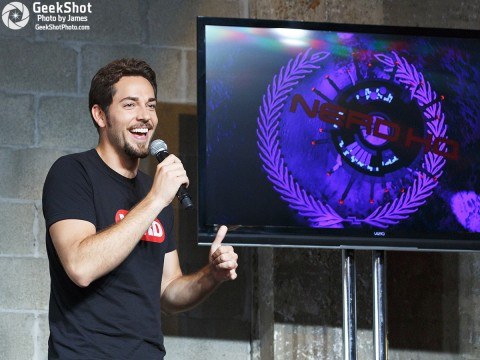 When those ingredients come together at SDCC every summer though, the experience can be "surreal", which is exactly what Levi is hoping for.
"I like making it cool and fun and interactive and – this might sound weird but – like dreamy. And by that I mean, like surreal. You know those moments that happen in your life where you'll never forget them because it was so insane and it was so special? And you're like, I don't even know what to say, like I was there in the audience and there was only 250 of us and Tom Hiddleston was there," Levi said. "And then he impersonated a Velociraptor. Like it's mind-melting. It's something that you would have dreamt, but you didn't dream it, it really happened, and it happened right in front of you and you got to be a part of that experience. That is what I strive for."

For someone obsessed with mind-blowing experiences, seeing his fans and fellow celebrities rise to his challenge on Twitter about spreading the word for Nerd HQ felt overwhelming. Levi just "really loves making people happy", and seeing something that he created bringing so much joy to other people has been a thrill to watch.
The "plan", according to Levi, is to bring Nerd HQ back to Petco Park for its fourth year this summer over all four days of Comic-Con — with more crowd-pleasing panels, fan dance parties, more Smiles for Smiles photo booths with more celebrity guests, and more Signings for Smiles autograph sessions. Levi even has loftier goals, like earning $240,000 for Operation Smile this year, which would generate enough revenue for 1,000 Operation Smile surgeries.
He's also hoping for a potential increase in video game options in the lounge and maybe even some concerts. One thing we won't be seeing at Nerd HQ this summer though? Kisses for Smiles, an auction for a kiss to the highest bidder, which Levi attempted one year.
"I had to retire [from Kisses for Smiles], because that was just going to get out of control," Levi said. "But hey, one girl paid a grand for it. That was super awesome. And then of course Nathan bounced a grand off my chest and then smooched me, which was super weird. But hey, he's got really supple lips. I'll give you that."
Excited for Nerd HQ this year? Let us know in the comments.