EDIT: We'd normally say "thanks" for enjoying our April Fools' post, but you can never tell with our pals at toddland – they're known to give even the God of Mischief himself a run for his money. So until then, is the joke on you guys…or on us?
If you're a long-time reader of our blog, you'll know we're big fans of The Aquabats. They've been a staple at San Diego Comic-Con over the years, and their concerts and panels have been must-see events for all attendees. That's why we're excited to bring early news of another SDCC 2014 exclusive, this time from our friends at toddland. The Aquabats have teamed up with toddland once again and have announced the first of what is always a ton of rad items for Comic-Con this year. As usual, with those two awesome forces working together, we're in for something totally unexpected. BOO YIZZLE!!
Today they have announced the release of a SDCC 2014 exclusive limited edition The Aquabats collectors plate – the same plate and design which was featured on The Aquabats Super Show episode #113, "Showtime". This release is a limited edition of only 25 pieces total. Only five will be sold each day at the toddland booth (#4537) starting Preview Night, July 23.
The collector's plate is emblazoned with all five members of the band, and made of sturdy porcelain. Each plate will be hand numbered and signed and also feature a lustrous bone white color with a 22k gold ring around the outside. Toddland is saying that if you are lucky enough to be one of the five people each day who purchase one, that this special treasure is for display only: "You should not eat off of it if you want it to retain its value and exquisite beauty," they recommend. Don't miss this once in a life time opportunity. Limit one per person.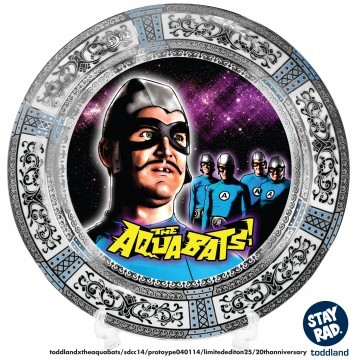 But if you think that's all, then hold on to your potatoes.
Toddland superpals and internet humans of moderate interest Steve Zaragoza and Joe Bereta are hopping on board the toddland radness train this year, and are having a crazy kind of contest to "WIN A DOUBLE DATE WITH STEVE AND JOE!" The double date is just for one person but it's with both Steve and Joe. Apparently they are going all out for this and one lucky winner will be selected on Friday July 25. The date will happen on the night of Saturday, July 26, starting with a tour of the city in the toddland helicopter, then progressing to a romantic [Ed. ?] jet ski ride across the water to Coronado, and ending with some sort of dance off/serenade on the beach somewhere. Steve and Joe are even going to write a personal song for/about the winner commemorating the date for the whole interweb universe to enjoy. And bring your passport, Tijuana came up in the conversation as well, but toddland is keeping pretty tight lipped about that part, too.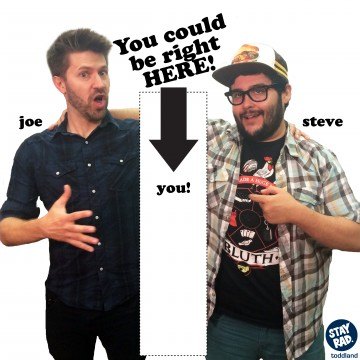 The folks at toddland are keeping the "how" to win under wraps for a while longer, but we do know it will have something to do with stopping by their booth (toddland booth #4537) on Friday July 25, and that women, men, pets, and whatever "other" means, will be able to enter.
Ready to stare for hours on end at an Aquabats plate you'll never be able to use, and go on a date you'll forever regret? Let us know in the comments!