As far as exclusives go, some of the most sought-after at San Diego Comic-Con are the annual limited-edition Keepsake Ornaments from Hallmark. These highly detailed, and highly limited, ornaments attract long lines and quick sell-outs, so attendees should be thrilled to know that Hallmark has announced its lineup of Keepsake Ornaments for SDCC 2014. What better way to celebrate Christmas In July?
Thanks to one of our Facebook fans, we were alerted to a post by Pop Culture Media featuring a scan of Hallmark's 2014 Keepsake Ornament lineup.
War Machine – Iron Man's irreplaceable ally in the sky since 1992.

Arkham's Avenger – depicts Batman as he's seen in the popular 2011 video game Batman: Arkham City.

Wampa – celebrates Star Wars: The Empire Strikes Back on the sci-fi film's 34th birthday.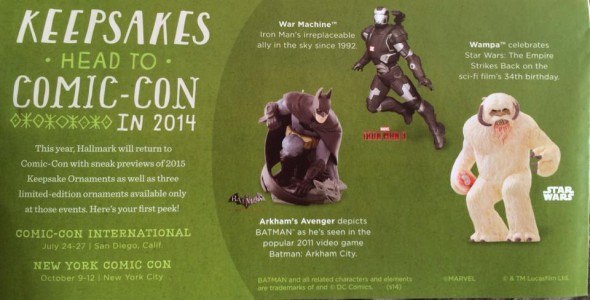 No prices or specifics on production runs were mentioned in the ad, but we've reached out to Hallmark for more information.
And as in previous years, the scan also says that Hallmark will be giving attendees a sneak peek of 2015's Keepsake Ornaments at its booth.
Are you planning on making Hallmark one of your first stops at this year's convention? Let us know in the comments.