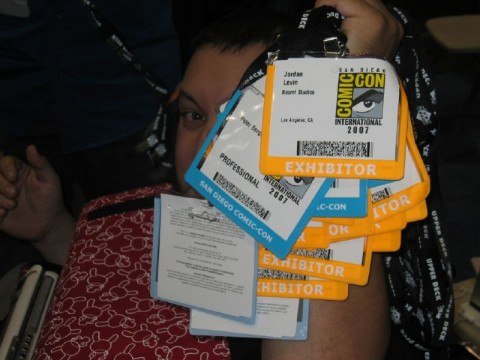 For the first time in recent history, San Diego Comic-Con will not be holding its traditional badge resale. In previous years, Comic-Con International has offered a limited resale of refunded Comic-Con badges, allowing those who were shut out during Preregistration or the General Sale (or who only scored a few days) one final chance to snag a badge to the coveted pop culture convention.
However, this year, that won't be happening. Comic-Con International announced on its Toucan Blog that due to the low level of refunds in 2014, there will not be a badge resale this year.
Last year the refund sale process was revamped due to more demand than availability, and CCI tried out a lottery system where those who wanted to participate in the resale. Then, only selected, eligible attendees in the US and Canada were able to get one of the last few remaining badges. Tickets to San Diego Comic-Con have gotten harder and harder to score with each passing year, as more attendees want to attend than there are badges available – and this year, everyone seems to realize that they hold the golden ticket, and are not willing to give it up.
From the Toucan Blog, here's the full update:
In past years Comic-Con International has been able to hold a sale of returned and unallocated badges in June. Unfortunately, due to an extremely low rate of refunds and cancellations this year, we are not able to hold a resale of Comic-Con 2014 badges. Thank you for your support and understanding.
How do you feel about this announcement? Let us know in the comments.