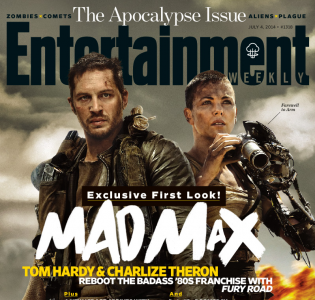 It appears Comic-Con attendees will be headed back to Thunderdome this July.
The July 4 issue of Entertainment Weekly, on newsstands now, has a cover story of the upcoming Mad Max Fury Road, starring Tom Hardy as the title character and Charlize Theron. The film is a return to the franchise for director George Miller, who took time off after the original trilogy to make Babe: Pig In The City and the Happy Feet movies.
Although the film isn't scheduled to be released until May 2015, fans will get an early look at the film at SDCC next month, per a statement in the EW story. The quote from the story reads, "In a few weeks, Miller will debut footage at Comic-Con in San Diego…", which you can see in the screen grab below: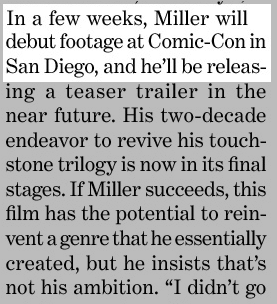 Although we can't say for certain, mention of debut footage does feel like it would be part of the bigger Warner Bros. Pictures studio presentation in Hall H, but with the proliferation of offsite events from big Hollywood, anything is possible. And if it were to include cast and crew, it would be the leads' first since 2011 – Hardy last appeared for Warrior; and Theron for Ridley Scott's Prometheus.
Are you excited to get an early look at Mad Max Fury Road next month? Let us know in the comments.