Kotobukiya is a staple of San Diego Comic-Con. The manufacturer has made many a SDCC attendee drool with its highly-detailed licensed active styling (ARTFX) figures and fully assembled and painted resin statues.
The Japanese company is back at SDCC 2014 with some great exclusives that will surely have fans flocking to the booth during the convention. We'll be updating this post as more Kotobukiya announcements are revealed.
[UPDATE July 1] Kotobukiya has announced another San Diego Comic-Con exclusive that they're producing, but it won't be available through them – instead, attendees will be able to pick it up at the Treasure Island Sports Booth #5030. Together, the two companies are teaming up for a Marvel Comics Grey Hulk ARTFX+ Statue. The announcement, made on Kotobukiya's Facebook page, indicates that attendees should visit Treasure Island Sports' website for additional purchase information.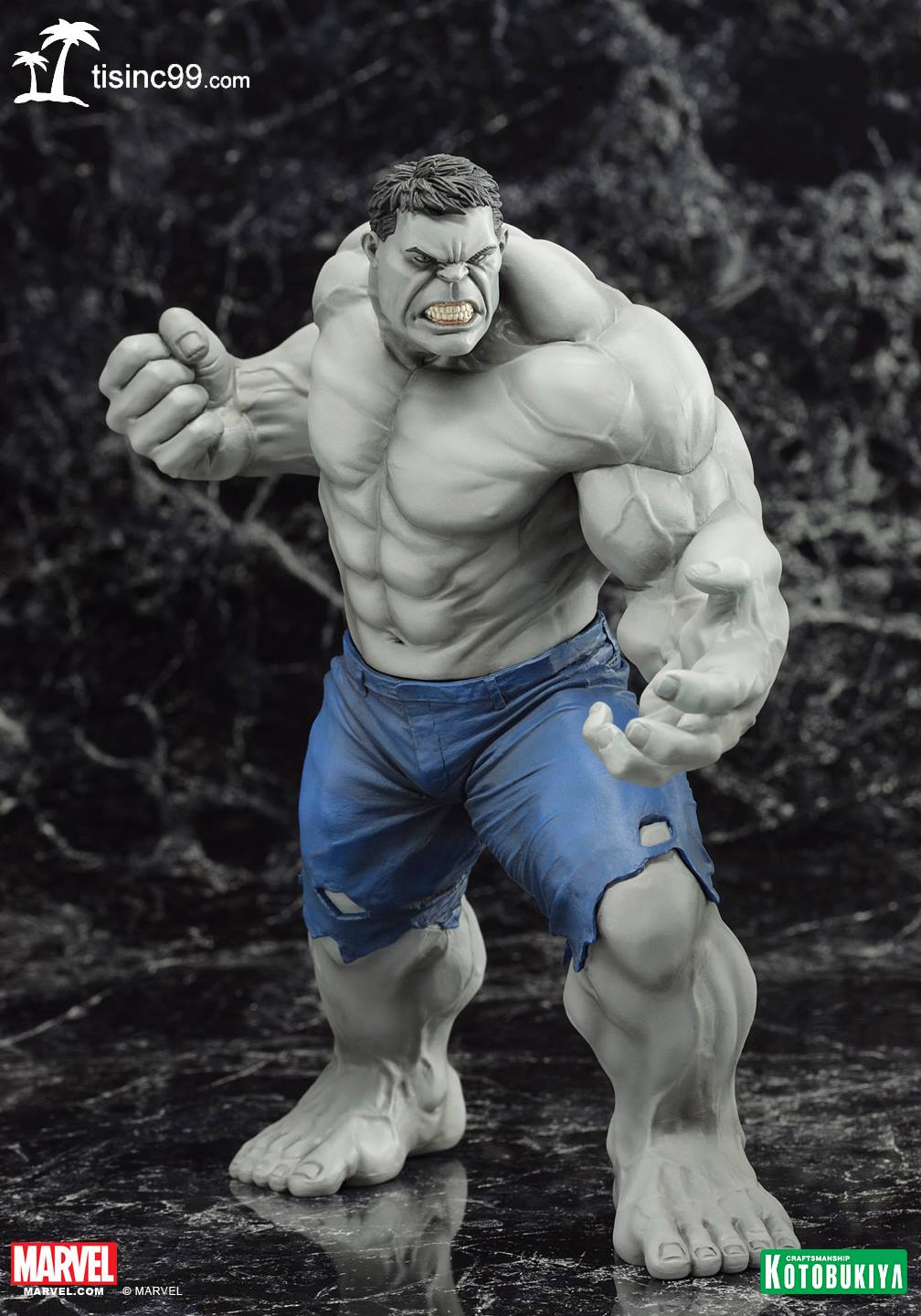 You can find more photos on Kotobukiya's Facebook page.
[UPDATE June 26] Action Figure Express posted a new SDCC exclusive Kotobukiya that won't be part of tomorrow's presale. The Spider Woman Metallic Paint Bishoujo Statue ($80) is limited to 800 units and is available only for pick-up at the convention.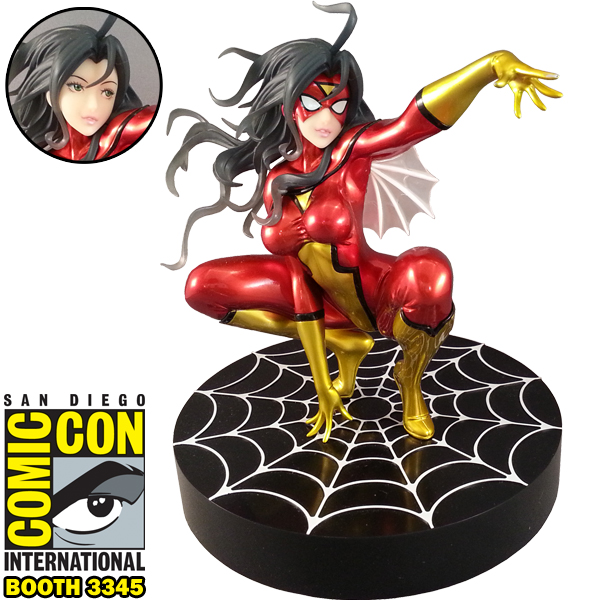 Here's the description from the AFX product page:
Based on an illustration by Japanese illustrator Shunya Yamashita, Spider Woman looks better than ever in her iconic outfit. Crouched at the ready, her hair flowing in the breeze, the beautifully sculpted Spider-Woman is prepared to leap into action at a moment's notice. Display either masked or unmasked with the included optional face sculpt.
Any excess stock will be available online after the convention. The Spider Woman Metallic Paint Bishoujo Statue will sell for $80 and is available online now, for pick-up at the convention.
[UPDATE June 25] A heads-up for our readers who want to pre-order these statues and not have to worry about lugging them around the convention or deal with the expense of shipping them home. Kotobukiya announced via Facebook the online pre-order details for its announced SDCC exclusives, which will start this Friday June 27 at 10am PT. The Batman and Psylocke statues below can be purchased via the Kotobukiya online store.
Here are the details from the post:
We are pleased to offer a very limited quantity of both the Classic X-Men Era Psylocke Bishoujo statue and the First Appearance Batman by Bob Kane ARTFX+ statue to our fans not attending this year's San Diego Comic-Con. Pre-orders will open up at 10AM on Friday, June 27th PST at store.kotous.com.

Please note the following:

Online pre-orders cannot be picked up during the convention.

Payment must be made in full at the time the pre-order is placed. Prices before shipping and any applicable taxes are as follows:

First Appearance Batman by Bob Kane ARTFX+ statue – 39.99
Classic X-Men Era Psylocke Bishoujo statue – 64.99

Orders will begin to ship out the week of August 4th.

This opportunity will conclude without notice once the allocated inventory for non-attendees is sold out so don't forget to place your order this Friday!
We've also added the prices for the announced exclusives to the descriptions below.
[UPDATE 2 – June 23] Well that was fast. Soon after we posted the first Kotobukiya exclusive, another one was announced – the Classic X-Men Era Psylocke SDCC Exclusive Bishoujo Statue ($64.99):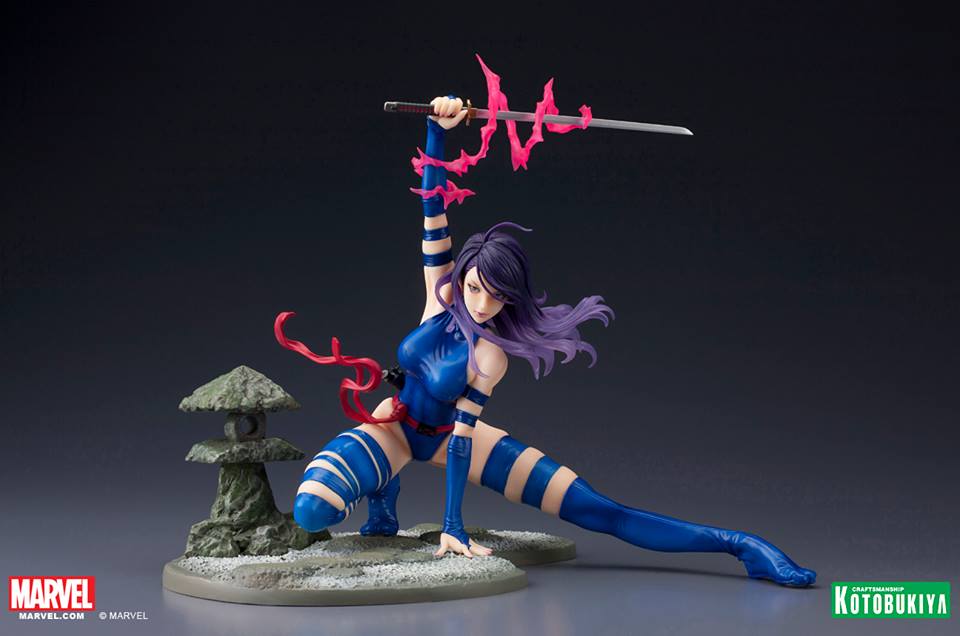 Here's the description from the Facebook post:
With an entirely new colorway based on her classic X-Men outfit and a newly sculpted psi-energy field wrapping around her am and katana this rendition of Psylocke is the latest Kotobukiya Bishoujo statue to be offered exclusively to attendees of the 2014 San Diego Comic-Con. Strictly limited to 1500 pieces worldwide this version of mutant ninja assassin will only be offered once, never to reproduced again making her a much sought-after addition to the Marvel line of Bishoujo statues.

Sculpted by Busujimax (Takaboku Busujima), the classic era Psylocke Bishoujo statue reaches 8 inches high (1/7 scale) in a dynamic, strike-ready pose.
Again, this one will also be available for pre-order via Kotobukiya's online store, albeit in limited quantities.
[UPDATE 1 – June 23] The company's first SDCC 2014 exclusive has been revealed via Facebook, the First Appearance Batman by Bob Kane Limited Edition ARTFX+ Statue ($39.99):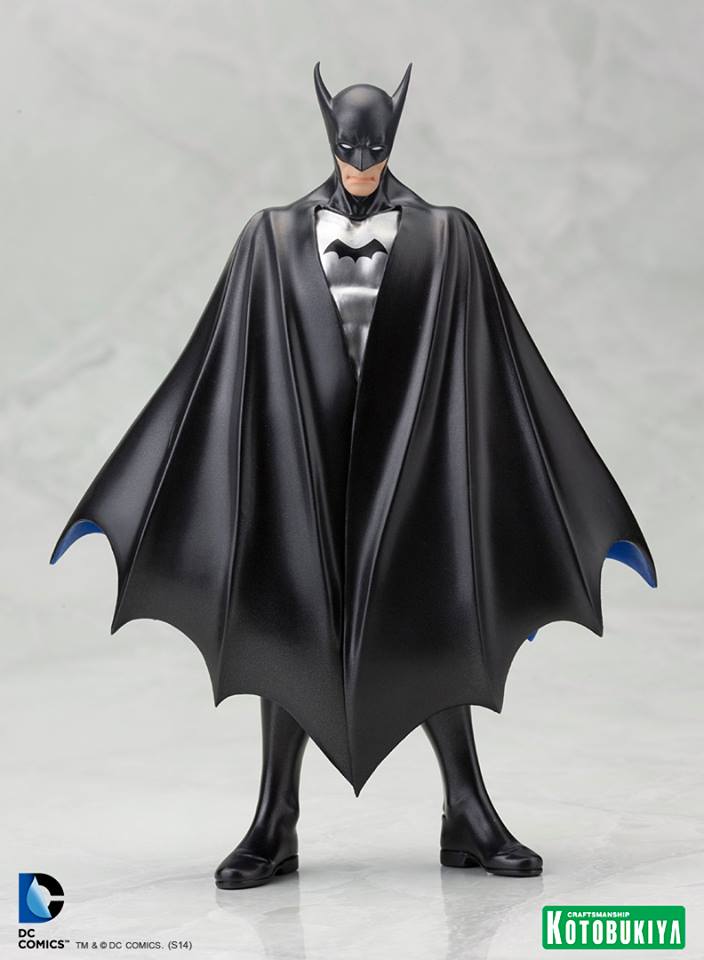 Here's the description from the Facebook post.
Created by artist Bob Kane and writer Bill Finger Batman has been thrilling readers young and old alike for 75 years. To commemorate this milestone anniversary Kotobukiya has created an extremely limited edition ARTFX+ statue of the "Bat-Man" as he first appeared in Detective Comics issue #27.

Masterfully sculpted by Atelier Bamboo, Batman stands in 1/10th scale and includes a magnetic display base for effortless display options. This first appearance of Batman will be available exclusively during San Diego Comic-Con 2014 and thru a limited kotous.com non-attendee pre-order event.
Be sure to check out the Facebook post for more images of the figure from different angles and a look at the packaging. And although it's stated above, it's important to state this will be available in limited quantities via the company's online store (kotous.com) for those who aren't able to make it to SDCC. The statue is not yet on the online store, but we'll let everyone know when it becomes available for pre-order.
Excited about this year's Kotobukiya exclusives? Let us know in the comments.