The popular licensed print company Mondo has begun announcing its plans for San Diego Comic-Con 2014. Its sought-after limited posters generally create hysteria among fans and collectors when the "drops" (when the posters are available for purchase) are announced via Twitter, but last year, the company changed up their tactics, offering pre-sales before the convention rather than selling at their booth during Comic-Con.
There's no word yet on how this year's exclusives can be purchased, but we'll update once we have more.
For now, let's take a look at what Mondo is bringing to SDCC:
[UPDATE July 17] Entertainment Weekly has information on a new Mondo poster based on the upcoming Xbox One game Sunset Overdrive: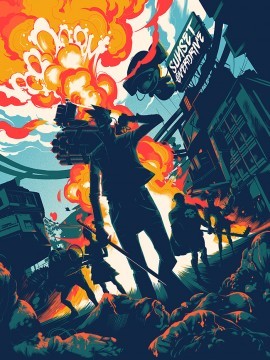 The Sunset Overdrive poster was created by Mondo artist Matt Taylor and will be available "at some point" (per the game's developer, Insomniac Games) at Mondo's booth, #835.
[UPDATE July 16 – 2] DC All Access has revealed the remaining four vinyl covers for Batman: The Animated Series in a Youtube video, which includes a Man-Bat by Tom Whalen, the Joker by Mike Mitchell, Clayface by Gary Pullin, and Mr. Freeze by Alan Hynes:
[UPDATE July 16]Comics Alliance revealed the first Mondo offering for Comic-Con – a series of vinyl-only releases of Shirley Walker's music from Batman: The Animated Series. There will be five different cover designs by five different artists, the first of which was revealed by ComicsAlliance to be a Harley Quinn piece by Matt Taylor: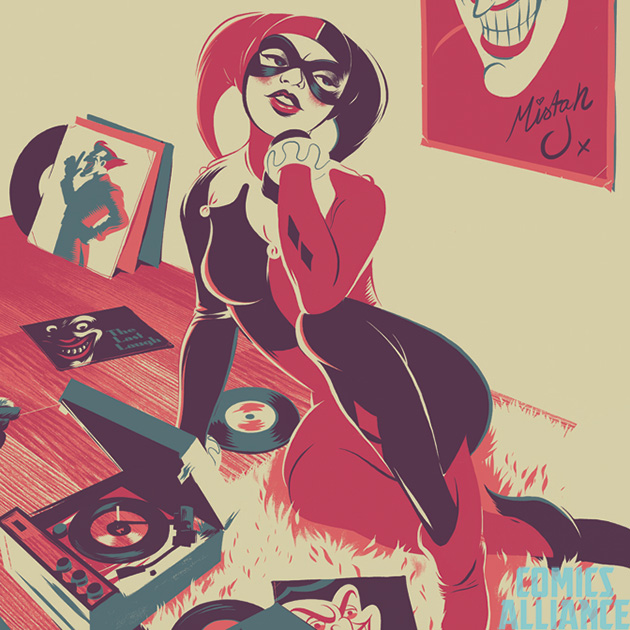 Will you be trying for any of these pieces? Let us know in the comments.