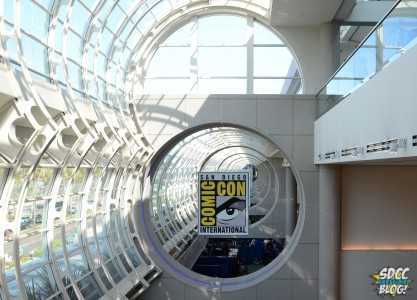 The 2013 San Diego Comic-Con Photo and Video Experience was amazing! So many people captured their moments and experiences throughout their time at Comic-Con, then shared those moments and experiences with the SDCC Unofficial Blog followers.  Everything from panels, outside events, cos-players, celebrity signings/sightings and more were shared and it was incredible and can be viewed at the SDCC Unofficial Blog Pinterest album where all the photos were compiled from the Google+ Event. We loved seeing other people's experiences especially the events some of us wanted to attend but couldn't such as the Zombie Walk, the Gravity panel and The Kick-Ass 2 Fan Experience.
With Comic-Con just days away, we're inviting our readers to their moments and experiences with everyone. The San Diego Comic-Con is enormous and has so much to offer – it is inevitable we will all have scheduling conflicts and will have to make choices on what we will be missed. With this Google+ Event, we can at least try to capture everything and see what we missed through other people's photos and/or videos.
We hope you join us and add your moments and experiences by participating in our 2014 San Diego Comic-Con Photo and Video Experience. If you would like to participate, you can leave a comment below, tweet us or the event's organizer, Evic, at @evico, or send us a message on Google+ and we'll send you an invite.
Check out our article – Comic Con Photo Tips for some pointers.
Download Google+
Get people together, collect and share memories from momentous occasions or impromptu gatherings with events on Google+.
To create your own event, click the event icon in the share box where you create posts. You can invite anyone you like, even if they don't use Google+. People you invite who don't use Google+ will be able to see the event details and say whether they're going.
To find all the events you've created or been invited to, click 

 Events on the left in Google+. Click any event on your Events page to see more details about the event. Google+ events will also appear on your Google Calendar.
On your phone
Check out events on your phone to get directions, add comments, and share photos during the event. With the Google+ Android app, you can upload photos and videos you take at the event directly to the event with Party Mode.
Event details and photo collections
The event details page captures information about the event including comments, who's going, and photos from the event. Photos added to a Google+ event are shared with everyone invited to the event as a collection of photo albums.
What is Party Mode?
When in Party Mode*, the Google+ app will automatically upload and share photos and videos to a Google+ event photo collection. You can tell that Party Mode is on when you see this icon 

 in your Android notifications tray.
When you enable Party Mode for an event, photos and videos taken on your phone while Party Mode is on are automatically uploaded to the event photo collection on Google+.
You will continue uploading new photos and videos until the event ends or you disable Party Mode. Anyone who can see the event can see your photos. Learn more about who can see Party Mode items.
Learn more about Party Mode: