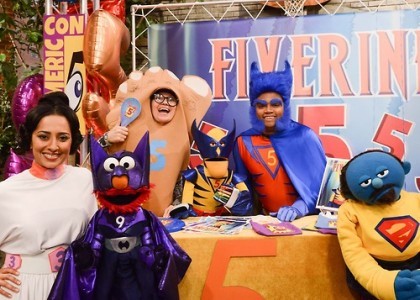 Sunday at Comic-Con is traditionally Kids Day, but the Sunday morning panel announced today is one for both the young and "young at heart". Sesame Street will bring out their Muppets and Muppeteers to SDCC for a discussion on the pop culture tributes and spoofs the show has featured throughout its 45 year run. The panel will also feature the debut screening of two new shorts – one that parodies Star Wars and another that's a send-up of Comic-Con itself.
We're holding out hope that Crayon Claws, the Sesame Street Muppet parody of Wolverine (shown above), might also make an appearance.
Read the full panel description from Sesame Street's official Tumblr:
Sesame Street & Pop Culture: 45 Years of Spoofs on the 'Street,' Sunday, 7/27/14, 10:15a.m. – 11:15a.m., Room: 6A

Sesame Street has continuously turned the sensations of the entertainment world into lighthearted attractions that make children and their parents laugh, sing and learn. Join us for a special screening of the new Sesame Street spoofs "Numeric Con" and "Star S'mores" (hilarious parodies of Comic-Con and Star Wars) debuting in the show's upcoming 45th season. Then explore the ways pop culture has played a vital role throughout the show's history during a panel discussion with the Sesame Street Muppets™ and Eric Jacobson (Grover and Bert), Joey Mazzarino (Murray Monster, Sesame Street Head Writer and Director), David Rudman (Cookie Monster and Baby Bear), and Carol-Lynn Parente (Executive Producer). The discussion will be moderated by Chris Hardwick (Host of @midnight and Talking Dead, Nerdist).
Are you planning on treating your inner child to this Sesame Street panel? Let us know in the comments.