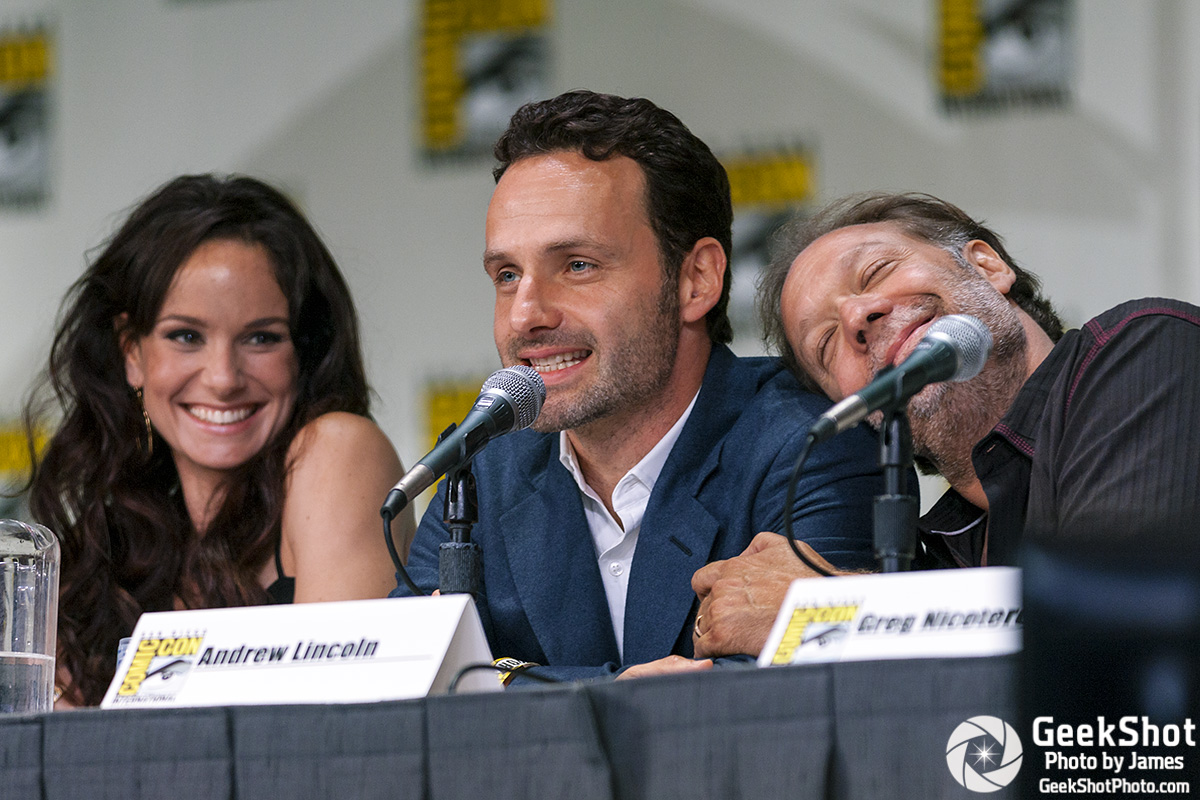 This should come as no surprise, but AMC series The Walking Dead will be returning to San Diego Comic-Con. The hugely popular zombie series will return to Hall H again for a Friday panel, set from 12:20PM-1:20PM.
As usual, AMC is bringing out almost the entire cast and crew, which includes actors Andrew Lincoln, Norman Reedus, Steven Yeun, Lauren Cohan, Danai Gurira, Melissa McBride, Chad Coleman, Michael Cudlitz, as well as Executive Producers Scott Gimple, Gale Anne Hurd, Robert Kirkman, Greg Nicotero, and David Alpert. It's going to be a very packed stage.
The panel won't be the only place to find The Walking Dead around the convention, though. The popular The Walking Dead Escape will also be returning to Petco Park, and fans can get their tickets online now. Additionally, the cast will be doing an autograph signing on Friday at 1:50PM at Booth #4237.
Can't make it to Comic-Con? Every year, The Walking Dead reveals a new trailer for the upcoming season first to Comic-Con crowds, and shortly after puts that trailer online for fans. AMC has already confirmed it will be debuting a trailer on Friday, July 25 – so expect the same this year.
From the press release, here's the full text:
THE CAST AND PRODUCERS OF AMC'S "THE WALKING DEAD" INVADE SAN DIEGO COMIC CON 2014

The cast and producers of AMC's record-breaking hit series "The Walking Dead" will participate in a panel at this year's Comic-Con in San Diego, CA. "The Walking Dead" panelists will discuss what fans can expect in the highly anticipated fifth season, which debuts in October.

Panelists will include: Andrew Lincoln, Norman Reedus, Steven Yeun, Lauren Cohan, Danai Gurira, Melissa McBride, Chad Coleman, Michael Cudlitz, Executive Producer and Showrunner Scott Gimple, Executive Producer Gale Anne Hurd, Executive Producer Robert Kirkman, Executive Producer and Special Effects Make-up Supervisor Greg Nicotero and Executive Producer David Alpert. The panel will be moderated by "Talking Dead" host Chris Hardwick.

WHEN: Panel from 12:20-1:20pm, on Friday, July 25, Hall H
Autograph session 1:50-2:50pm on Friday, July 25, Booth # 4237

About "The Walking Dead":
Based on the comic book series written by Robert Kirkman and published by Image Comics, "The Walking Dead" tells the story of the months and years that follow after a zombie apocalypse, and follows a group of survivors, led by police officer Rick Grimes (Andrew Lincoln), who travel in search of a safe and secure home.
Will you be heading to Hall H to see The Walking Dead? Let us know in the comments.