Our friends at toddland, who brought their rad merchandise to our Enchanted Under the SDCC party last year, are back in the Convention Center, booth #4537, for Comic-Con 2014 and have some great new products and events planned for their return.
First up, toddland is getting behind the Aquabats' 20th anniversary with tons of new items.
Two new art prints of the Aquabats and their Battletram by Dave Perillo in regular blue (limited run of 125, $25) or variant purple (limited run of 40, $35).
If high-fives are what you're after (and hey, who isn't), you can get one of two Parker Jacobs "High-Five Target Practice" art prints. Both are limited to a run of 50 and are $25 each.
toddland collaborated with Thingify for a DIY Collectible Lil Bat. Standing 4.5″ tall and limited to 100 units, these hand-made bats are made out of Urethane plastic and coated in white semi-rigid resin, and individually packaged and numbered in a hanging clear box. Customize them however you want. 20 per day will be made available, for $15.
Toddland also collaborated with Toygami on an 11″ pre-built MC Bat Commander papercraft. Limited to 31 pieces, the papercraft comes in a large clear-box, assembled by hand and with real shoelaces. You'll only be able to get this at the toddland booth during Comic-Con, for $35.
If apparel is your thing, toddland will have new shirts in adult sizes, like the "Aquabats 20th Anniversary" and "Learning and Growing" designs. These will be in limited quantities and will sell for $20. Or if you are bringing an Aquabat cadet to Comic-Con with you, they'll have rash guards, powerbelts, goggles and anti-negativity helmets for sale in both kids and adult sizes.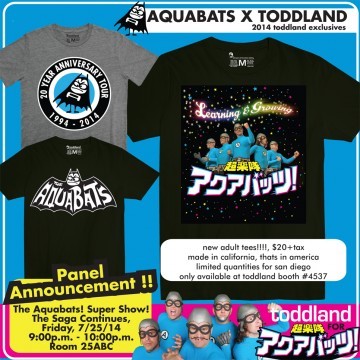 There will be an Aquabats signing at the toddland booth on Friday July 25 – tickets will be handed out at 9:30am and limited to 200. Steve Zaragoza and Joe Bereta will be signing at the toddland booth on Saturday July 26 from 1-3. Tickets will also be handed out at 9:30am for the event, and all tickets are guaranteed for the signing.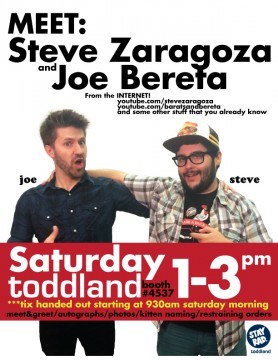 Lastly, toddland is rolling a couple of old vintage '70s black and white TVs in the booth, and they even made some fun line maker signs for the signings, seen in the pictures below:
They're definitely going all out for "the greatest week of the year" – and we can't blame them!
Of course, you can find also find toddland at the Aquabats 20th Anniversary Concert at the House of Blues San Diego on Thursday July 24. They're also celebrating the return of the Aquabats to the Convention Center in their first panel in two years, which we've always said is a can't-miss event during Comic-Con.
All prices above do not include California sales tax.
Will you be making a mad dash to the toddland booth on the exhibit floor? Let us know in the comments.