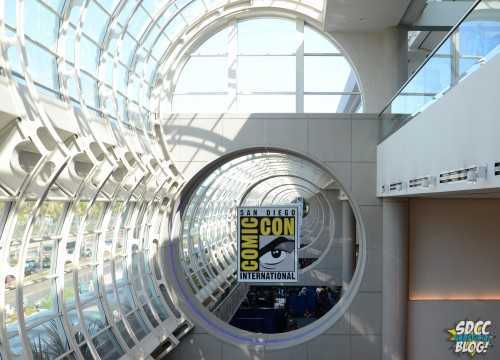 Even though we aren't even done with our 2014 coverage, we're already starting to look forward to 2015. And when we say "look forward to", we actually mean "start planning" because in the world of San Diego Comic-Con, there's no such thing as "too early". So we found some tidbits of information relating to next year's SDCC that our readers might find interesting.
First off, everyone start marking your calendars and booking your arrangements now. San Diego Comic-Con 2015 will be on Wednesday July 8 through Sunday July 12.
Although San Diego Comic-Con is committed to staying in San Diego through 2016, there have been some recent setbacks in the planned expansion of the San Diego Convention Center, which is surely a factor in Comic-Con International's decision to stay in the city beyond the current agreement. A recent court ruling decided that the hotel tax meant to finance the $520 million project is unconstitutional — leaving the convention center to either find new ways to back the project, or to put the tax to a citywide vote. In a recent article in the San Diego Union-Tribune, CCI's Director of Marketing and Public Relations David Glanzer spoke on both the need for the expansion and his hope for the future:
"We knew, as early as 2006, that we would run out of space at the current facility," said Comic-Con spokesman David Glanzer. "Since that time the mayor, city officials, hoteliers and the convention center staff have worked to help us address our space concerns. We trust those entities will continue to work with us in welcoming thousands of people to San Diego."
Even if construction begins soon, city officials and construction contractors have expressed concern over how construction could impact the convention. One of the biggest concerns is that much of the space currently used for lining up prior to entering the convention center will be needed. In another San Diego U-T article, Dennis Breen, vice president of Clark Construction which successfully bid on the expansion, said that they have ideas which they believe are doable to make sure the convention isn't impacted too much — such as moving more of the line management to Embarcadero Marina Park.
San Diego Comic-Con in the coming years could look completely different, both inside and outside the convention center. And really, that shift is already happening — 2014 felt like a year of change for the con. The convention, whose schedule is usually fairly predictable (and we don't mean that in a bad way — but you can usually guess to a fairly high degree of certainty which studios and networks will be in attendance), saw many changes. Lionsgate brought out its biggest stars only for autograph signings and offsites. Paramount Pictures didn't reveal any of the films they were bringing for their panel, leaving a half empty Hall H for director Christopher Nolan and Matthew McConaughey's Comic-Con debuts. CCI began issuing wristbands for Hall H entry in the mornings (and used a similar line-counting method for Ballroom 20).
No matter which side of the fence you fall on any of these issues, it's obvious that both CCI and the studios were willing to test the waters with new tactics this year. Did their gambles pay off? That's probably still to be determined, and we likely won't know what answer the various entities reach until next year, when we see how they continue to move forward.
In the meantime, we want to leave you with something to think about. There are a ton of movies coming out just in time for next year's San Diego Comic-Con, including the final The Hunger Games: Mockingjay Part 2, Mission: Impossible V, Star Wars: Episode VII, Star Trek 3, Prometheus 2, WarCraft, Divergent: Allegiant, Part 1, Batman v Superman: Dawn of Justice, Captain America 3, X-Men: Apocalypse, and many more. With that line-up, and countless surprises and yet-unannounced projects, Comic-Con ain't big enough.