[UPDATE] Comic-Con International has posted a Toucan Blog on the subject of Preregistration, stating that "Comic-Con 2015 Attendee Preregistration will launch sometime in November 2014".
[PREVIOUS] It's time. To validate your Comic-Con badge for Preregistration, anyway.
Comic-Con International updated their policies today to reflect several announcements, including that the validation period to be able to participate in Preregistration is now open. As previously announced, in order to participate in Preregistration for 2015 – the first badge sale, which is open only to those general attendees who attended at least one day at San Diego Comic-Con in 2014 – will open "sometime this fall", but in order to participate, you first must validate your Member ID by entering the Badge ID from your physical 2014 badge.
It's a relatively simple process. Simply log in to your Member ID, enter your "Badge ID" printed on the badge, and click continue. Here are screenshots of the process: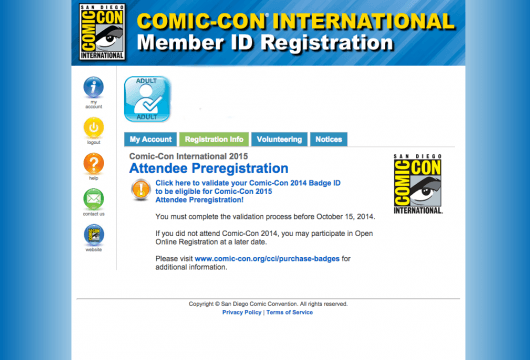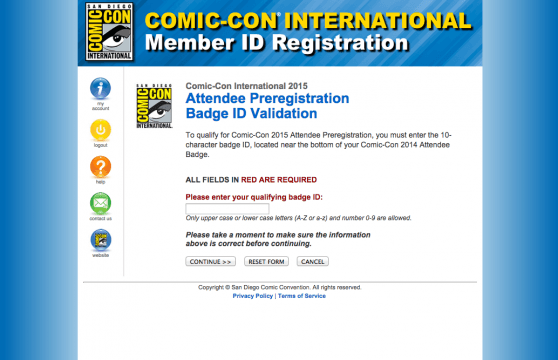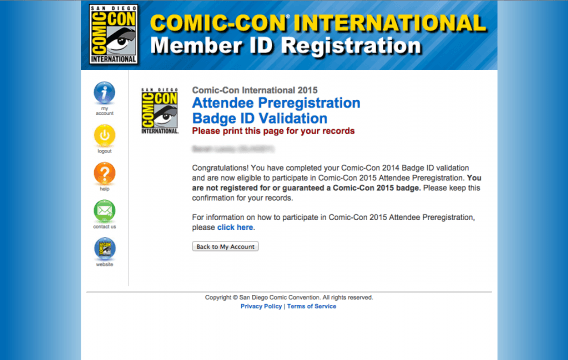 Attendees will have between now and 5:30PM PT October 15 to validate their badge ID and thus, their Member ID – which means that the actual Preregistration sale won't be happening sooner than that.
When the Preregistration sale does happen, attendees will be paying a slightly higher price for badges. Prices have gone up by $5 across the board, ranging from $35 for a Sunday badge for $50 for Thursday-Saturday badges. As with previous years, Preview Night can only be combined with all four days, for an additional cost of $35. If you do opt to buy all four days, it will run you $185 for a four-day badge without Preview Night, or $220 for a four day badge with preview night.

There is no official word on if Single Day badges will be the only option available to attendees, but it could be implied by some of the wording on the page, which states:
As in 2014, if you purchase all four daily badges (Thursday through Sunday) they will automatically be converted to a 4-Day badge unless you select to opt-out of consolidation during online registration. You will not need to pick up each badge daily, they will be combined for you into one 4-Day badge when you arrive.
The policy, which was first implemented in 2014, was mostly a cosmetic one. Comic-Con International had done away with a discounted four day badge several years ago, meaning that attendees are free to select only the days that they will actually be attending without worrying about getting a better price if they choose a four-day badge with days they don't necessarily need. Considering how difficult getting badges already are, it's definitely a step in the right direction.
During preregistration, attendees will be able to buy up to three badges in the transaction, though each person who you buy a badge for must also be eligible for preregistration, and you must have their Member ID and last name.
You can read all of CCI's announcement on their site.
How do you feel about these changes? Will you be trying for a badge in 2015? Let us know in the comments.